Picked up my baby Frances from Wolfchase Scion in Cordova, TN yesterday. I'd been talking to all my local dealerships in the Little Rock, AR area for some time, even took a Raven 6AT for a test drive at North Point Toyota in NLR a few weeks ago (a car which it turns out was wrecked by the dealer I'd been working with that day only a couple days later
)
What I wanted was an Argento 6AT with the standard stereo... I plan on doing a custom stereo job in the car and really didn't feel like paying for BeSpoke if I didn't have to- would rather put that money into something better, you know? So I started calling the dealerships in the Memphis, TN area on Friday, and lo-and-behold, Wolfchase had 2 6AT with standard radio on the lot, unclaimed. They weren't Argento, but Ultramarine had always been a close second choice for me, and they had one, along with a Whiteout which they had listed for roughly $800 more than the Ultramarine... we'll get to that story soon.
I made a couple more phone calls to my local dealers just to be sure they hadn't gotten any new cars in the last day or two and they all told me their next allotments wouldn't be in for at least a week, and they ALL would have BeSpoke. That's when I decided I was going to Memphis. At that point it was too late in the evening Friday to head to Tennessee, so I called the dealer, told him I'd be in in the morning, then went about preparing my end of the deal (insurance, double-checking my financing, etc...) Needless to say, I had a hard time getting to sleep.
I woke up a good hour before my alarm, got ready and went to pick up my friend who wanted to go with me. He's a big-time old-school Toyota guy and general car nut, way more so than myself. Then we hit the road to Memphis.
It took a little longer than I had anticipated with traffic and such, and we got to the dealership about an hour after they opened. Met the guy I'd been talking to on the phone and went to examine the cars. We'd seen the Ultramarine one when we pulled in, and then the Whiteout pulled around from behind the building from getting a fresh wash. Immediately we were drawn to the custom black stripe stretching from the fender vent to the back window. From a distance it looked just great.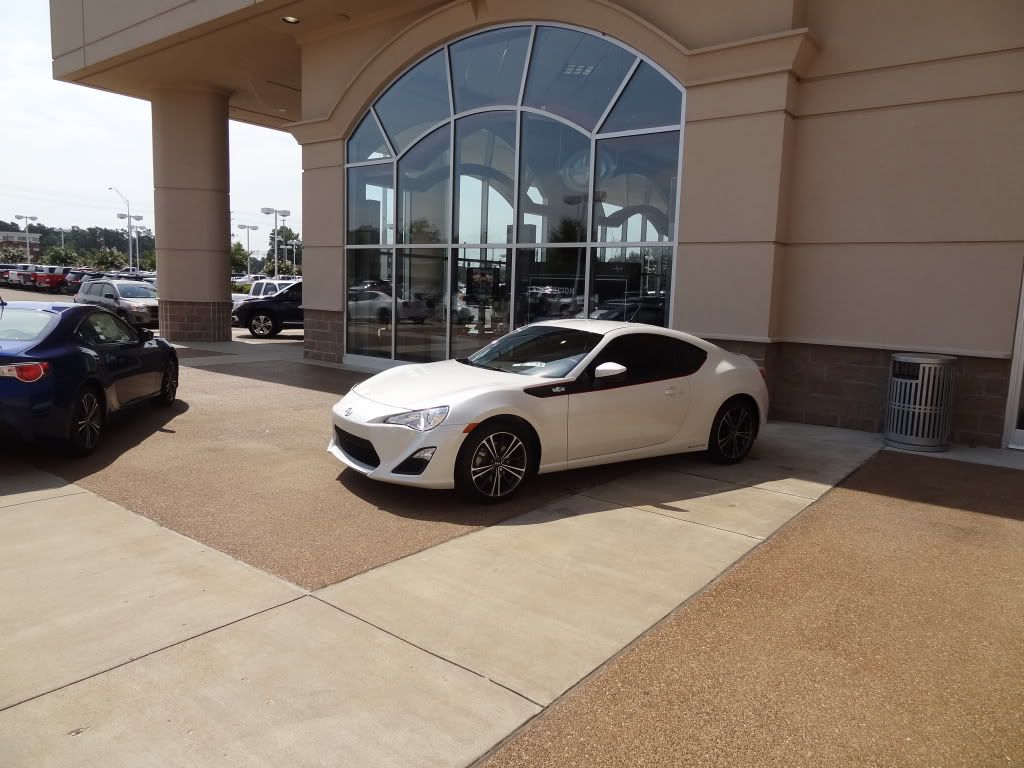 But as we got closer we realized what a crap job the guy had done, and pointed it out to the dealer. He wasn't pleased.
Needless to say I was not going to spend an extra $800 for shitty graphics and some window tint.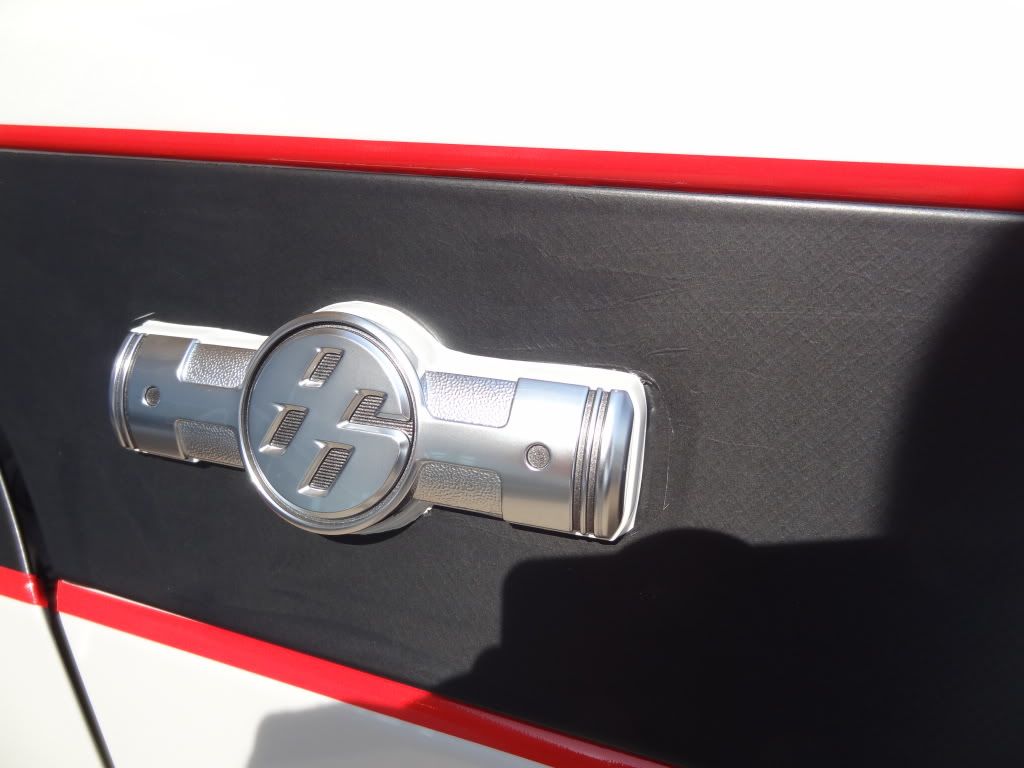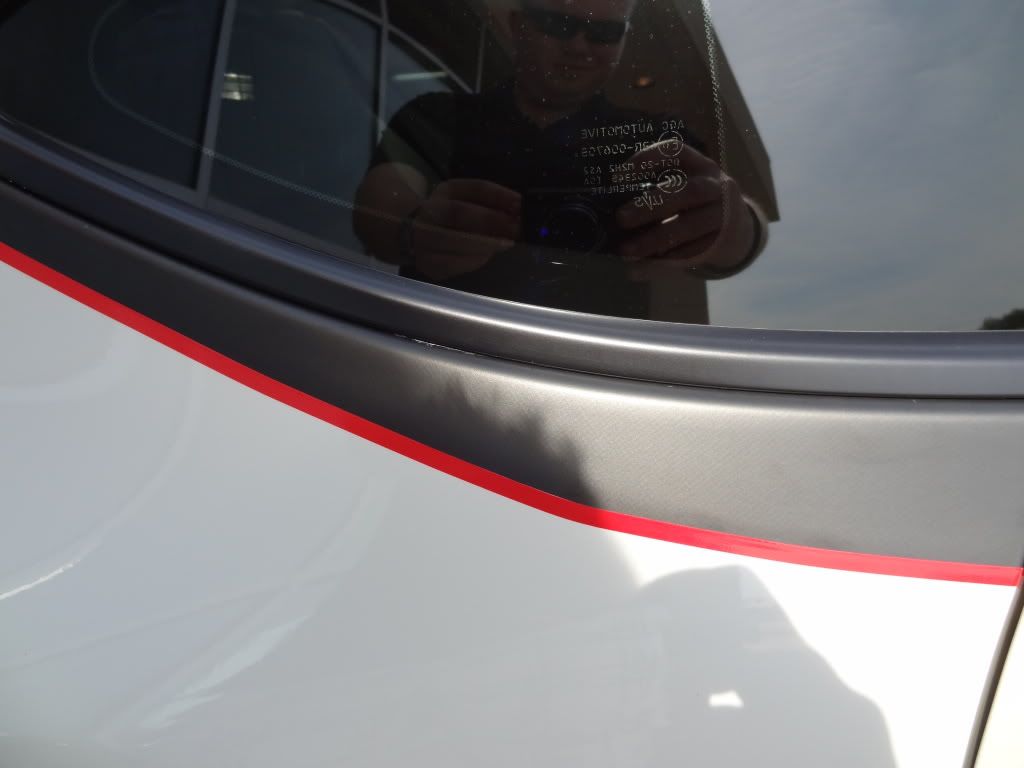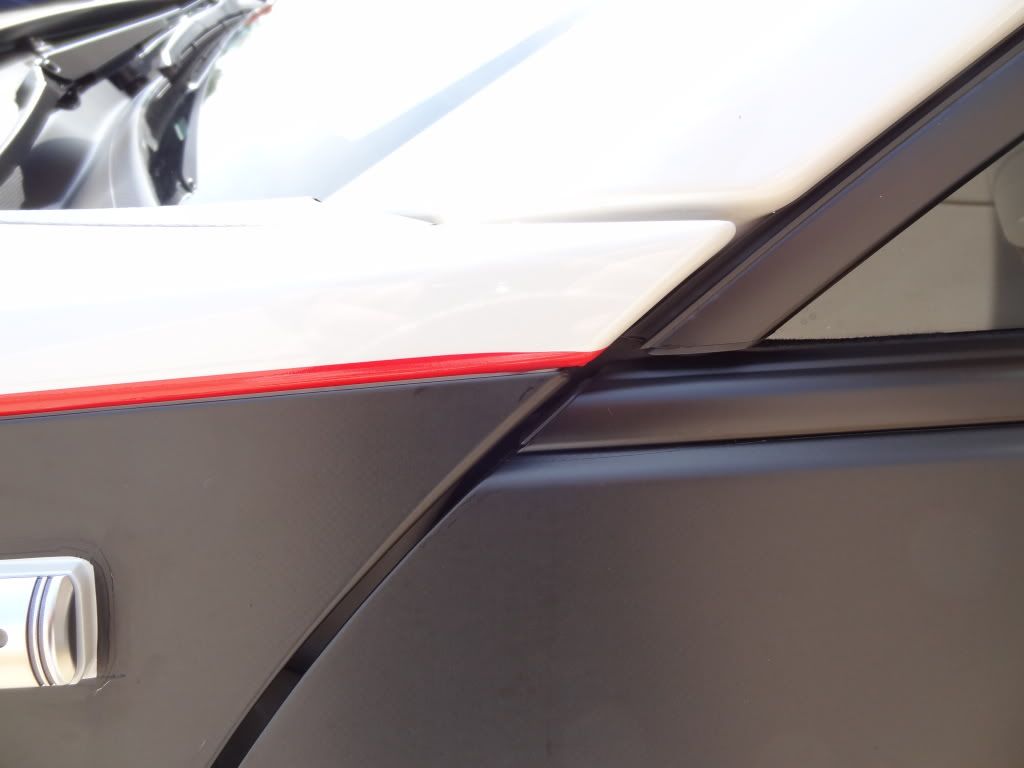 So my attention returned to the Ultramarine. My baby.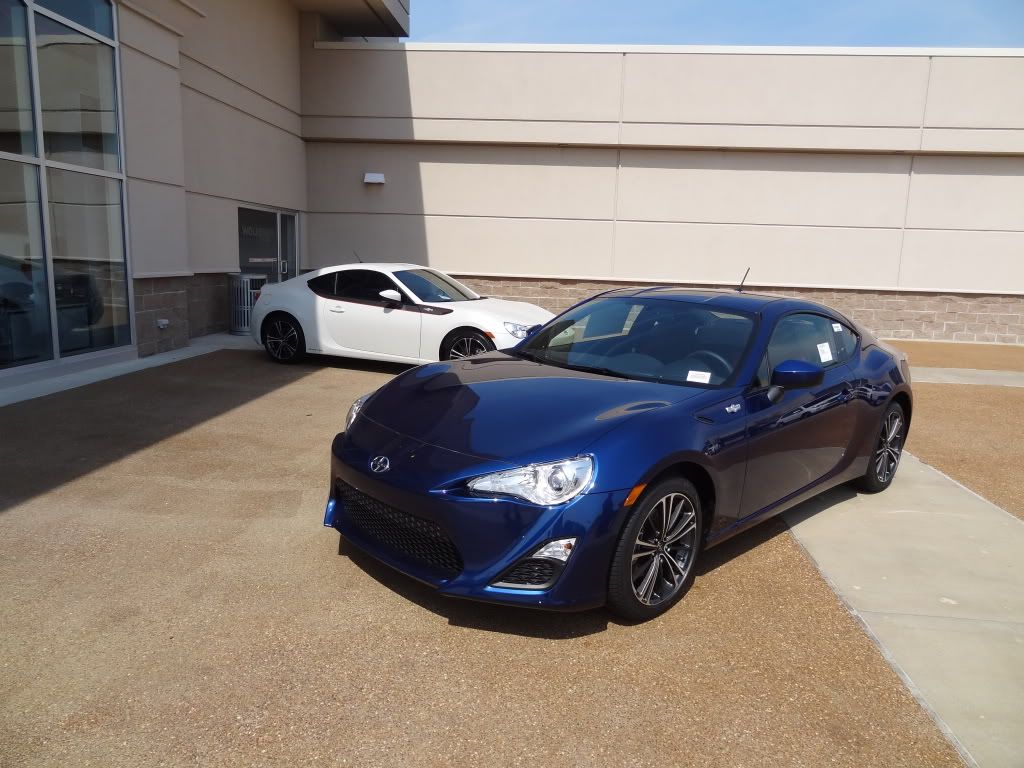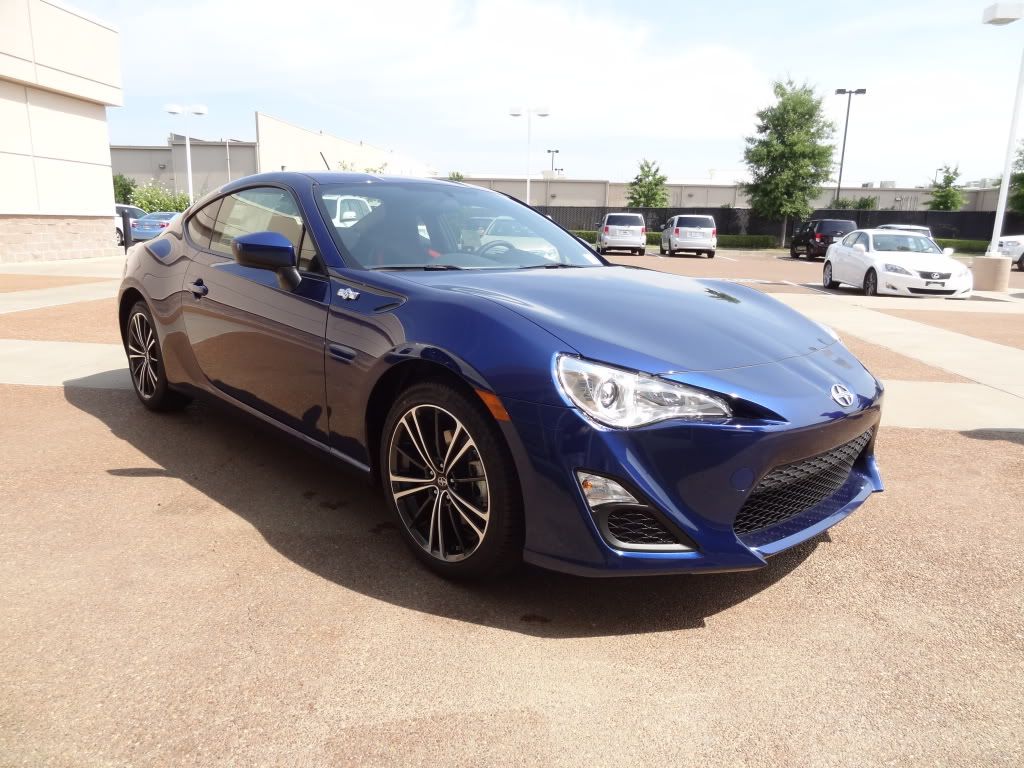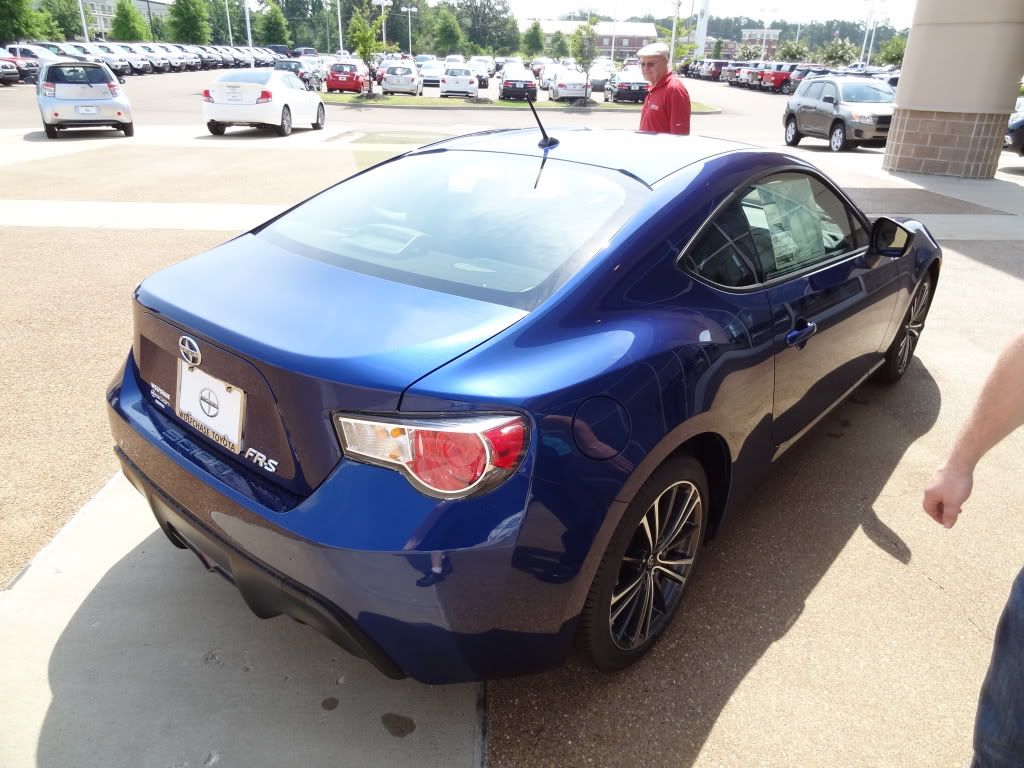 I wanted her. I needed her. I wasn't going home without her. The stereo head unit hadn't even been installed yet, so they brought it in to get that taken care of while we drew up the paperwork. Unfortunately, being a Saturday, everybody and their mother brought their cars in for oil changes, so we had the paperwork done long before the stereo finally got installed. Took a break to get some Qdoba for lunch while we waited, got back and waited some more, then finally, finally, the dealer comes out and asks if I'm ready to roll. "Hell YES!"
We go do the "delivery ceremony" and he shows me around the car, sync up my iPhone to the stereo, do a final walk around, and then it's time to take my baby home!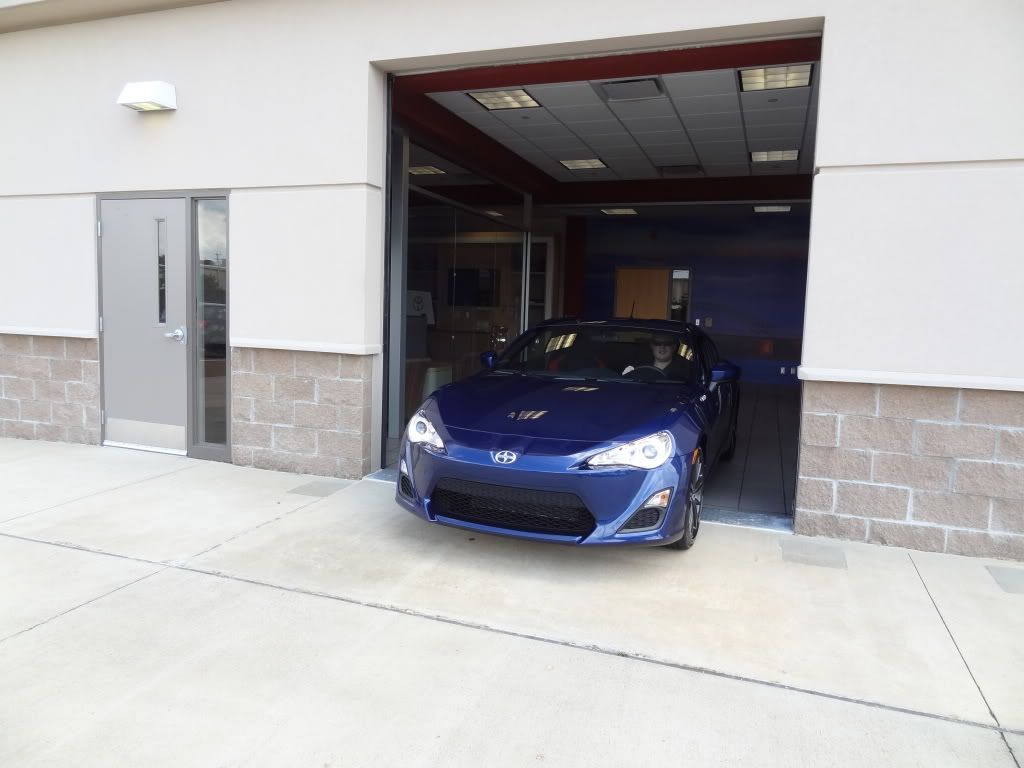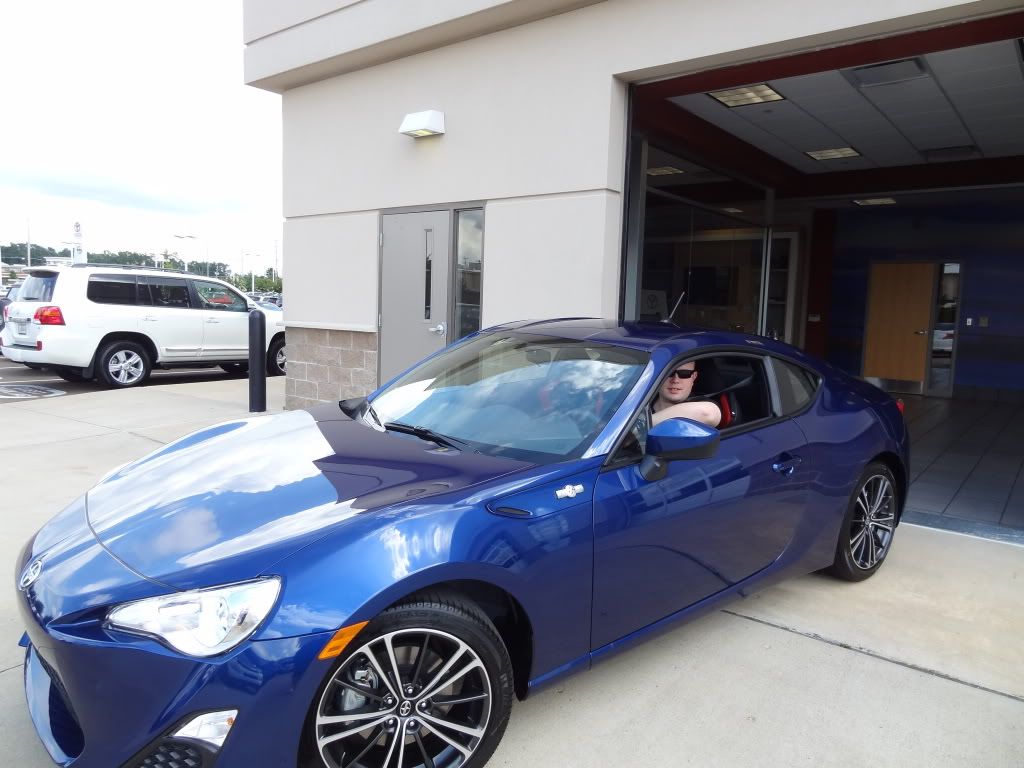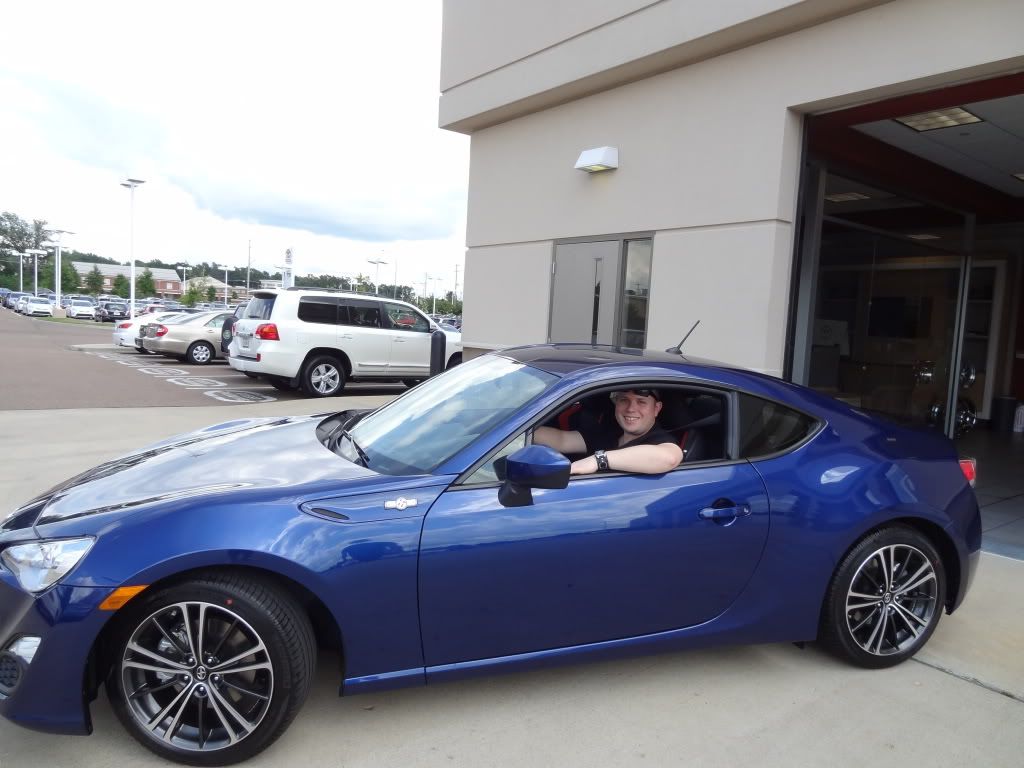 The drive home definitely could have been better. The traffic sucked, I'm still getting used to the feel of the seats (they're telling me I could stand to lose a few pounds... lol), and 40 W from Memphis to Little Rock isn't exactly the most exciting of roads. Oh, and keeping it under 4 grand to break in the motor isn't a whole lot of fun either, but I'm determined to keep this car for a long time, so I'm going to do it right. I forgot to take a picture of the odometer when we left the lot, but it read 12. Yup, only 12 miles on her when I bought it. I went from a car with over 70,000 miles to a car that hadn't gone 70,000 FEET!!! But while we were stopped on the freeway for construction, I remembered to take a couple pics: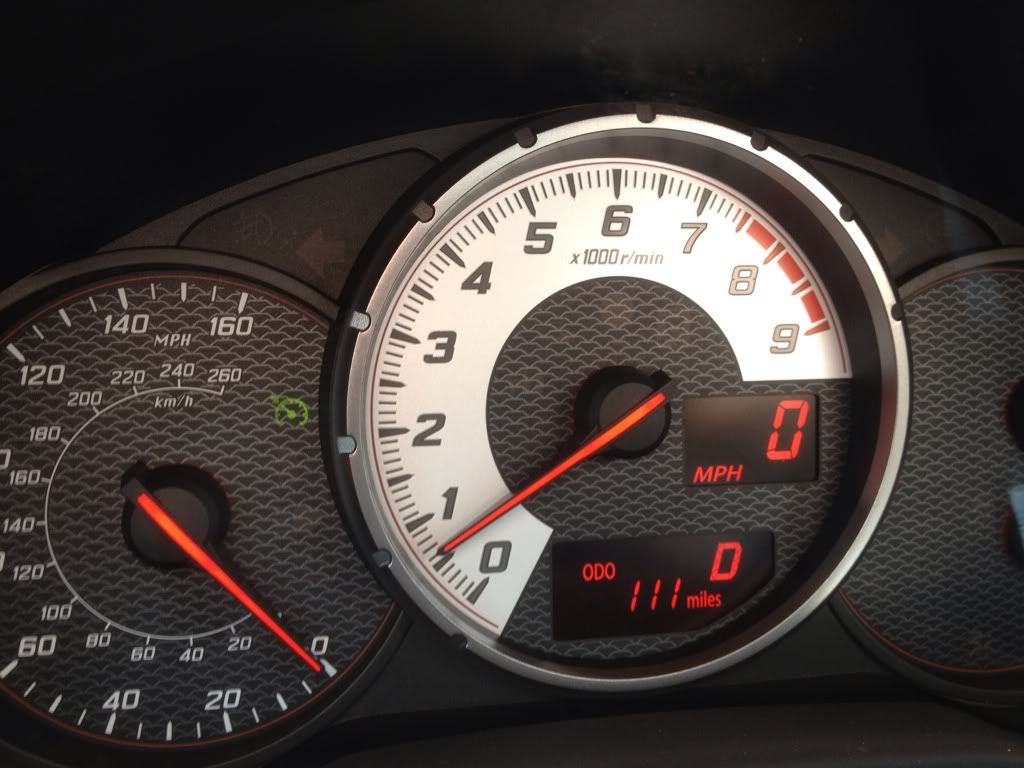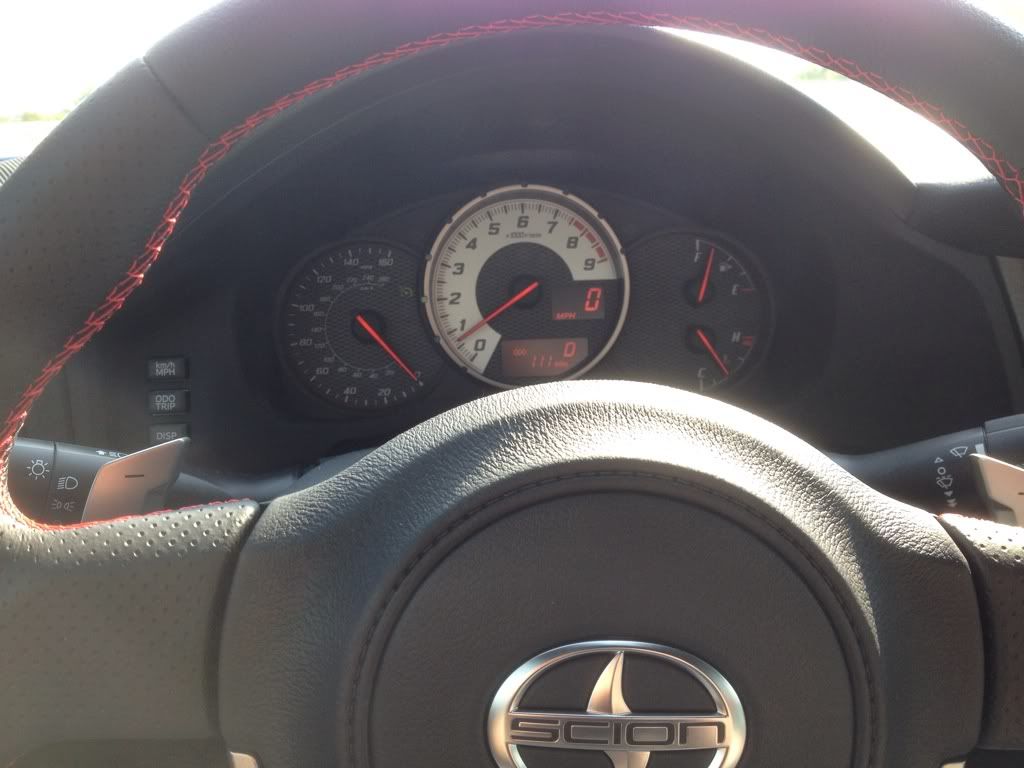 We got back to my friends house at what photogs like to call the "golden hour" so I took these: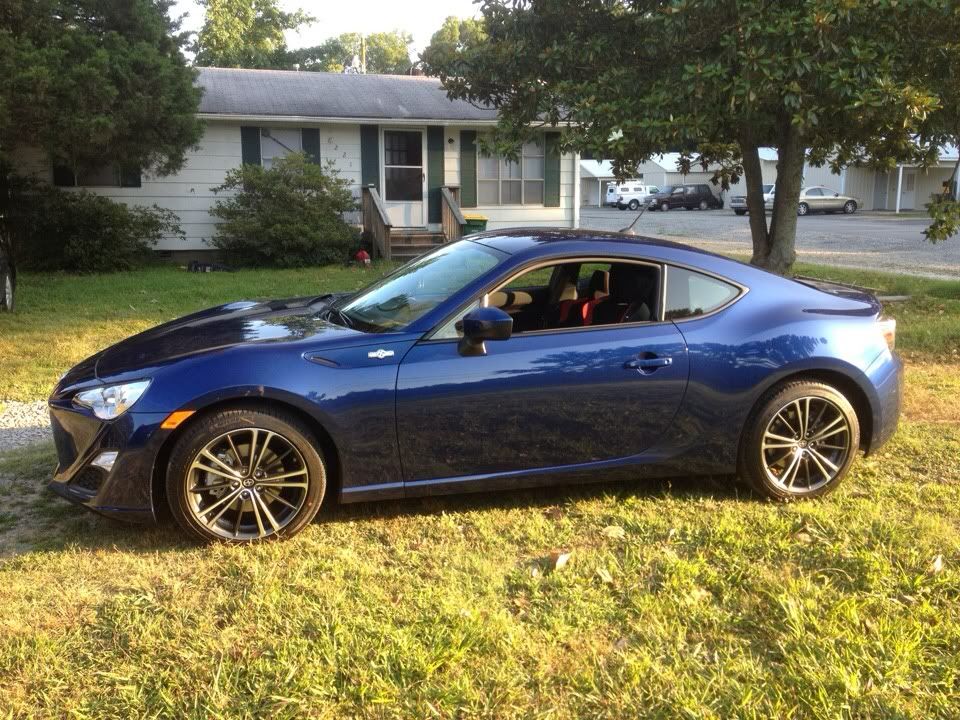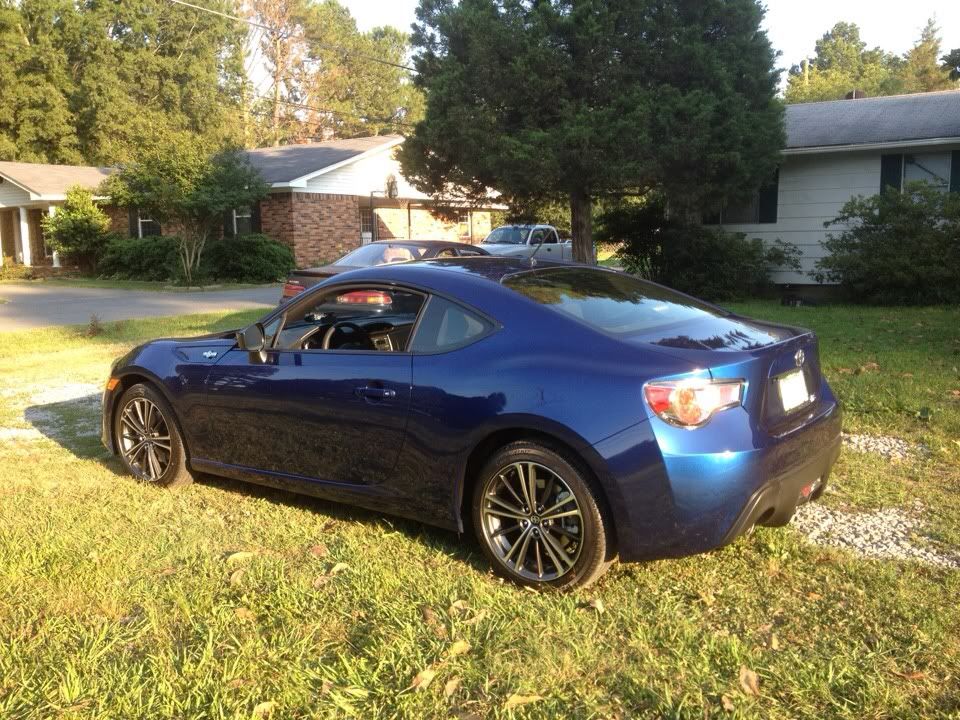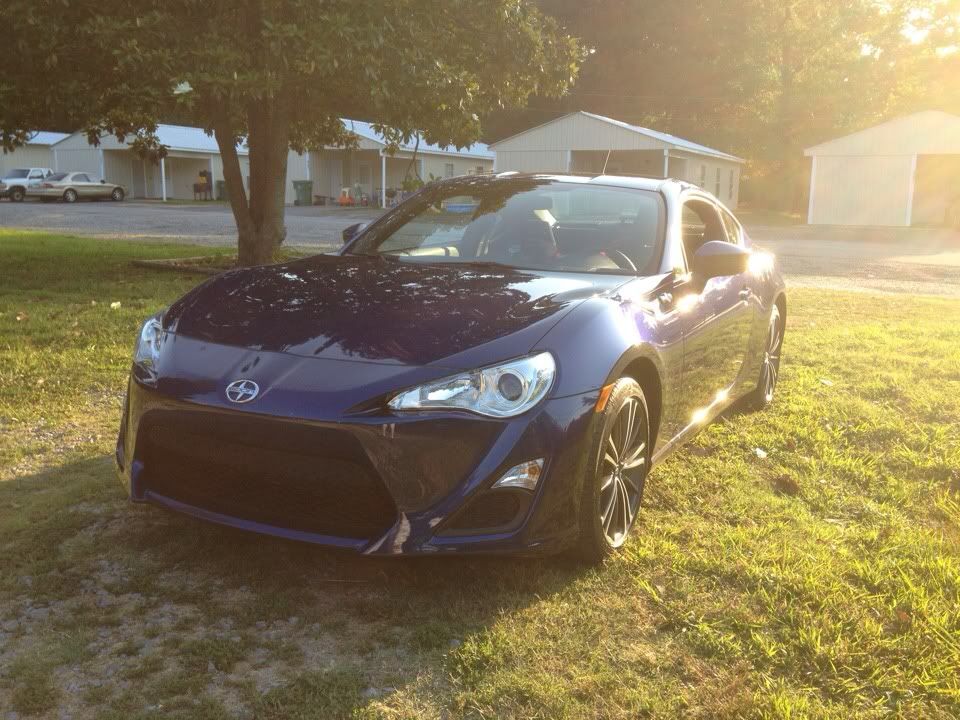 Then my friend says, "I can't stand it anymore, here, I've got a present for you" and goes and gets me this: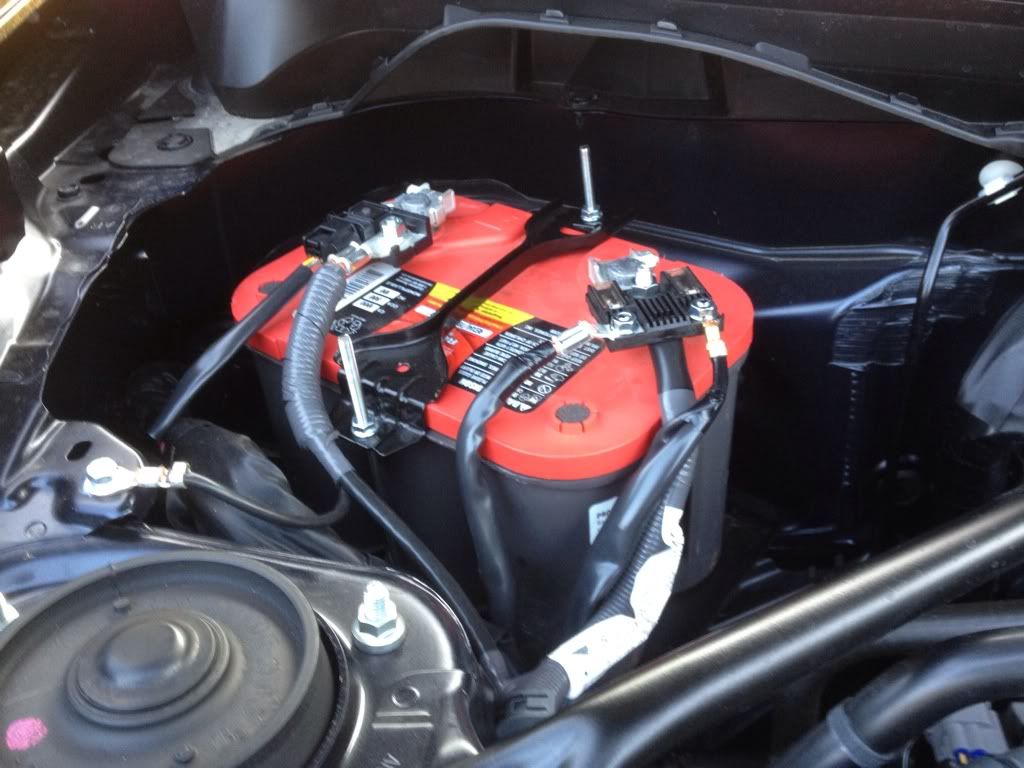 It's only 2 months old, been used a couple times in his drag car, but he got orders to Japan and wanted to see it go to a good home. I'm happy to oblige!
First day, first Mod! Looks so much better than the stock battery, don't you think?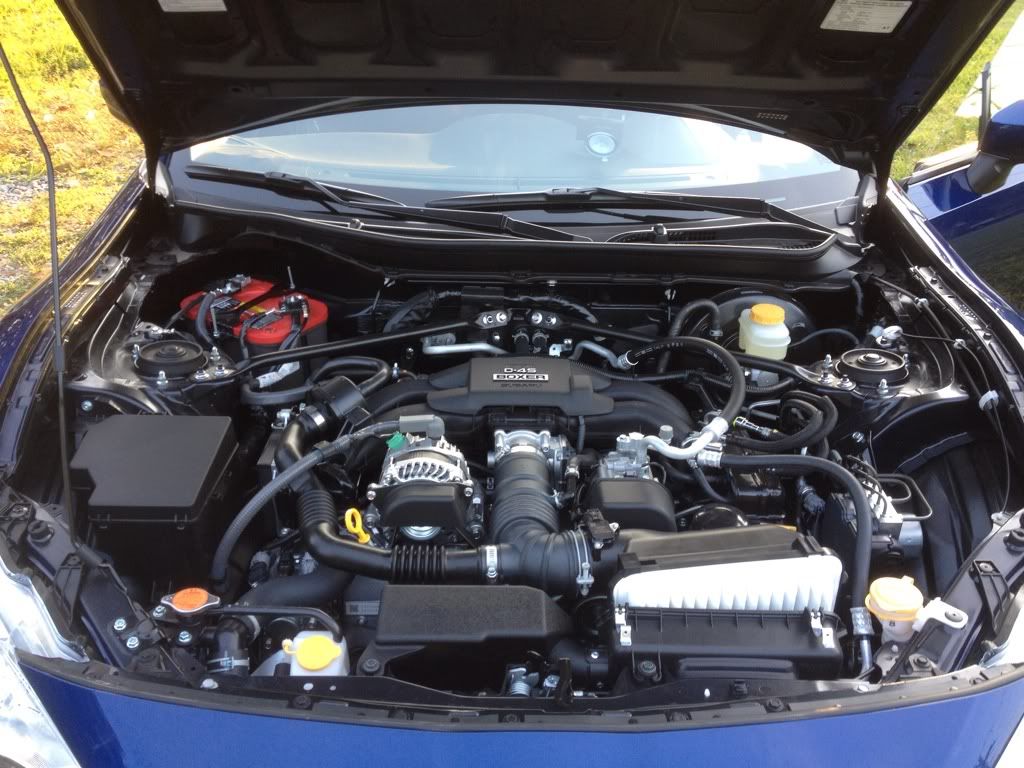 I ended up chopping up the red positive connection cover when I got home to fit with the new battery so it's still covered.
Stock: 390 CCA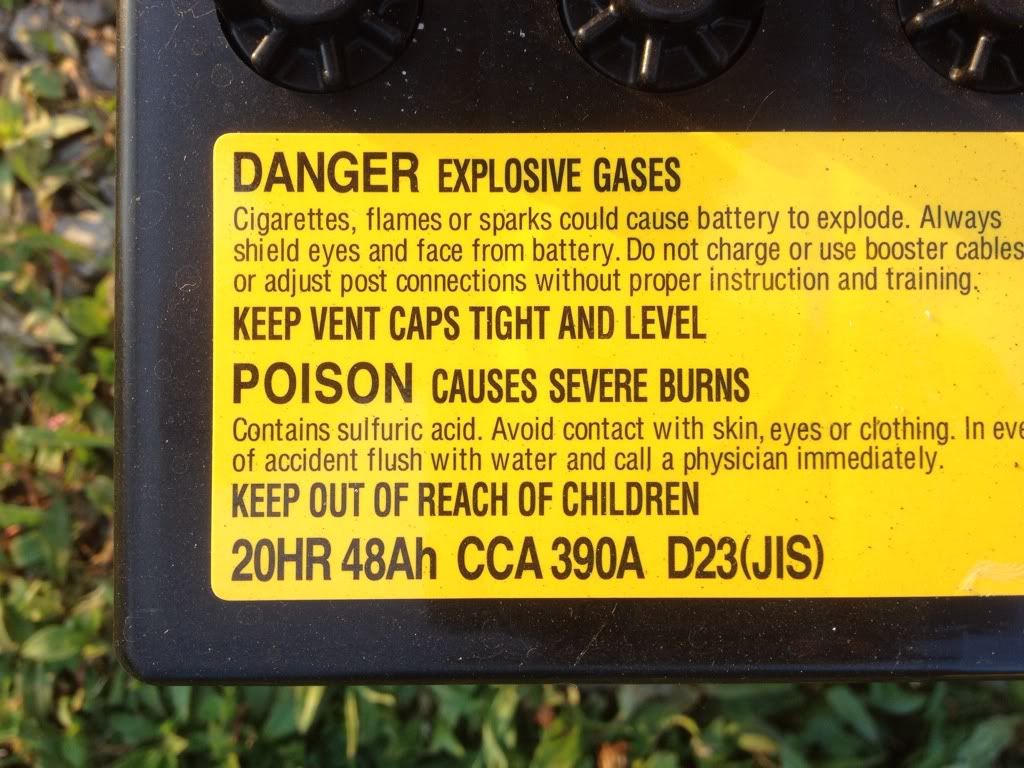 Optima Red Top: 800 CCA!!!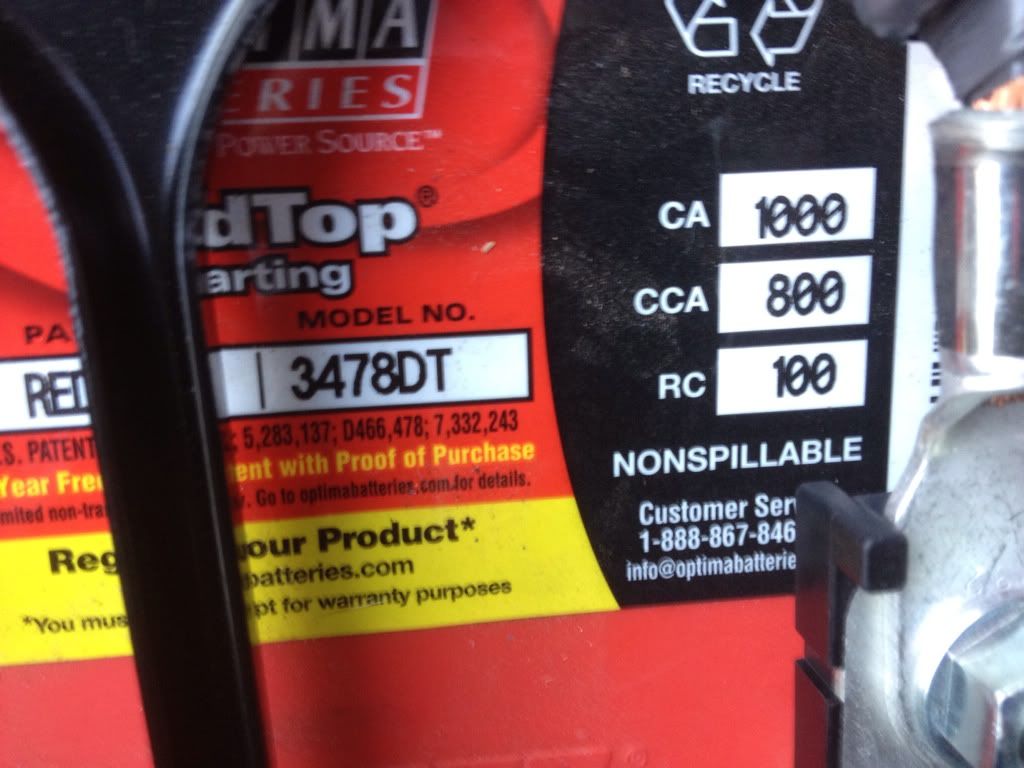 So now she sits under the car port (can't wait to get a house with a garage now!) waiting for morning when I can take her to church.