Product Released FEB 4th 2014:
What is
NOT
included in kit:
-Tune (the supercharger does run without tune however it is recommended to be tuned for best performance and safety).
-Batteries (Rob has recommended the proper batteries which are very low cost and available with free shipping)
Tune's can be obtained by purchasing an Open Flash Tablet, shiv will soon have downloadable tunes for the TQ250 on 91oct to e85
Tunes can also be obtained from and Ecutek or BrzEdit protuner.
For ordering information please contact Robftss via PM
. At this time please only contact him through PM to keep track of all interested parties.
Youtube channel for all videos:
https://www.youtube.com/user/specialblend32
Install video:
Phantom Electric Supercharger Install Video: [ame]http://youtu.be/qkxPcDUPFdk[/ame]
-------------------------------------------------------
The idea of this project is to give the FRS or BRZ a nice increase of torque and power on demand. This is by no means meant to compete with full time FI applications but should provide that nice little bump in power that most people want.
In this thread i will catalog the install of this kit and share my experiences with the system.
The system consists of the cold side of a turbo, high power and high quality brushless motor controller and AGM battery charger and two compact SLA 12 volt batteries.
The system removes the standard FRS battery and replaces it with 3 compact batteries. Two wired in series designed to dump charge to the DC motor attached to the turbo and One separate battery to start the car and run the various electrical systems. The system engages instantaneously when a WOT switch is activated delivering between 5 and 2 PSI. The key here is that this boost is NON-Parasitic and every PSI counts as boost comes via the dump batteries and not from the exhaust or crank pulley.
This will probably be a learning experience but if this project is successful i think alot of people are going to have alot more fun with this car.
The kit has been proven on the dyno on many cars in the past but none as advanced or as high powered as the FRS.
As i get more information i will share it here.
Here is the kit that will be going on my car next week!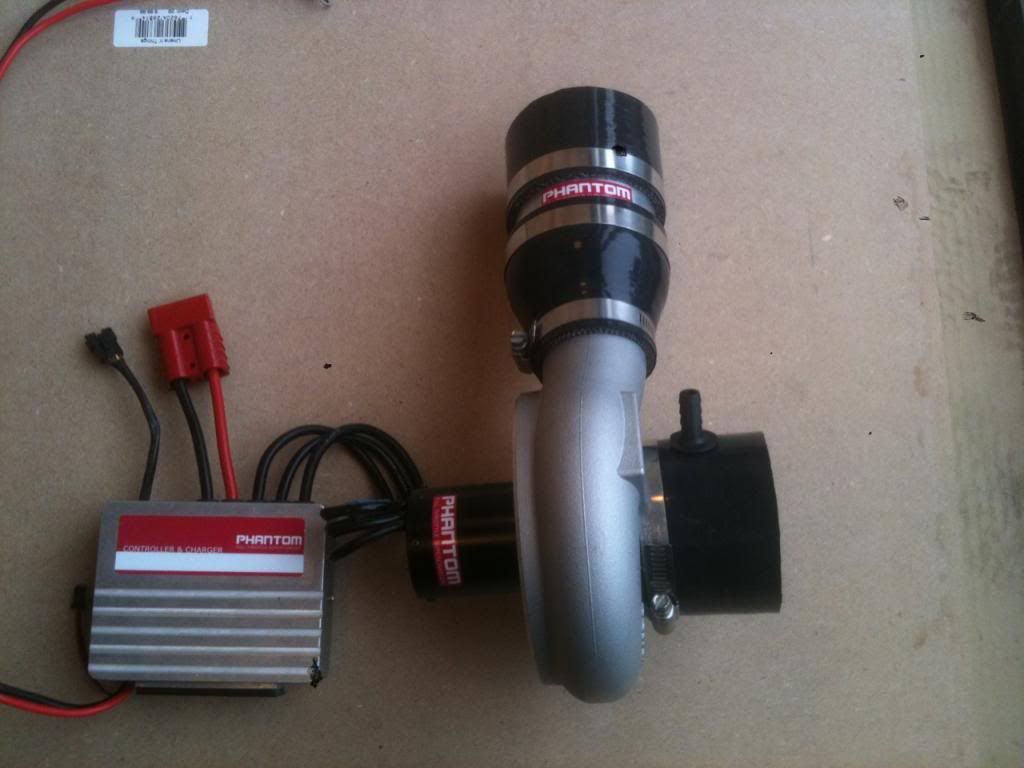 UPDATE #2 - Here is what everyone is waiting for. Had alot of fun today ripping it, car feels great.
We vetted out the stock tune, works great on stock tune, really damn impressed with this thing. STOCK tune actually made more HP!!!! Im working with the developer of this to get even more out of it.
As you can see EVERY SINGLE DAMN psi counts
, if we can get 1 more PSI up top thats AT LEAST 20 hp more peak!
Peak gains are 80FT pd in the dip!!!!!!!!
Without further ado, the fabled numbers are IN!
First up, stage 1 visconti, stage 1 visconti with Phantom supercharger
Next up TORQUE.... and lots of them. Read out was 188 ft/pd compared to stock 109, anyone want 75% more torque?
Next up, STOCK for STOCK. Bolt on supercharger and go. We actually made more with stock tune!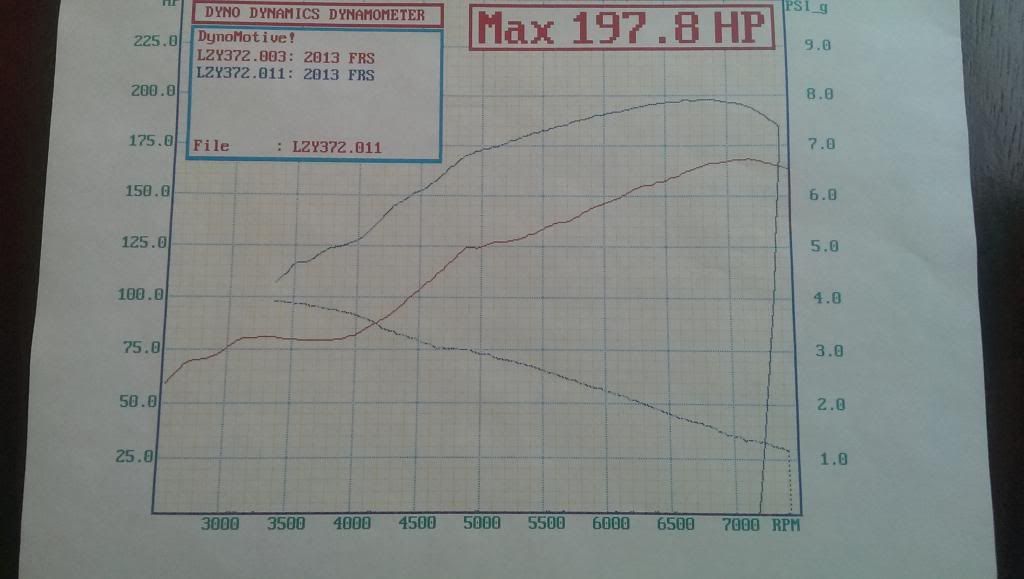 Next up, AFR's STOCK vs STOCK with super: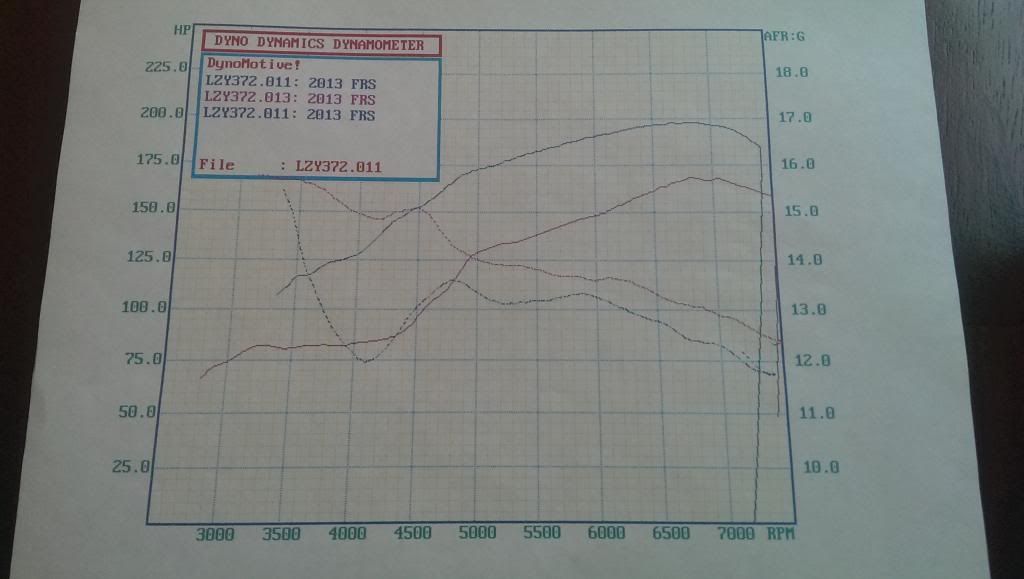 NOW LASTLY..... i have a overlay with vortech SC(same dyno), you guys wouldn't be interested in see that would you?
OH btw this is all at a DAM of 1 and no knock correction
Adding information on new motor controller:
Okay so update time:
I got the new motor controller today, now it doesn't increase power or anything but it does one KEY thing.
The new motor controller has an additional sensor the reads inline between the charger and the throttle body. Once a negative pressure is detected which differs from atmospheric it kicks on the supercharger a bit(not sure how much but it doesn't even drop the charge past 28v).
This little bit makes me SOOOO happy, it hardly drains any power and the car is nice and zippy through the torque dip now as it is allowing the engine to not work as hard to suck past the stock intake and the charger.
Its a very nice gesture and Rob said it would undoubtedly give a little boost over stock without the charger as it maintains just above the atmospheric baseline and you can feel it.
The torque dip isn't a massive void like it feels stock or even with the charger. NOW I'm not saying "WOW torque dip gone", but the car just feels zippier.
Its kinda like that partial throttle boost you guys are talking about except on a smaller scale..... either way we are making progress on something that is already proving itself to be a serious competitor. Just look at this compared to the innovative, avo or fullblown kits that have been posted this week, they are all making about 200 hp.
There is lots of new developments happening and Rob is busy as a bee in his workshop testing out some new stuff! Its nice to know that i am not 100% a Guinea pig and he really does his due diligence when putting stuff out to market!
DYNO SESSION UPDATE!
WELL WELL WELL - I am simply exstatic about the results tonight. Toma tuned us up nice, didnt invest too much time in it and he still wants to play around with it more.
We got it working at 2500 RPM no problem and this thing is a TORQUE monster, it just rockets away. The top end feels soooooooo good now too, its just buttery smooth and pulls hard all the way to redline.
The AFR's are much better as well. It doesnt go quiet as rich up top as it did with the stock tune. I cant wait to get some more video's up for you guys in the coming days.
We did another pull after this with a extra little battery pack that Rob rigged up and made ALMOST 210hp but we arent posting that dyno as that will probably be considered a power adder or something like that.
Rob didnt want to artifically inflate the numbers for you guys, he is straight shooter and Toma is a Tuning master!!
Without further ado, our preliminary tune results!!!!
UPDATE
Okay so something i have been wanting to do for a while is a walkthough of the system as i was driving. I think it will give alot of clarity to those people that are interested in the system.
On the far right of the video you can see the voltage readout and arming switch. This readout goes from 28.x when it is fully charged down to 21 or so when you really get on the throttle. If you watch in HD and full screen i think you should be able to makeout the numbers. I try to mention what they are at thoughout the video so if you cant see you will have to trust me.
This video shows acceleration, daily driveablity and has a full 2nd and 3rd gear pull with ONLY drag reduction enabled(i call that out).
This also appears to be the first video that i have uploaded of in cabin since the tune. This video represents 206hp at 6750 and 190tq at about 2200 rpm.
Enjoy and let me know of any questions about the video! And please try to ignore the terrible clicking and squeaking of the camera mount plus tape! LOL
[ame]http://youtu.be/hO9PSNpDkEw[/ame] [ame="http://www.youtube.com/watch?v=P1hQH95apRo"]FRS phantom electric supercharger 0 - 160 - YouTube[/ame]
Update
Got the new charger system installed and have to say it makes a dramatic difference in recharge time. Doing some test runs from 0 - 200 km/h resulted in recharge to 28v in about 10 seconds.... essentially the time it took me to slow back down to 80km/hr.
You can just drive and drive it and the second you let off it the recharge begins to sore immediately. I have stated many times that i didnt have a problem with the recharge rate on the street but this will really help out the guys that will be trying this on autocross on the road course.
The one time i DID notice the recharge was with the BMW races. We did about 15 pulls in different gears most times back to back. After about 15 minutes of the the recharge was taking longer than it did on the street.
This system also as the added benefit of getting the chargers and batteries warmed up quicker which help you get to optimal temps for dumping the most juice the charger.
Rob has also fitted a larger battery tray and with it we are able to run essentially the stock battery size with the dump batteries on the side. This will help me with starting in the winter. Total weight increase over stock with current battery setup is 9 lbs.
Here is a pick of the new layout.
UPDATE TIME dynojet numbers... Standard and experimental compressor.
We did a whole bunch of pulls on the dyno today. We tried out a early prototype of a experimental compressor and made some darn good gains.
The experimental compressor actually made too much boost at the low end so it dropped us into a load cell that was richened for safety(this is why it didn't make as much tq as the small compressor). This was only dyno runs, once we tune for the increased boost, gains will be more across the whole board.
Dyno room was at 29C with humidity at 29%
Peak gains at 4200 rpm 57tq and 46hp!!!! This is the punch the car really needed and makes it fly when merging onto the highway.
Can't wait until you guys in the states get tuned on your good gas or e85, gonna be some interesting results.... Especially at sea level.
All in all this is the perfect gain for a otherwise stock car, no messing with the fuel system, no messing with supporting mods or clutches
Other members DYNO Results:

2013 FRS 6MT with DUAL dump pack
Mods:
TQ250 with dual dump
OpenFlash Tablet
OpenFlash Header
Single tip cat-back
Modified air duct
93oct (although the it's mapped conservatively enough to make the same power on 91oct)
[Stock run shown for reference]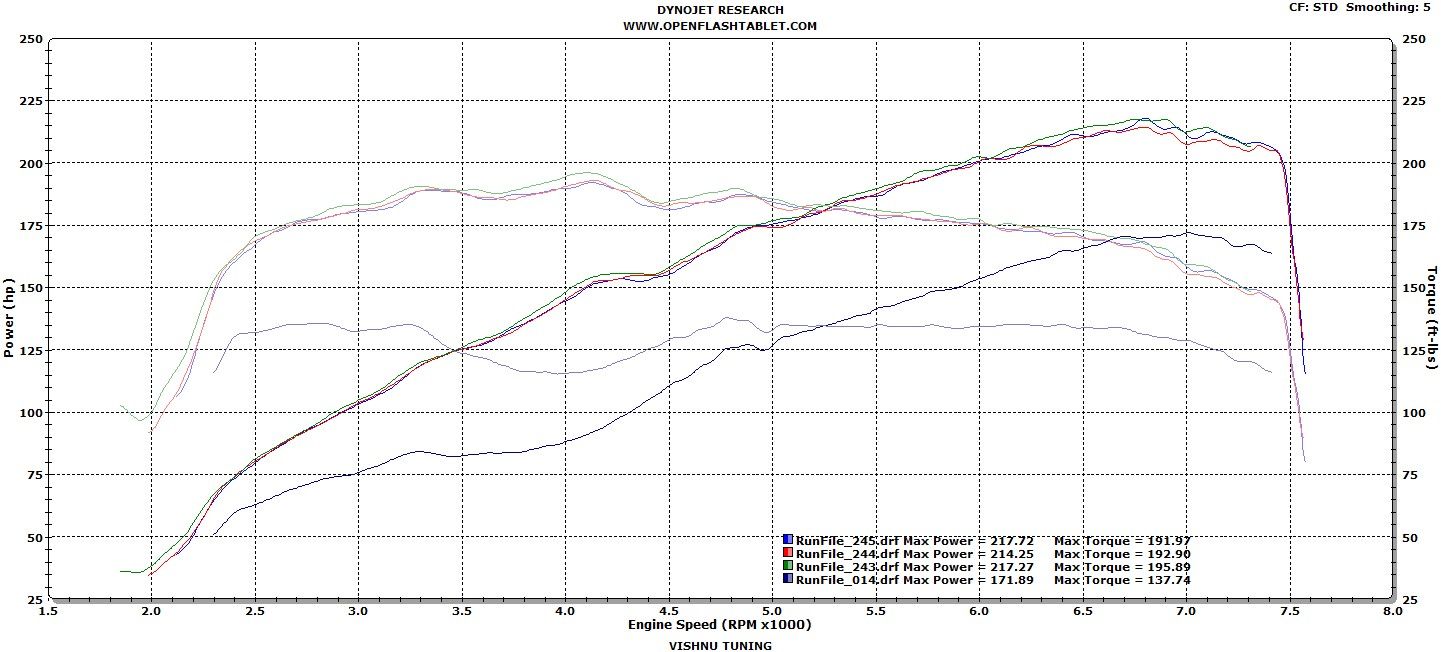 Open Flash Tablet E85 and 91 Octane:

Green and Blue line - Open flash tablet tuned ESC TQ250-24v, E85, Front pipe and catback[/COLOR]

Red and Blue line - Open flash tablet tuned ESC TQ250-24v, 91oct Cali, Front pipe and catback

Brown Yellow line - Stock, 91oct cali, front pipe and catback[/COLOR]






Ecutek Tuned by Bob @ Drift Office:
[/SIZE]
BRZ EDIT tuned by Toma using 91octane and safe base map:
First up is @
jpit
s results. I believe he has a borla header and some exhaust goodies. Jpit please correct me if I am wrong. This was tuned by Bob @
Drift-Office
.
Second run is @
Thatruth2001
also tuned by Bob @
Drift-Office
. This run was done at 86 nights to see if there was any performance difference between his dyno tune a couple weeks prior.
Confirmed Battery information:
I bought batteries here in the states from AtBatt. I got 2 of the correct batteries for the system (they are specific 12V/18AH, sold as a two pack PS-12180-NBx2) and one bigger battery for the starter. (12V/21AH) 1x PSH-12180FR.
I did free shipping and the batteries arrived in 3 days for a total of $139.03.
Power-Sonic 2 x 12V/18AH Sealed Lead Acid Battery w/ NB Terminal
SKU: PS-12180-NBx2 (8429)$99.49$99.49
Power-Sonic PSH-12180NB FR Sealed Lead Acid Battery
SKU: PSH-12180FR (21861)$54.99$54.99
SUBTOTAL$154.48
SHIPPING-
Thursday Special (M024PTL - 10% OFF)- $15.45
TOTAL$139.03
Video's:
[ame="http://www.youtube.com/watch?v=Hs3s4lQ9a74&feature="]FRS BRZ Electric Supercharger - Casual drive - YouTube[/ame]
[ame="https://www.youtube.com/watch?v=UpcvKh7atw4&feature=youtube_gdata_player"]FRS BRZ Electric supercharger - YouTube[/ame]
Video Update 2: Tried my hand at the 60 to 120 mph and another 0-60.... tunning comes tomorrow!
[ame="http://www.youtube.com/watch?v=NyKQFKgZ-3M&feature="]FRS BRZ electric supercharged 60 to 120 - YouTube[/ame]
[ame="http://www.youtube.com/watch?v=zxhmM8xcmkA&feature="]FRS BRZ electric supercharged another 0 - 60 - YouTube[/ame]
Race update:
Tried my luck against a Focus ST. We were fairly close with power to weight nearly identical now.
[ame="http://www.youtube.com/watch?v=3eibW8XM9fc&feature="]FRS BRZ supercharged vs Focus ST - YouTube[/ame]
Update:
TQ300 compressor testing. Did a 0-160 untuned. Below that is a boost plot of TQ250 system vs TQ300.
[ame="http://www.youtube.com/watch?v=P1hQH95apRo"]FRS phantom electric supercharger 0 - 160 - YouTube[/ame]
OCTOBER 18th update in POST 5
FRS with phantom electric supercharger and stock tune vs FRS with full SRT exhaust Visconti stage 1 and intake.
[ame="https://www.youtube.com/watch?v=AeS1UffqyoU&feature=youtube_gdata_player"]2 - YouTube[/ame]
FRS and S2000 races
[ame="http://www.youtube.com/watch?v=-wau1k13Gwc"]stock S2000 (AP1) vs FRS Boost(Electric Supercharger) Run 2 Dualview - YouTube[/ame]
[ame="http://www.youtube.com/watch?v=l4-oNENVYVs"]stock S2000 (AP1) vs FRS Boost(Electric Supercharger) Run 1 Dualview - YouTube[/ame]
Update
Yesterday was definitely a fact finding kind of day. We did get the car on the dyno and we did get better numbers but we didnt have enough time to really figure out or fine tune the TQ300(4.5kw). This unit has more boost down low and that was causing havoc for the MAF sensor.... when the MAF sensor is getting hell you end up having a hard time nailing down AFR's.
At the end of the day we ended up with 10.x AFR in the dip and 12.5 AFR on the top end and that was the best we could do with the limited time we had. I would be interested to know what Bob @
Drift-Office
did to get the AFR's more stable in the high load area(<3k). Although we did beat our record torque number we could have done so much better if we had better AFR's. Toma was also getting very frustrated because some of the changes he made didnt take affect like he would have expected or the changes would happen a couple runs later. All in all it was a very weird experience with BRZedit yesterday. You will also see our last runs with the old compressor and old boost curve in the third post. It is worth mentioning that when we got to Toma's dyno we were at about 200whp with the 4.5kw compressor before tuning.
On to the results ~207hp(6800rpm) and 190tq(4200rpm)
Largest gain was at 4250rpm with a 70% gain.
ref. fig1
Stock = 91hp / 112tq
TQ300 = 155hp / 190tq
BOOST COMPARISON - 3.5kw vs 4.5kw charger. 4.5kw charger needs more tuning and less restriction in the exhaust to really shine!
What we need is more time to get the most out of the obvious extra boost we are making. Its also worth noting that we are seeing the limits of the stock exhaust over 7000rpm. Both @
Thatruth2001
and @
Bu-Tang
are able to hold their peak power alot better than i am with stock everything.
DRAG REDUCTION
Next lets talk about DR. My car has the most aggressive version of DR. DR's intention is to look for a loss in power due to high vacuum and equalize that with a pulse of the compressor. The fact of the matter is DR is not used in the way we used it today, you would never go with DR only all the way to redline. DR give you a nice shot of boost to get you going down low.
With that said here are the DR results with both stock and charger disabled on the same graph. Its plain to see from the graph that it does work, and works well especially at the top end. Yes there is some oscillation however Rob is now working on turning up the frequency/sample rate. Driving in the car you cant even feel these humps of power it just feels like you have more power. My main point is to make it clear to everyone that this doesn't feel like you are in the 80's headbanging your way to school to rock music.
Adding more video's
[ame="http://www.youtube.com/watch?v=cZM3dcHdUZA&feature="]FRS BRZ electric supercharger 2nd gear - YouTube[/ame]
[ame="http://www.youtube.com/watch?v=jZGxNdtas1U&feature="]FRS BRZ electric supercharger 1st to 4th - YouTube[/ame]
[ame="http://www.youtube.com/watch?v=0wudbiSkQPA&feature="]FRS BRZ electric supercharger 0 - 60 - YouTube[/ame]
[ame="http://www.youtube.com/watch?v=-d2vY4tEh0k&feature="]FRS BRZ electric supercharger 0 - 60 round 2 - YouTube[/ame]
[ame="http://www.youtube.com/watch?v=nLiR6J9T3HI&feature="]FRS BRZ electric supercharger 0 - 60 round 3 - YouTube[/ame]
[ame="http://www.youtube.com/watch?v=68TLAWcHaX0&feature="]FRS BRZ electric supercharger 2nd gear - YouTube[/ame]
[ame="http://www.youtube.com/watch?v=5KmJLaExfYg&feature="]FRS BRZ electric supercharger 3rd gear - YouTube[/ame]
[ame="http://www.youtube.com/watch?v=TLKsgCwbRw0&feature="]FRS BRZ electric supercharger - YouTube[/ame]