So, you participated in a GB that your local community put together. You waited 2-5 weeks for the panels to be delivered from Japan. You paid a small, and unexpected duty/fee. Now you have 2 big and 2 medium sized under-panels, a handful of screws, nuts and clips. What now? There's no instructions! Read on!
Things you'll need:
10mm socket
12mm socket
Flathead screwdriver
Box cutter/exacto knife
Body clip panel remover
Pliers(if you don't have body panel clip remover)
This is a pretty easy install, but from browsing through the various GB threads, it seemed many people would just like some photos of the install. Note: The silver/aluminum skid plate DOES NOT GET TOUCHED during this install. I mean, go ahead and touch it if you want, but its not necessary for the install of these panels.
Start off by jacking up the car. You
might
be able to do it without raising it, but it would be a massive PITA. I chose to get the car as high off the ground as I could, while still being safe. The boxes you see the rear tires on are solid wood fyi.
When using jack stands, be careful of placement, as one of my jack stands was blocking a clip that I had to pop out. Nothing major, but an inconvenience that you can hopefully avoid.
There is NO particular panel you need to install first. Start with the larger panels, OR the smaller gas tank panels-your choice.
Included in your parts to install are:
Large black clips(red arrow)
Small black clips(green arrow)
nuts(orange arrow)
screws/bolts(gray arrow)
Note: Items in picture below are NOT to scale.
I personally started with the smaller/rear gas tank covers/panels.
Start off by removing bolt(s) and plastic clip on passenger side securing plate to the tank. It is outlined in Yellow. Solicite help from gf/wife/buddy/dog. Well, maybe not dog, as he was not much help during the install.
Next, take the new panel, and prepare to install. The panels are marked "LH" and "RH" so you know which spot/side they go on.
The rear panels each require (2) nuts, and (2) large black clips. The nuts go on the areas marked by orange, and the large black clips go into the areas marked red. I did not take a photo of both panels, but they are nearly identical.
Now, onto the drivers side. There is no panel to remove on the driver rear, but there is a small rubber grommet that needs to be removed. On my car, it had "10" on it. See photo, with lime green arrow pointing to rubber grommet.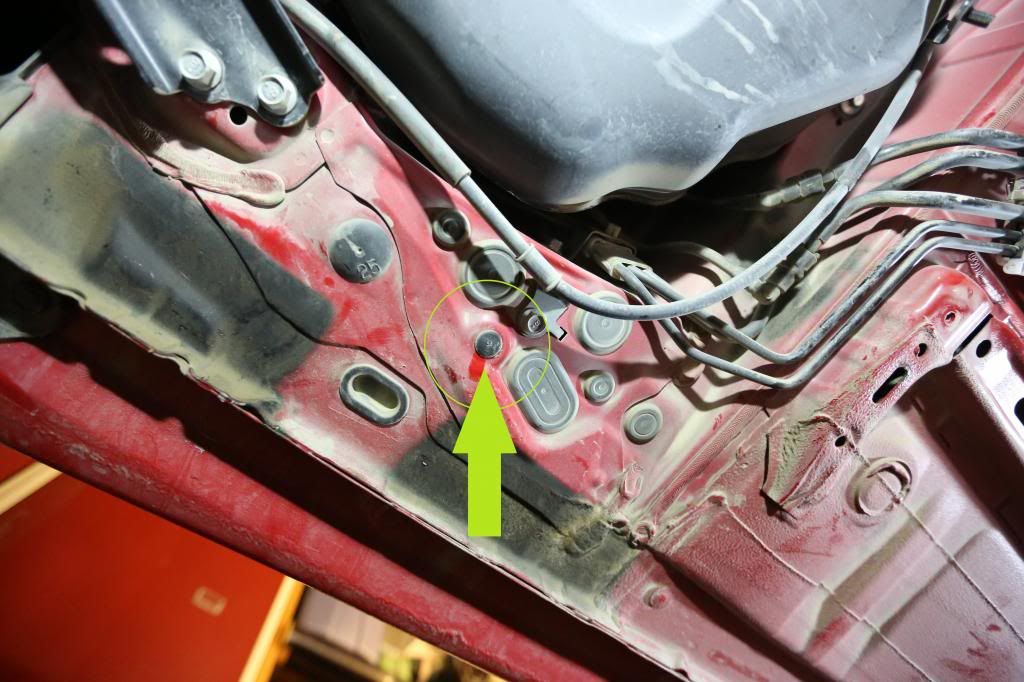 Now, onto the larger panels. Start off by using your flathead screw driver to pry the black plastic clips off that hold on the factory panel.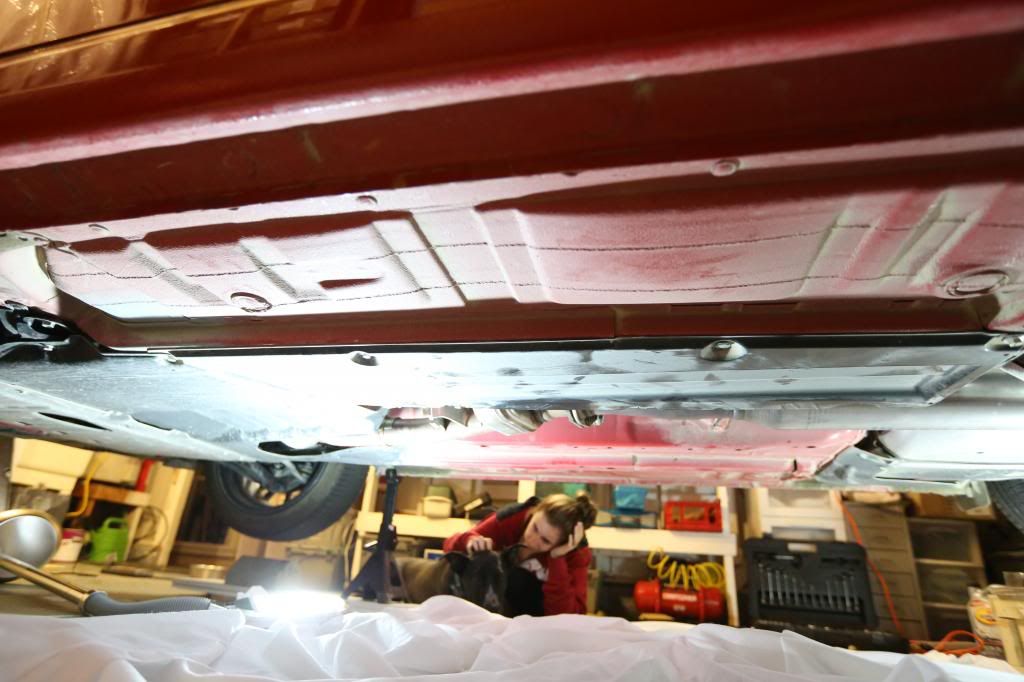 Comparison of old panel vs new.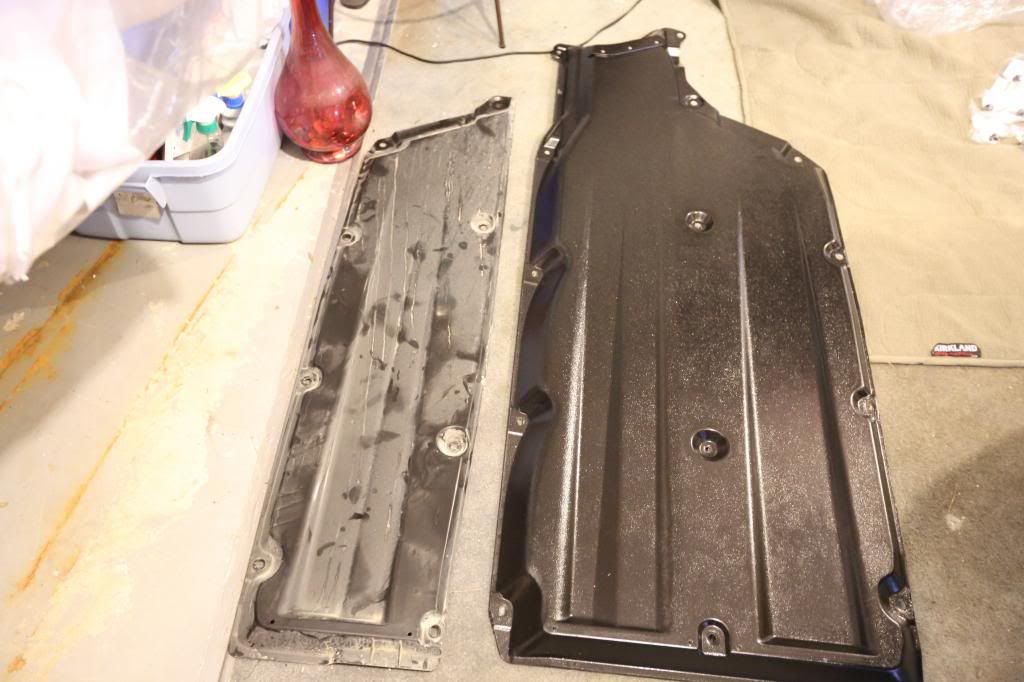 Now, starting with the passenger side, remove (3) bolts from the existing black panel. If you hold up the passenger side under-body piece, you will see which holes overlap. They are indicated as purple stars in photos.
The next step, is probably the hardest part of this install. There are (4) plastic clips on each side of the car that need to be removed. However, they were installed prior to the underbody being sprayed with a protective layer of paint/foam/gel/whatever, so they require some "convincing" to remove. Located right on the otherside of the jacking points of the car. Seen as green in photos below.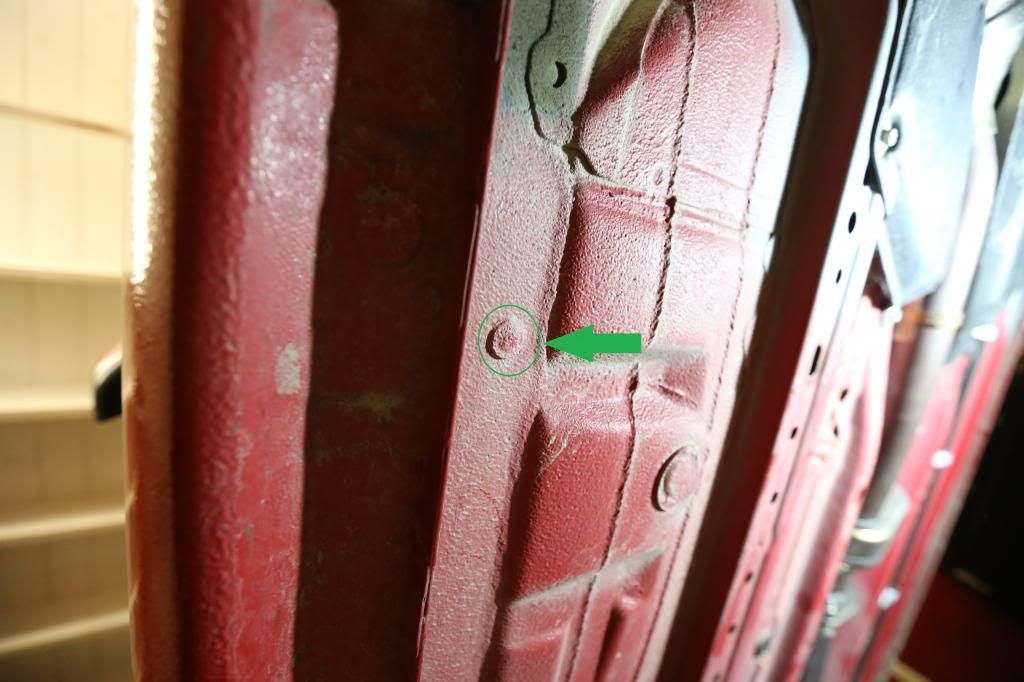 I used a box cutter to slice the material around the plug, and then used pliers to pull it out. Other members have suggested pulling the plug on the sides until you can see the "wings" on the clips, and pressing on it with a small object to "unlock" the clip from the hole, making it easier to remove. I chose the banshee method of pulling, twisting and cursing.
*Note: Since there is now the body/frame exposed to the elements, you can choose to spray some paint on the metal parts exposed if you live in wet/salty areas to try and prevent future issues. If you choose to paint these areas, it is under the car, under the panels so no one would ever see/know. But ultimately it is up to you. I did not paint the exposed metal. There are (4) on each side you need to remove.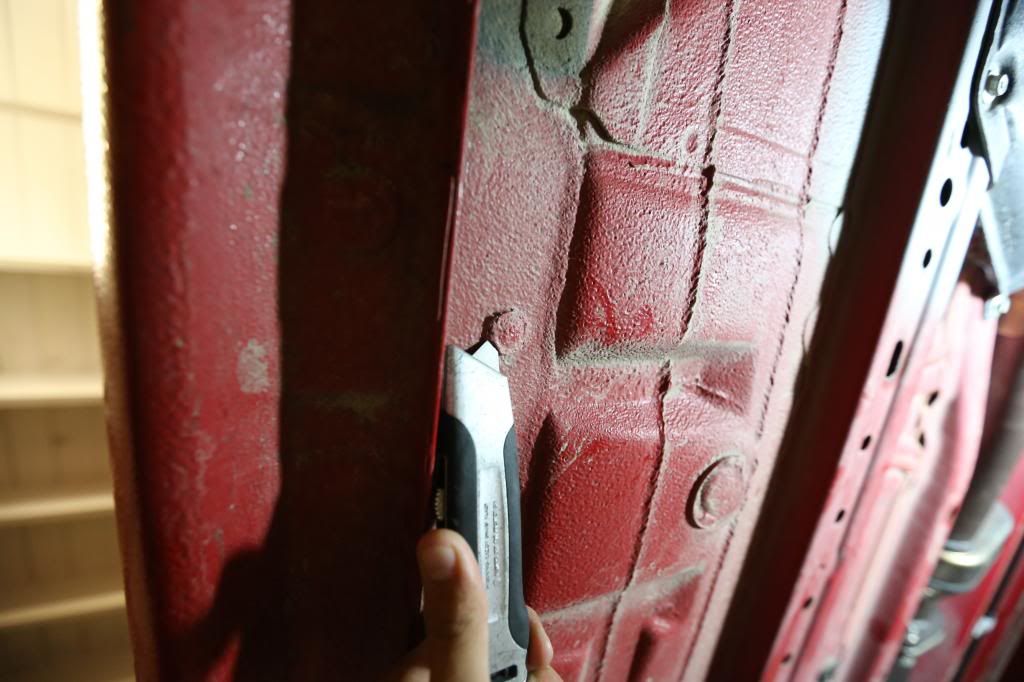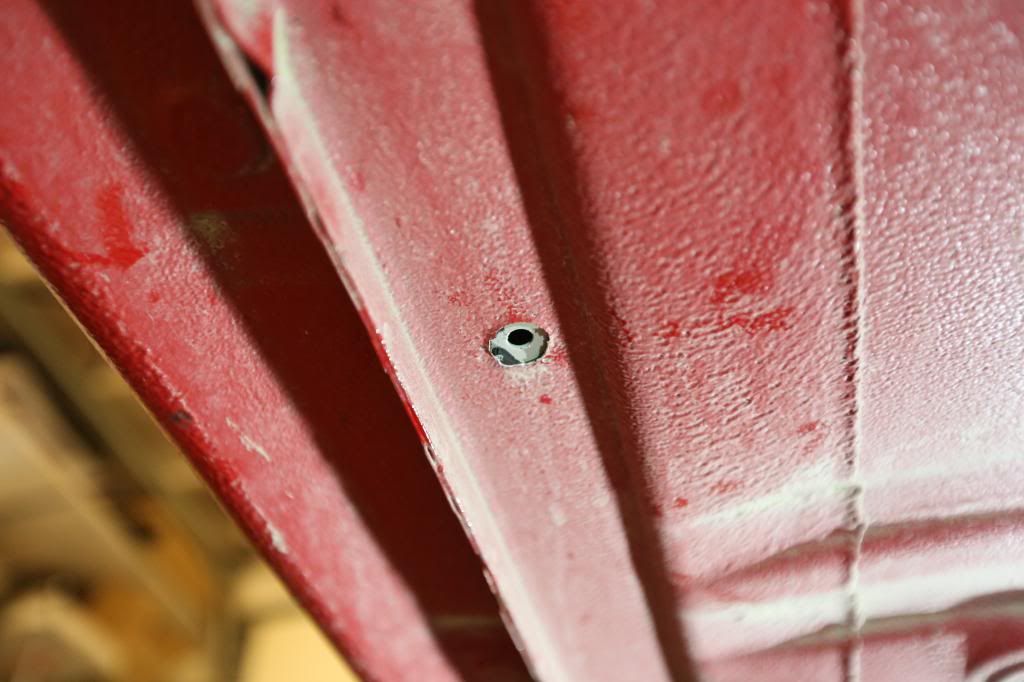 Once those are removed, you can install your panel. Starting with the front first, place the new under-body panel on top of the black transmission cover. So, it would be body, JDM under-body panel then the transmission cover. There are (3) total points/bolts that are shared by the two covers. Once again, they are indicated by purple stars in the photos.
After that, install screws into areas marked by gray arrows, and small black clips into areas marked by green arrows.
Passenger side:
Repeat for the drivers side as well.
Congrats, you've just installed JDM under-body panels that we didnt get from the factory!