There have been several threads on these, people wanting to get more info on them. After some searching I found enough information about them to decide to pull the trigger and order myself a set.
They are spec for a rally series in japan, as of this posting its name is Gazoo Racing Rally Challenge. However it seems to be renamed every year, so that might not be the current name.
[ame]https://www.youtube.com/watch?v=PiTsZkOwlTM[/ame]
Here is a video of the class in a Rallycross course as one of the stages of the race.
[ame]https://www.youtube.com/watch?v=n1DS0r2YSnE[/ame]
Here is one of the tarmac stages. From the view of ZN6 I believe to be in the CS-3 class that runs this suspension.
Came well packaged straight from Toyota, purchased through Black Hawk Japan. BHJ was awesome responded promptly to my initial order to let me know that they could not be shipped by air due to being a gas strut. I was able to get them by sea and they refunded me the shipping difference.
Unpacked and ready to be installed.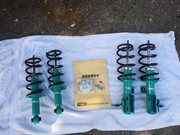 Not a 'how to' thread, same steps as doing lowering springs.
Car up, wheels off, ready to remove the stock assembly.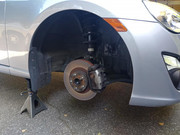 I have camber plates already, which swapped over with no issues.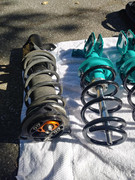 Shorter but stiffer springs get the job done providing added ground clearance for these rough california roads.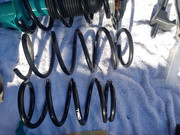 With my camber plates the fronts the spring under full droop is not fully captured. I will refrain from jumping the car if it can be avoided. *This has been confirmed to not be an issue if you are using the stock top hat.* - Edit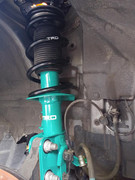 SPL control arms in the back.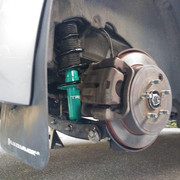 Will have more photos, to busy driving to stop and capture any.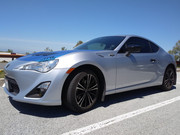 I did my alignment more based on Tarmac rally than dirt.
(after some driving I made some changes, will put those next to the original alignment)
Front
Camber: -1.8 L&R
Toe: 1/32 OUT
Caster: -6.6 L&R
Spring rate: 45.5n/mm // 259.3 lbs/in
Bound: 540n
Rebound: 1250n
Rear
Camber: -1.3 L&R (reduced to -1)
Toe: 1/16 IN (reduced to 0)
Spring rate: 51.5n/mm // 293.5 lbs/in
Bound: 400n
Rebound: 1120n
After some hours driving, I added a 16mm adjustable Perrin swaybar on the softest setting. This reduced body roll and kept a fairly neutral with a bias towards oversteer where as before it still had a more understeer bias.
If I were to sum up the driving experience so far I would say, "Happy puppy wagging its tail."
Other mods include. 4.5 rear end, JDL catted UEL, HKS 2x resonated FP, Borla catback, EcuTek tune on 91.
On initial install the car was a full inch higher. After driving it settled and I would guess 15mm higher than stock.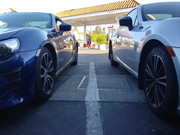 225/50r16 on 8" wide wheels.