Glad you are enjoying the suspension.
The Enkei Kojin looks really good on the car too.
To answer a few questions:
1. Drop Links
:
Front adjustable drop links are included.
2. Front Springs
:
The widest part is only 115mm, so it isn't very wide.
I would say this springs will give no less clearance than more common coilovers that utilise wide springs such as the Bilstein PSS9 coilovers.
3. Where it is made
:
The ZetaCRD are made oversea. Due to Non-Disclosure Agreement mean I cannot give out any more info than so.
However, these are build according to MeisterR's specification that we engineered at our UK R&D department.
These include Top mount, springs, springs rate, damper stroke travel, damper valving, physical parts of the damper such as damper rod diameter, unique locking collars, and more.
What that mean is the MeisterR coilovers are unique from anything else available in the market, as we engineered our own specification.
4. UK patent pending locking collars
:
Our collars are CAD designed in our UK R&D department, and is under going UK patent process.
The C-spanner locks into multiple rounded lobe, and therefore allows large amount of torque to be put through without slipping.
Here is what they look like locked together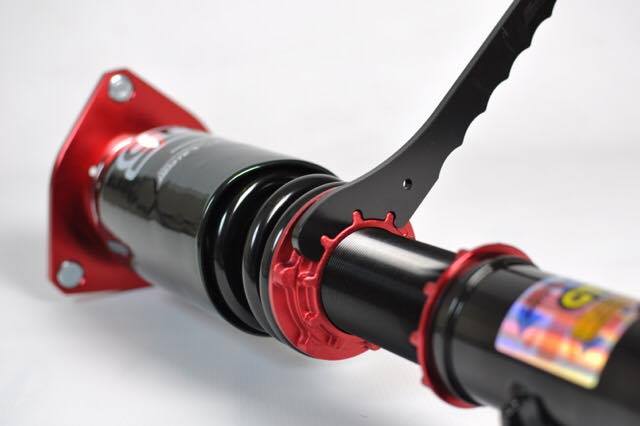 Due to the high tolerance needed for this system to work, each C-spanner had to be individually laser cut in order for this system to work.
Hope that answer a few questions, anything else please feel free to let us know.
Jerrick