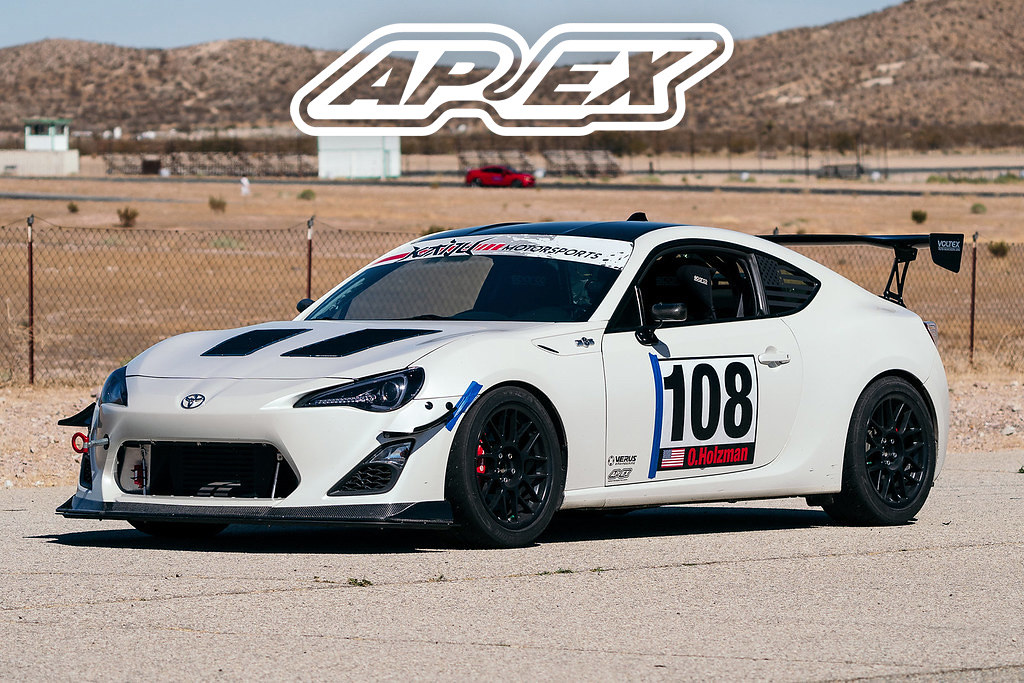 TURBO FRS FEATURING APEX ARC-8 WHEELS
PREPPED FOR 86 CUP - MODIFIED CLASS
We caught up with Oren H. and his well prepared Scion FRS at Streets of Willow (WSIR) for a recent SoCal 86 CUP event. It is great to see Oren back behind the wheel of the number 108 car after being sidelined earlier in the season due to turbo issues. From inconsistant track conditions to components wearing out or failing, this sport is always throwing curveballs. I happen to think it is part of the appeal. As performance driving enthusiasts and racers, we are always incrementally improving both man and machine.
Lightweight 17" wheels in a chassis specific width and offset is one of the key modifications 86/BRZ track enthusiasts like Oren count on for maximizing performance, reducing rotational mass, and mitigating the seasonal tire budget. The 17.8 lbs ARC-8 was designed with brake clearance in mind, clearing a variety of big brake kits including the factory Brembo's found on the Performance Package BRZ and TRD SE 86 models.
If you run into Oren and the 108 car, be sure to give him a wave hello. Better yet, be ready to give a point by!
WHEELS & TIRES
APEX ARC-8 17×9″ ET42 Wheels in Satin Black
255/40-17 Bridgestone RE71R Tires
SUSPENSION & BRAKES
JRZ RS2 Coilovers
SPL Rear Lower Control Arms
Whiteline 20mm Front and 16mm Rear Sway Bars
Brembo Big Brake Kit
Stoptech SS Brake Lines
Project Mu Club Racer Front/Rear Pads
MOTOR & TUNING
Garrett G25-550 Turbo
JDL EL Turbo Kit
Garrett Intercooler
DW300 Fuel Pump
ID 1050x Injectors
Omni 3 Bar MAP Sensor
Delicious Tuning Boost Controller
Delicious Tuning Flex Fuel Kit Mk1+
GReddy Drain Plug
JDL FT86 Oil Cooler
JDL Slim Fan Shroud
Verus Cam Plate
Verus Air Oil Separator with Drain Kit
Verus Fuel Door
Subaru A/C Delete
Berk Catless Front Pipe
GReddy Revolution RS Exhaust
DRIVELINE
IRP Short Shifter
MTec Shift Springs
Whiteline Transmission Bushing
OS Giken LSD
EXTERIOR & AERO
Verus Front Splitter with Race Upgrade
Verus Dive Planes
Seibon TA Style Front Lip
Verus Aggressive Rear Diffuser
Track Spec Hood Louvers
86Speed Hood Struts
MPH Honeycomb Carbon Fiber Trunk
Voltex Type 2 Wing
Spec D Headlights
APR GT3 Mirrors
Helix JDM Side Markers
INTERIOR & SAFTEY
Sparco Evo Seat
Sparco Ergo Seat
Sparco Wheel with NRG quick release
Sparco 6 Point Harness
Autopower Bolt-in Roll Bar
Cusco Tow Hooks
PHOTOGRAPHY
: Andrew | @
build
journal
OWNER/DRIVER
: Oren H | @
neroman98
LOCATION
: Willow Springs International Raceway
SUPPORT THE SERIES
FB Group: 86CUP | IG: @
SOCAL86
cup