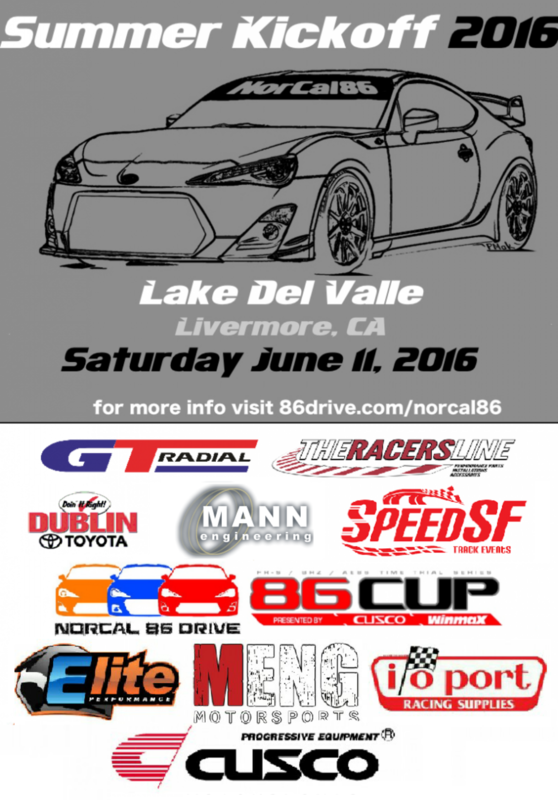 When: June 11, 2016
Time: 10am
Where: Lake Del Valle - Agua Vista picnic area
7000 Lake Del Valle Rd
Livermore, CA 94550
$10 at the door. NO MORE PAYPAL. I printed the reg list and will not be updating it again.
Paypal to
norcal86@outlook.com
The cost is to eat! Each individual attendee must register and pay if they would like to eat. If you are just there to hang out the event is FREE! *Only paid attendees will receive a raffle ticket*
Every registered attendee will be entered in to the car show!
Note: There is a $6 fee to enter the park. This is paid at the gate and is not to us.
In the comments include:
Full Name
Screen name
Number of Guests (along with their first name)
NO REVING. NO BURNOUTS. NO LOUD MUSIC. BE RESPECTFUL.
Beer and wine is allowed. This is a car event so please DRINK RESPONSIBLY if you choose to.
If you behave in a fashion we feel represents NorCal86 in a negative light you will be told to leave.
BBQ includes:
-
Burgers (veggie included) and jumbo hot dogs with all the fixens, various sides, water, and soda.
Car Show Categories:
Best Exterior
Best Engine Bay
Most Functional
People's Choice
Best in Show
If you want to guarantee being judged for the show you must arrive no later than 11AM.
Winners shall be selected by the vendors for all categories (except People's Choice)
Sponsors (click each to link to their website):
GT Radial
Cusco
Elite Performance
Dublin Toyota
The Racer's Line
Speed SF
IO Port Racing
86Drive
Meng Motorsports
Mann Engineering
Raffle Prizes
(1) Set of GT Radial SX2s - MSRP $800+ (select sizes)
(2) $150 gift certificates to Dublin Toyota Parts/Service
(1) Free Track day with Speed SF Track events
Meng Motorsports Ver2 HID kit
(1) Whiteline sway bar set - 20mm front/16mm rear
(1) Mann Engineering 35mm lowering springs FRS spec
(1) Mann Engineering 35mm lowering springs BRZ spec
(2) Oil changes with Torco fluid at Mann Engineering (filter, crush washer, disposal fee not included)
(1) $500 off coupon for AST coilovers for FRS/BRZ (install not included)
(1) $200 off certificate for a RESONATED Miltek exhaust system (install not included)
(2) Mtec shift spring sets installed at The Racer's Line
(1) Perrin shifter bushing installed at The Racer's Line
(1) $225 gift certificate good on labor at The Racer's Line
(1) Cusco shift knob
(2) Motul oil change and alignment at Elite Performance
(1) Set of TRD performance brake pads
(1) Perrin shifter bushing
Track day discount coupons
Racing supplies discount coupons
Scion swag
GT Radial swag
I'd like to thank @
PMok
@
Pwolf
@
MisterSheep
@
Pish
for all the hard work that has gone into and will continue going into putting this event together.
We need volunteers to help make this event great. Cooks, parking lot control, etc. Please PM or any of the board members tagged above if you would like to help out in some way!
Reg list:
Phillip C. +1
Plato M. +1
Jonah S. +1
Josh M. +2
Trevor P. +1
Scott G.
Bryan L.
Justin E.
Bryan F
Brandon Y. +2
Anthony P.
Ethan R. +1
Steve R. +1
Qui T.
David L.
Tracy M. +1
Adam M. +1
Anthony U. +1
Nick T. +1
Jose R. +1
Vaughn A.
Andrew T +1
Anderson W. +1
Edward L.
Garland W.
Van N.
Jeff J.
Dan C. +1
Daniel H. +3
Jon S. +3
Roderick A.
Sandy P. +1
Tselmeg E. +1
Gilnor V. +1
Josh A. +1
Curtis O. +1
Jeff N. +1
Julio F.
Pom V.
Drew G.
Nathaniel C. +1
Daryl L +1
Robert E.
Rex C. +1
Javier C.
Pablo M
Ed C.
Troy P. +1
John M.
Chris S. +1
Paul L.
Randy N.
Jose B +4
Dom B.
Wilson W. +1
Mark C. +1
Arnold M.
Jared F.
Jon L.
Ben N.
Andrew D. +1
Jon A.
Brian H.
John L. +1
Albert R. +1
Ismael M
Dima A.
Devin C.
Joshua A.
Eddie D.
Raul G.
Manny M
Steve P. +1
Cameron W.
Andy K. +1