So I returned home from my Christmas vacation to this: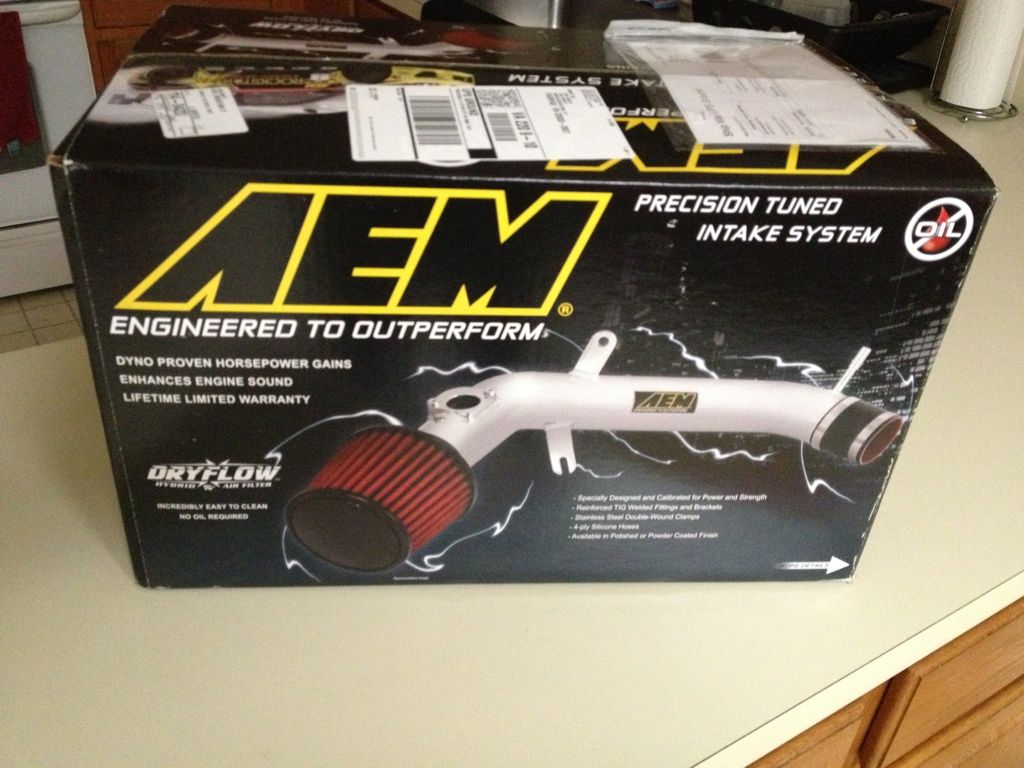 I ordered from FT-86 Factory. It shipped quick and arrived as promised. The kit comes complete with everything you need to install. You will need to use a small allen wrench that you don't in the OEM removal and reuse one bolt from the front of the airbox housing (Instructions, stickers, dyno, etc comes in box).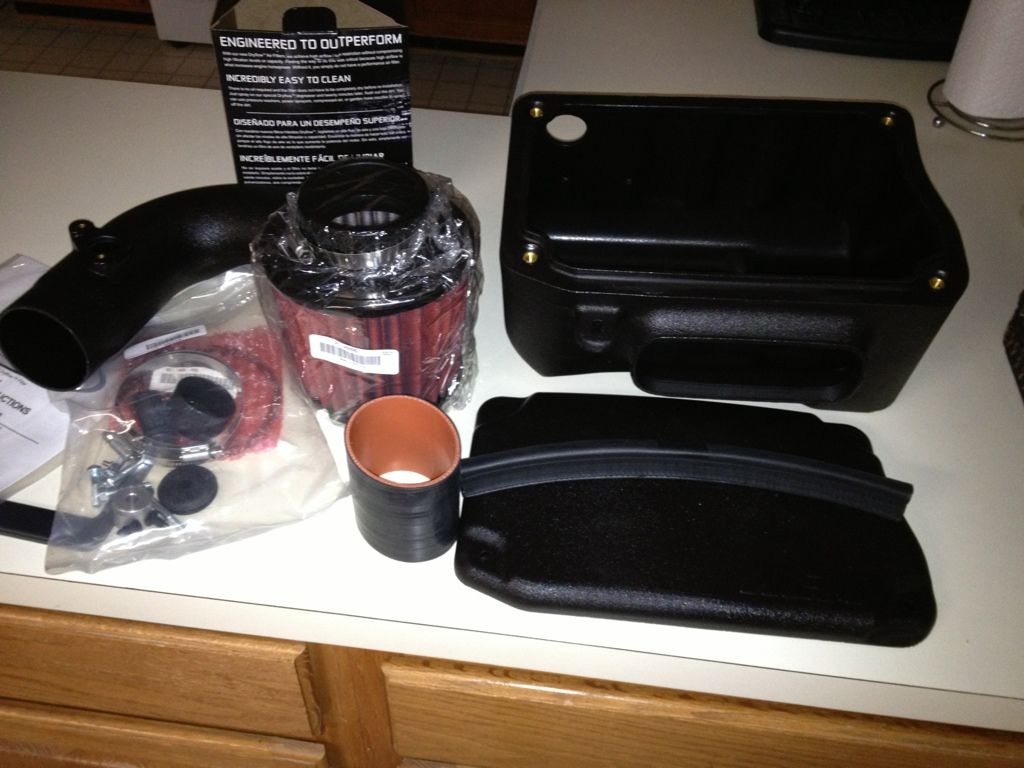 Install:
It was dark out (cold and windy) but it's an easy job so I decided to do it right away. Total install time is about a 45mins to an hour. You will need a flat head/phillips screw driver set, and a 10mm socket wrench (extension comes in handy). The hardest part of the job was inserting the rubber seal that seals the intake plumbing into the airbox.
The kit itself is good quality, everything is included, it makes it really easy. The intake piping and box are both plastic. They feel a little cheap considering the price tag but oh well.
The OEM unit removed:
Installed AEM: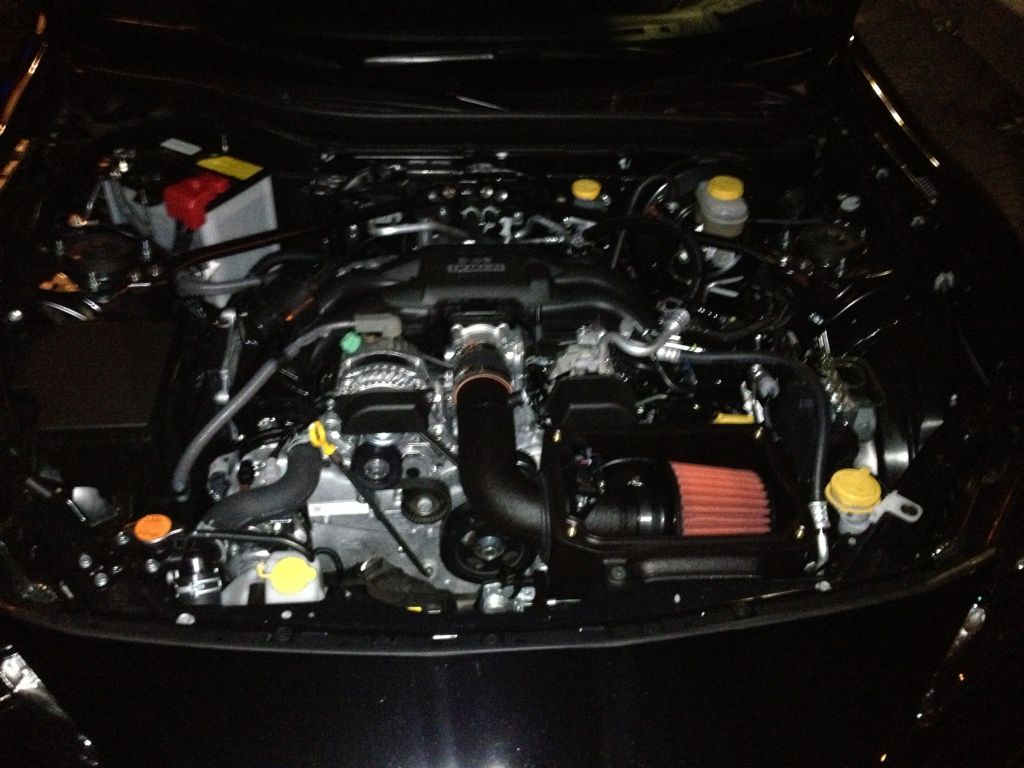 Box sealed: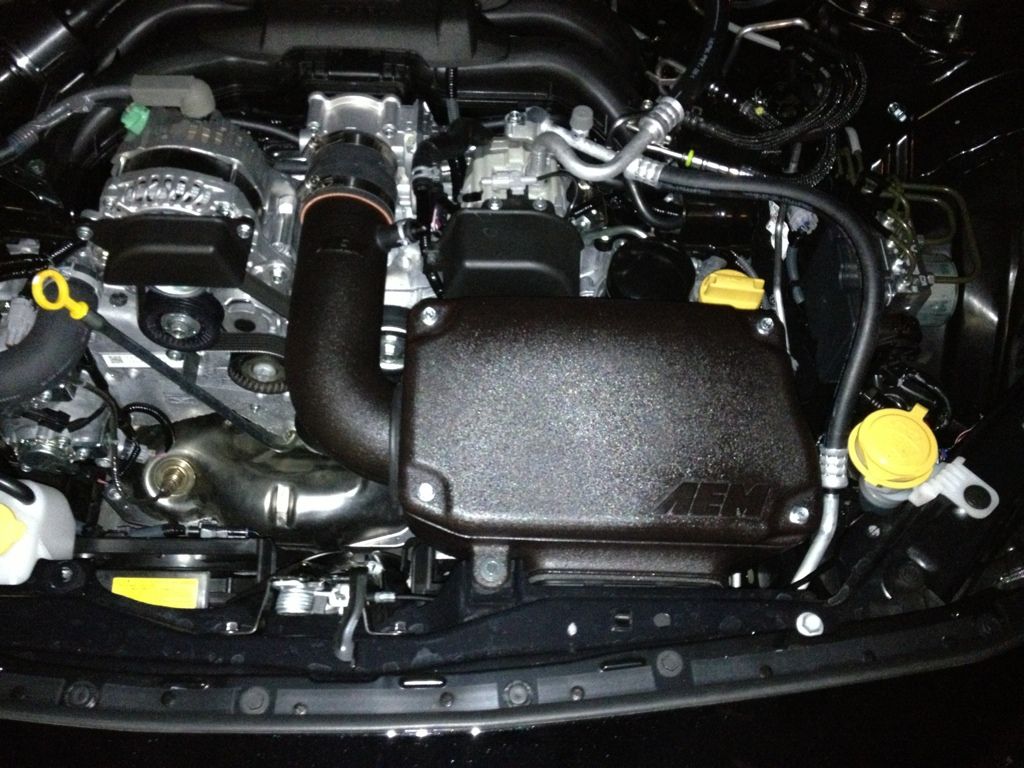 First run:
As instructed I disconnected the negative line from the battery. The car started right up with no issues, idle was fine, and NO CEL! I let the car idle for a few moments and packed up my tools. I went out for a little spin. The intake feels a little faint down low as I let the clutch out. Almost like the revs drop slightly quicker (but keep in mind I was out of town for a week not driving the BRZ). The intake is quieter than the stock unit w/ sound tube. I was hoping for a little more raw screaming at high RPMs but it just doesn't come. It has the sound of an intake but a pretty mild one. Nothing aggressive or exotic. It reminds me of a K&N drop in filter on other cars that I've owned. The car feels more responsive, the throttle comes alive on demand with no latency. 10HP? I don't know, it doesn't feel any faster but I only went out for one run. It seems to pull a little more efficiently but I don't notice any drastic power increase.
I will update when I get some more miles on it and see if I notice anything different. Overall it feels very OEM so that's good for me. No irattic revs, idle, or anything else odd going on. Is it worth it? I don't know for those on a budget conscious diet, but for me? I got a decent deal and a few hundred bucks is worth playing with for this car IMO.
Next Up:
Install the front lip and side skirts. I just got a new jack and need to find my drill. I need to see what a good solution for the side skirts are. I expect to get to it later in the week. I might knock out the front lip this weekend if I get the time.
I also found a great deal on Hotchkis Sway Bars through a group buy, so I plan to order. I'm still waiting for Eibach to release the Multi-Pro R2s. I don't think I'll be doing a whole lot more in the near term but we will see...
Second Run/Update:
So after being slightly disappointed, I knew I had to run it back out before I went to bed for the night. The first run was in my neighborhood and just out on the main drag. I was only really able to run through 1st and 2nd.
So I took it out down some twistes that I take almost every day. The intake does sound more aggressive (I think being away from the hustle and bustle I could hear it better, or possibly from being out in the windy cold, my senses were off on the first run).
The car pulls strong and consistent. The car really comes to life around 6-6.5K RPMs. As I mentioned on the first run it feels more responsive but after taking it down some backroads I realized that it was pulling a lot stronger. I'd believe a 8-10 HP increase. Overall, after the second run I feel much better about my purchase. It made the car a lot more fun on the backroads. I should have got some data logging on the OEM intake to compare. I guess I could one day if I got bored but I'm pretty sure the intake (and MAF tune) has provided a noticeable increase. This is all I'm doing for power until I drop the Innovative Motorsports Supercharger kit on. It's not going to have the same effect that an AEM would have on say an S2K, but overall very happy and would recommend. I'm looking forward to the FT-86 SpeedFactory review because Jeremy will have a reference to other intakes.