Norcal 86Cup Rounds 6 & 7 at Buttonwillow was a blistering success! Thank You
Cusco
,
Winmax
, and
CSG
for your support! Special thanks to
GTRadial
and
NCRC
for your continued support!
Half way thru the 2015 season, 86Cup again was a double-region trackday at Buttonwillow this past Saturday. 12 podium finishes were equally divided between the Norcal and Socal groups. NorCal capturing all 3 podium finishes in the Stock class, 1st and 3rd place finishes in the Street class, and 1st place podium in the Modified class. Socal comfortably took all three podium finishes in the Unlimited class with their veteran drivers, 2nd place finish in Street class, and twice in Modified class. In an observation of the results, Norcal can hold its own (David) against the reigns of the Socal (Goliath) drivers. Congrats to all the podium winners! Special thanks to Socal (and LV) 86Cup for the hospitality on their home turf.
Winners: from 1st to 3rd:
Stock - Erik (Norcal), AK (Norcal), Van N. (Norcal)
Street - Kevin P. (Norcal), Jerel (Socal), Wilson (Norcal)
Modified - Gary (Norcal), Garrett (Socal), Alex (Socal)
Unlimited - Simon (Socal), Ted (Socal), Mike K. (Socal)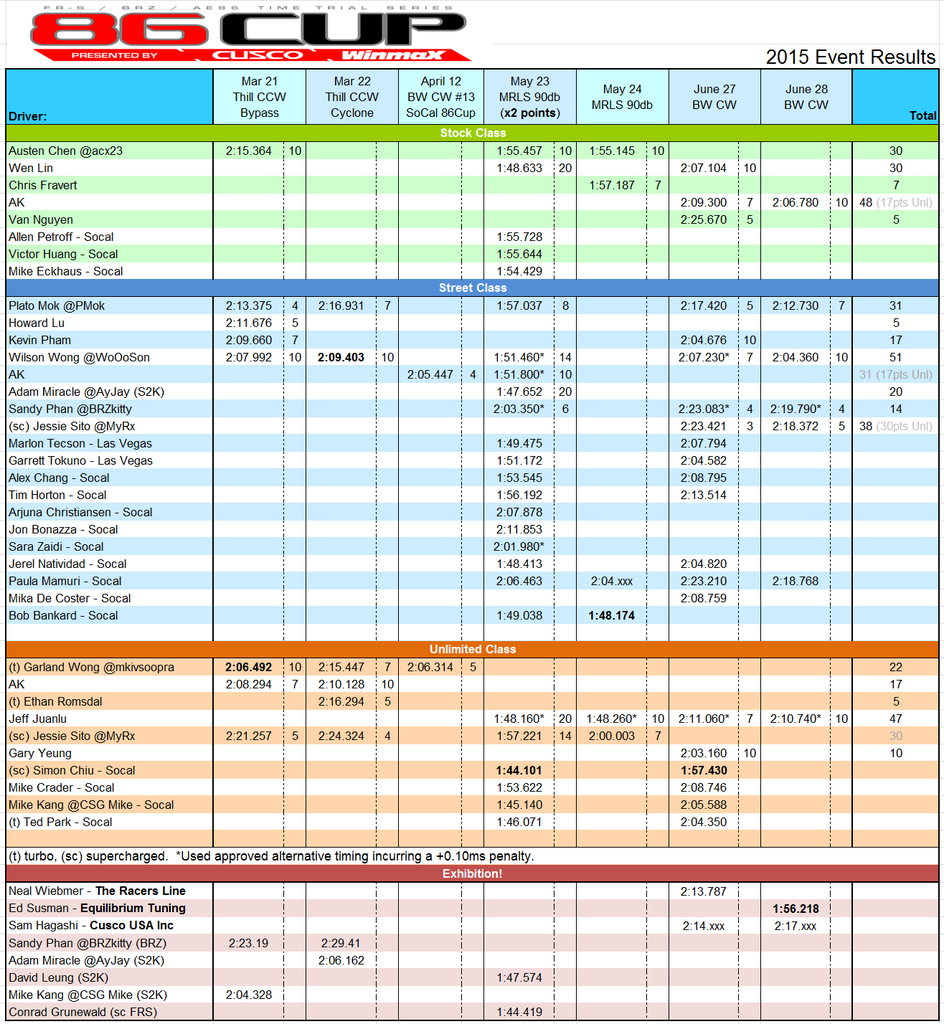 The coolest guy this past weekend was Scott Grasso (@Pwolf)! Our Norcal photog was impressive absorbing the heat session after session, lap after lap waiting for that great picture of 86Cup drivers hot on the track. The 86Cup drivers were at least in the shade of the their moving vehicle but not Scott, he stood in the sun waiting for each and every 86Cup driver to come around the turn. That's why Scott was the coolest guy! Thanks Scott!!
Link to his pictorial coverage of
June 27th and 28th 2015 - Norcal/Socal 86Cup @ Buttonwillow Raceway:
http://www.ft86club.com/forums/showthread.php?t=90892
An anticipated event, not to mention saddened that I had to return the Cusco FRS, was a fun-filled weekend with local and distant friends! The departure of Norcal and Socal on Friday was met with a rib-filled dinner for the masses at Buttonwillow's
Willow Ranch BBQ
. The late night tactics of chatting and games are always the icing to look forward to with these events. Thanks to everyone that came out!!
Special THANK YOUs to the two gentlemen who treated us to Saturday night's dinner at La Costa Mariscos. You know who are #bawllers!
Buttonwillow was unfamiliar with many of the Norcal participants but that did not hinder them to pull in great lap times and having a fun weekend. That's evident with Norcal drivers winning podium finishes in the Stock and Street classes. While the sun shined closely on Buttonwillow and its unshielding paddock, Norcal and Socal participated in the game of hide 'n go seek between EZup tents and personal trailers. "It's not that hot" was the convincing method to tolerate the heat - just before getting back into the car for another session (with the heater on! #becauseracecar). New faces were introduced and old faces came again to share yet another successful round of the 86Cup for both Norcal and Socal!
86Cup is growing!! The weekend included special treats to prove this. With Cusco, Winmax, and GTRadial representation present - some of us witnessed Sam's ability to circle the track in a couple of 86s (2:14 and 2:17 lap times respectively for both days - different 86s). I also hear Sam may need to practice suiting up again as the future of 86Cup and NCRC may visit what he's known to do.
Other evidence we witnessed this weekend that shows 86Cup is growing, are the addition of 3 Norcal shops/tuners joining in on the fun. In no particular order, I would like your attention on these shops:
Neal Wiebmer
, owner/operator of
The Racer's Line
anticipated this weekend with previous track days with other track organizers. Neal is easily accessible thru Norcal as he's active with our meets and events. He's since moved his location from "well worth the drive north" to something closer in the East Bay...or at least in progress.
Another Norcal tuner present on Sunday was
Ed Susman
of
EQ Tuning
. He's built a BRZ like many but he piloted it like nobody - setting the fastest 86 time for the weekend (Sunday - 1:56.218). Expect him to exhibit more of his fast BRZ and share what tricks he was doing thru the day to set such lap times.
Stranger to some but very familiar faces on the track, are
Gary Yeung
and
Wen Lin (Eric)
. Hailing from a Norcal region called the Peninsula, Gary and Eric have been producing tuned cars at
Elite Performance
and testing them on the track. Ironically, Eric's untuned, unflamboyant FRS took top podium finish in the Stock class. And Gary took a customer's FRS to new heights piloting it to win Modified class.
Next Norcal 86Cup weekend will be Aug 8/9 at home in Thunderhill. Sign up now as you know
NCRC
fills up fast!