Our prototype test fitment is complete. Our 299mm Kit clears the OEM 18" wheels with 4-5mm clearance to spare, so no issues there. The parts will go into production and we should start delivering kits in 8-10 weeks. Again, if you're in a hurry our 325mm and other kits are available now.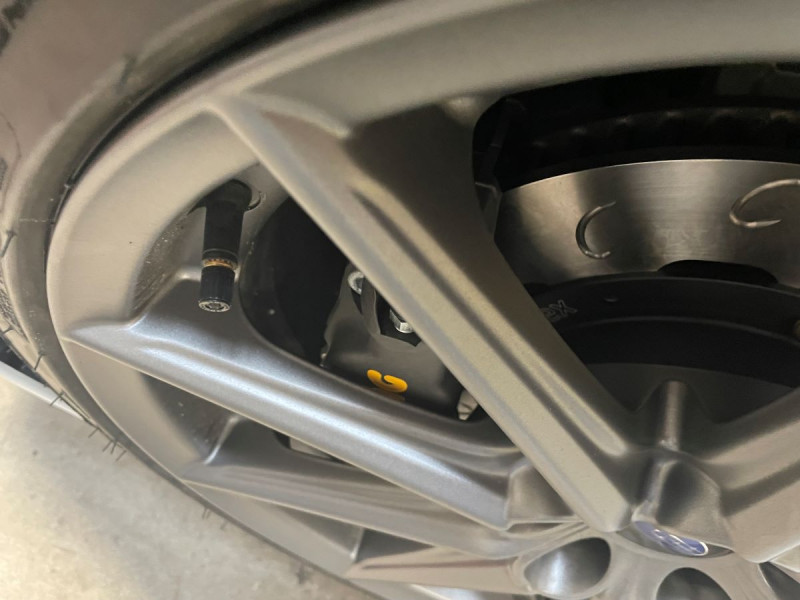 I also got more details from engineering on the new bracket and disc hat situation. As noted previously, the new aluminum spindle on the '22 BRZ mandated that we needed a new caliper bracket. When the new bracket was designed using finite element analysis (FEA), it was determined that the offset must be changed slightly vs. our Gen.1 design to maintain the strength of the part while accommodating the new spindle. If we had kept the same offset while trying to mate to the brackets to the new spindles, we would have had to thin the brackets out too much in critical areas to maintain proper strength. Since the caliper bracket offset was changed, the offset on the discs also had to be changed for them to be centered properly in the calipers.
If you look at the pic below, you can see the issue. The humps on our Gen.1 bracket were preventing it from sitting down far enough on the spindle for the mounting holes to line up. If we removed those humps on the bracket and left it on the same plane, that area of the bracket would have been thinned out too far to maintain proper strength. Instead, we shifted the bracket far enough laterally to the point where we could maintain some beefiness to the part. This is reason number 7,356 why you want parts that were designed by experienced pros, and not by some guy in his mom's basement!
We take these things very seriously and don't just hack and slap parts on cars because someone on the internet told us they
should
fit.
Again though, all of this may be irrelevant to the GR86
, since all of our sources tell us the spindle is identical to the Gen.1 cars...which would mean our original designs fit the new GR86.
We won't know that for sure until we get a car. If you know of anyone who can loan us their GR86 in Charlotte, NC, please let us know and we will confirm fitment.
Thanks!