Great read from:
http://www.pistonheads.com/doc.asp?c=52&i=26612
PistonHeads hangs out with the man behind the Toyota GT86 as he puts it to the ultimate Scottish B-road test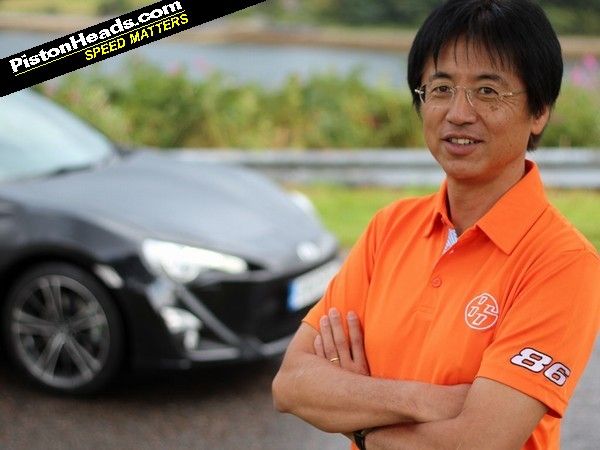 Depending how credulous you wish to be Tetsuya Tada is either an anonymous engineer made poster boy by the same PR machine that sold us the idea hybrids can save the planet. Or, just possibly, the visionary to wean us off our addiction to grip and horsepower.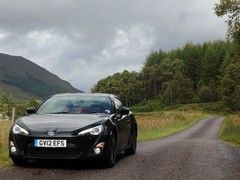 Which of these is actually true is difficult to say. Certainly Toyota promotes him as Mr GT86. Perhaps taking inspiration from the cult of personality surrounding GT-R figurehead Mizuno-san, this could be faceless Toyota humanising its most emotive product in years by pinning the 86 to one man.
Hero or zero


In terms of vision and personality Tada could not be more different from Mizuno though. While the GT-R is all about the numbers, Tada instead promotes a more subjective, emotional philosophy most neatly expressed when Chris Harris asked him, tongue in cheek, what its 'ring lap time would be. The response - he didn't care - couldn't have been more telling.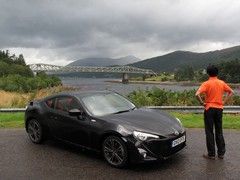 A chance to hang out with him on a couple of days testing the GT86 on Scottish roads wasn't something to turn down though. Unfettered access to senior engineers is a rare opportunity in this business, not least from the likes of Toyota.
In person the Tada back story seems credible. Slight, modest and possessed of an engineer's intensity, his English is good if not always entirely intelligible, possibly strategically. Conversation is punctuated with "how to say..." to provide breathing space to formulate his answers, more awkward questions tend to provoke a nervous giggle and he flits between long and drawn out on-message replies and occasional, apparently astonishing, revelations.
Rage against the machine
Tada's version of the GT86's development conjures up a fantastic tale of one man versus the corporate machine at the heart of Toyota City. He talks of incredibly rigid development guidelines governing every stage of a car's development - the very embodiment of design by committee.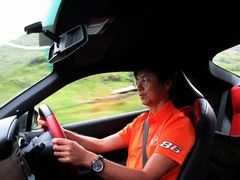 But Tada apparently had powerful friends, casually mentioning that he had the ear of Akio Toyoda, enabling him to duck red tape that might tone down his vision.
So is he some sort of petrolhead with a collection of exotic sports cars back home? Not quite. He drives a Corolla and spends his time off apparently "cruising around town and seeing what's new" according to his official biog. He ducks the question of what his dream car might be, answering "Toyota let me build it!"
The ultimate test
As I drive the GT86 on the run up to Ballaculish and Glencoe he is full of wide-eyed astonishment at the landscape. And an engineer's appreciation of the mechanical torture dished out by the road surfaces.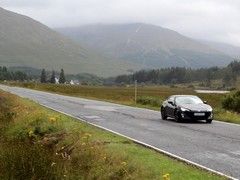 Where he and Nissan's Mizuno do share a similar passion is in the quest to make their respective cars better. Discussing a wish to introduce rolling updates Tada asks me how the GT86 might be improved. I say a more natural and exciting engine noise would help. He nods and lets out a prolonged "Aaaah..." in response. Perhaps less weight, I venture.
Again a nod. "I have a prototype 86 that weighs 100kg less," he says, teasingly, before a prolonged monologue about how he's apparently against the idea of turbocharging (more weight, dulled response) and anyone who says the 86 is too slow "does not understand the concept." So that's you told.

Pure and simple


Given that he apparently fought hard to maintain the purity of the design, including the narrow Prius tyres, how does he feel about people then 'upgrading' to fat rubber and bigger rims? Again that nervous chuckle. "You could ask 100 different people what they want and you'd get 100 different answers," he says. "The 86 is simple so people can make it into what they want." A blank canvas then.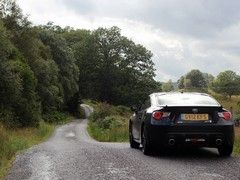 We swap over somewhere on Rannoch Moor and watching him drive is fascinating. His tan slip-ons suggest a man in tune with the whole 'fast shoes' concept but he's happy to let the pace of the holiday traffic dictate. Until we get onto the singletrack road down Glen Orchy.
"Aah! It's like a special rally stage!" he laughs, taking a more assertive grip of the wheel and revving the 86 out. And all of a sudden his real passion shines through, years working in Europe developing chassis systems for Toyota's rally team a hinting at where his loyalties lie. "We had computers to analyse how Kankkunen was driving," he says. "But it was impossible, he was too good!"
This harks back to a previous meeting where he expressed a desire to take the 86 rallying, perhaps in a single-make championship. I suggest it's ironic that Subaru, ever the brand with rallying at its heart, is instead pursuing circuit racing with the BRZ in Super GT and there's another nervous laugh. And then silence.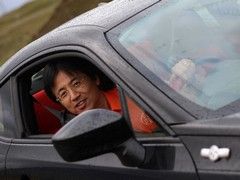 Rally style, innit
And then a little later another teasing revelation: next year there will be a customer race car on sale, stripped of weight and intended as an affordable clubman racer.
And what of the MX-5? Advice from friends within Mazda on how to play the game against the prevailing corporate wind and still get what you want is, teasingly, hinted at.
Then there's Gran Turismo's Kazunori Yamauchi, a close compadre says Tada and man able to blur the boundaries younger buyers have between the virtual and the real. You can see this theme in the GT86 TV ad, and a GPS and gyro-equipped black box that records data for uploading into Gran Turismo 5 to create in-game replays of your real driving, comparable with downloadable ghost cars driven by celebrity drivers or fellow gamers alike.
And it's this characteristically Japanese combination of childlike delight and hard-headed engineering that just wins you over and, yes, somehow negates the elephant in the room of that shared development with Subaru, 'ownership' of the concept and other such trivialities.
Whether Tada-san really is the father of the GT86 or simply an innocent plucked from the ranks and shoved into the limelight is impossible to say. But if it all adds up he could well be the man who put the fun back into sports cars. And worth celebrating as such.