I tried a mewant off ebay. The wrap is cut very precisely with little room for error.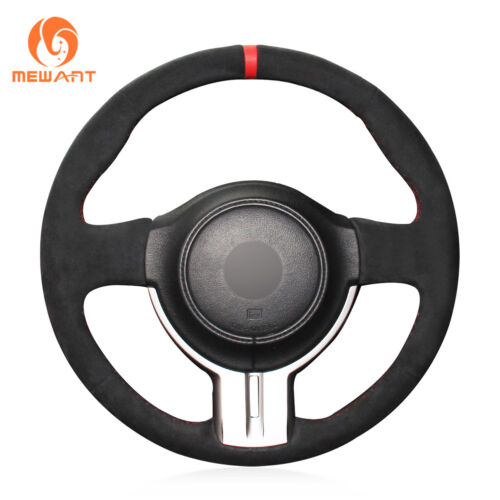 It's easy to wrap, but difficult to master if you're looking for perfection. If you are very OCD about each stitch or loop being perfectly the same size/shape/length, it will practice and patience. I highly recommend taking the wheel off the car as I just left it on. Some angles are going to be hard to reach especially near the thumb bends. See the picture below, notice how each loop is very consistent? Goodluck!
The prepackaged doublesided tape that comes with it is super sticky. Some of the stickiet stuff I've ever used and it's very very very thin. If you ever decided to remove the wrap, I'll warn you that this double sided tape will require something stronger than goo gone to get off your original steering wheel. I used 3M adhesive remover that comes in a black spray can... warning: it's strong enough to start dissolving your factory paint.
I had suede and apparently leather is more difficult to use due to thickness. I already had to tug hard on the threads to pull the wrap fully around the thickness of the steering wheel, and yet some areas are crunched up and you can see the original wheel through the gaps. If you pull too hard on the thread, it'll start looking thinner as it's getting stretched and then it may snap on you and you'll need to start on that side all over again. That's how tight the tolerance was for my wrap. If you have a lot of time to wrestle with the wrap material, you can truly adjust it so it's OEM flush like no gaps no bunching up no crunches.
Tucking the material under the steering wheel's trim pieces is another challenge especially if you didn't get lay the wrap perfectly dead center from the get go. One side is going to have a wee bit more material than the other, resulting in one side not having enough material to stay tucked in. There's little room for error here and I would suggest you first place the wrap over the wheel and try to mark where dead center is. Instructions will tell you to place the double sided tape down before you start sewing it up tight and I don't want you to end up sewing it all together only to find out one side tucks and the other doesn't.