So I was interested in see what made the Ecutek tune perform like it did. I wanted to rule out the possibility of there being something wrong with the car. So I read the tune off the ECU and then did a difference comparison with the stock tune. Here are the list of most of the tables that were adjusted (and how they were adjusted).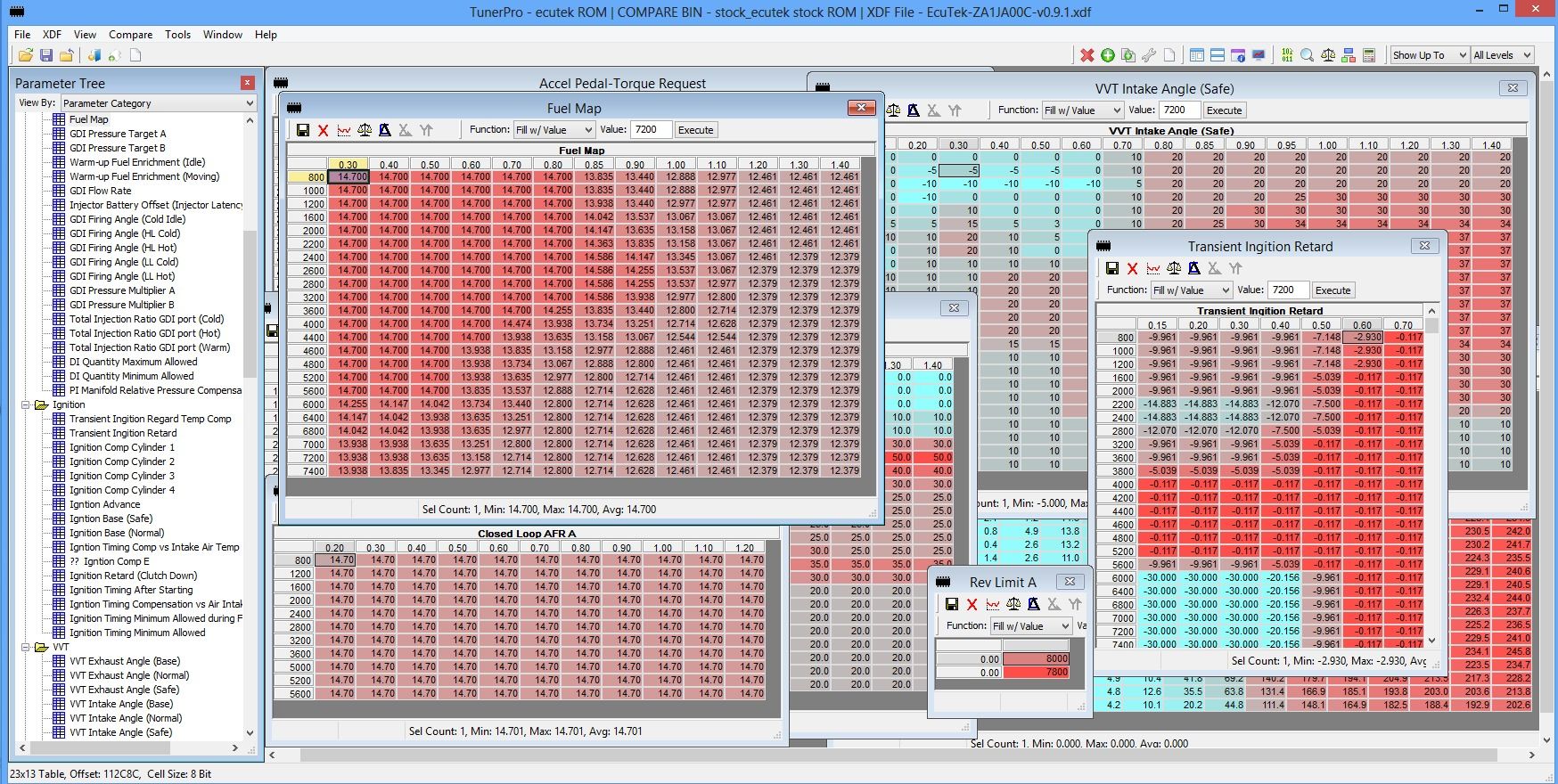 Accel pedal torque request tables-- these were modified to make the car feel "more peppy" so that the press of the throttle pedal results in more throttle opening. This doesn't actually improve max power but does give the subjective impression of more power.
Rev Limters- They were raised to 8000rpm. Absurd and unnecessarily stressful for an tune/engine that makes peak power at 7000rpm.
VTT maps- Exhaust VVT was barely modified over stock. Intake VVT map was slightly more modified but nothing close to optimal. This is why the torque dip was barely improved over stock.
Ignition Advance map- ~0.5 deg was added above 3600rpm under load. Not much tuning here.
Base Ignition maps- all stock (even the extra ones that Ecutek codes for in their Race ROM).
Closed Loop AFR maps: These were all set to 14.7:1. This disables long-term fuel trims. This was an intention choice the tuner made.
Fuel Map- here's where what I found shocking. It was mapped intentionally (ie, this was not a result of a series of typos). I don't think the tuner, who was responsible for the tuning, even used an actual external wideband AFR sensor. Instead, I'm guessing he relied only on the stock AFR sensor which anyone who has actually tuned this platform, already knows that it is NOT ACCURATE. It is calibrated to read far richer than reality. Furthermore, the values put into the Fuel table don't translate to the logged (ie, still inaccurate) AFR. For example, if you put 12:4 in the fuel table, you will see around around 13:5 in your datalogs. But your actual AFR (measured with a proper wideband AFR sensor) will read around 14:1. My guess is that this tuner made a couple wrong assumptions. First, he thought that the stock AFR sensor was accurate when he tuned on the road through datalogs. Second, he thought that what he believed was a 13.5:1 AFR was ideal which isn't close to being the case on a high impression engine with an aggressive cam profile (when actually, you want to see as rich as 12-12.2:1 in your datalogs which actually translates to an actual of 12.8-13:1 when measured with an accurate wideband sensor). There is no other reason why I can think that he would have tuned it this way. I wouldn't even call this tuning. It's more like fiddling and hoping for the best. And to be fair, there is some error involved with measuring AFR at the tailpipe, post catalytic converts where they tend to read ~0.2 point leaner than reality. But even that still puts this tunes squarely in the 14:1 range during most of it's RPM band.
Also, there were no mapping changes to important things like acceleration enrichments, over-run maps, o2 sensor calibrations, closed loop delays, etc,. I don't consider these maps very high level. Any competent tuner would adjust these immediately as are very responsible for throttle response, drivability and knock resistance.
Sorry if this upsets anyone. But sometimes people need to be upset before improvements can be made. My biggest problem with Ecutek "master tuners" is that they often aren't experienced tuners. They are customers of Ecutek. Ecutek makes amazing software geared towards their customers (their "master tuners"). There is no coincidence that they are first to market and are able to offer features that others don't. But when it comes to tuning (which is what matters), the product is only as good as those tuners who use it. And when you deal with tuners who are inexperienced and who don't disclose mapping details, there is very little growth since every "master tuner" operates in their own little bubble. Hopefully OpenFlash ROM tuning (which is now finally here!) will get them to shape up and improve upon their product.
That's my 2c,
Shiv
PS. When comparing the tunes, I made sure that the ignition advance multiplier was always set to 1. This is important when comparing tunes to the stock ROM which defaults to 0.7 after ECU reset which would otherwise result in an artificially low stock baseline dyno.