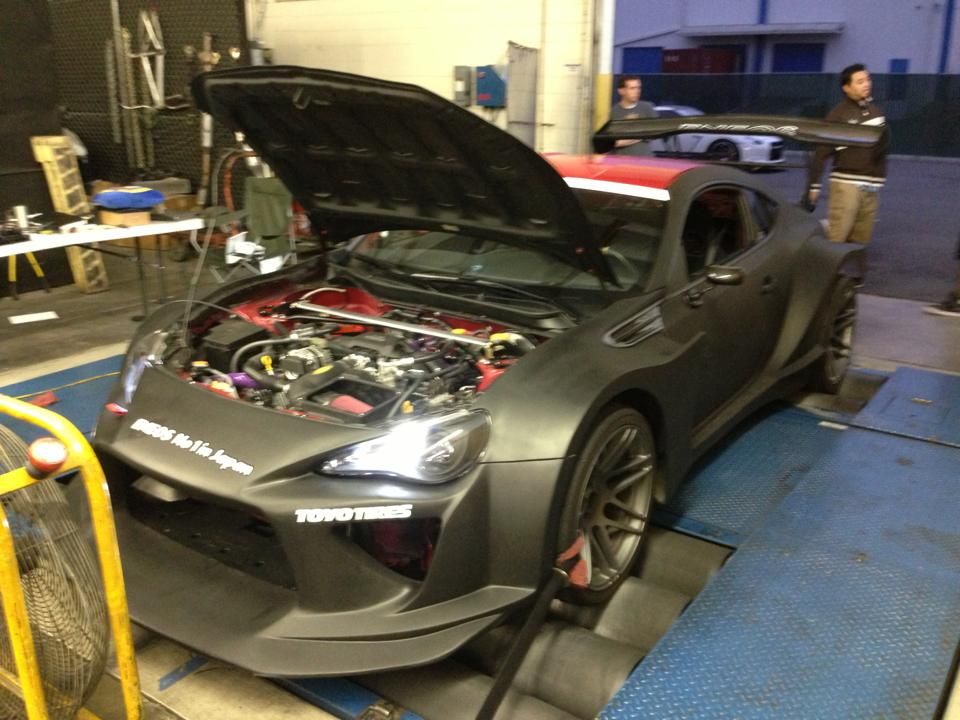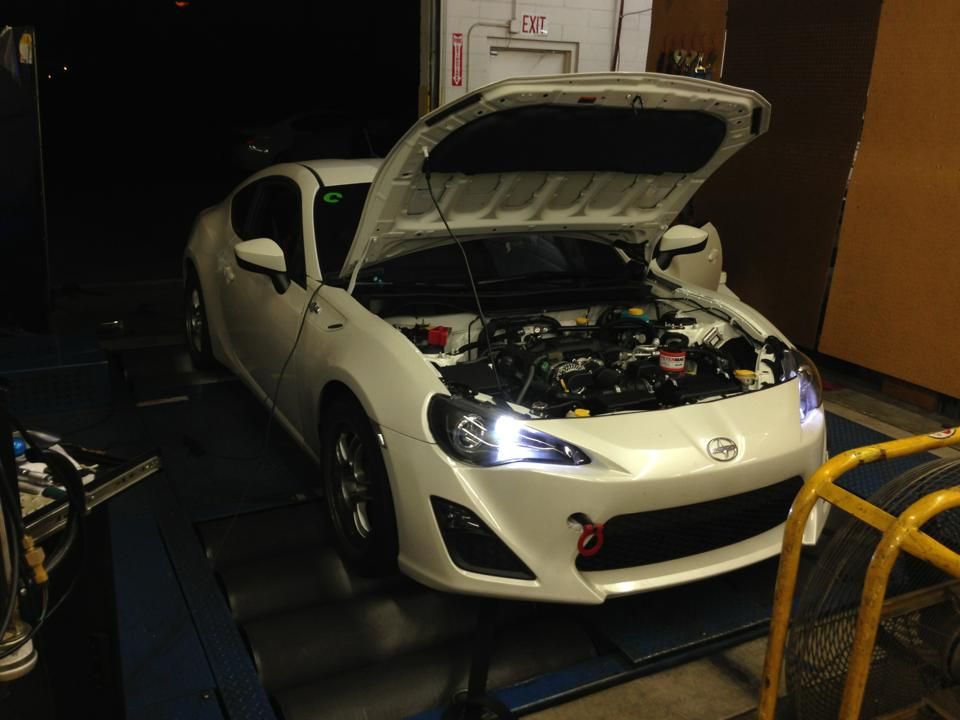 Greetings!
Everyone who has ordered an OpenFlash Tablet should have their units next week. They will all shipping out today via USPS
That said, I've kept the guys at Vishnu Tuning pretty busy this past several days in an effort to get the baseline maps ready for public release on Monday. Last night, Shiv@Vishnu met up with forum members
RehabJeff86
and
Phatpanda
at FFTEC to test the final versions of the Stg 1 map. This map is intended for cars with both stock cats in place. So far, there are two version of the Stg 1 map, one for cars with stock airboxes (with stock or replacement panel filters) and one for cars with Air Raid intakes. Their Stg 2 map is already done and was
tested earlier this week on a Dynojet
where it made some great gains on a full bolt-on car. Keep in mind that Mustang Dyno's read lower than Dynojets so it's important not to compare the two results. The Stg 2 test car will be tested at FFTEC soon so we can compares apples to apples. But enough of that, on to the interesting tuning talk! And for that, I turn the mic over to Shiv@Vishnu...
Please note that opinions expressed by Shiv do not necessarily reflect that of OpenFlash or any of its affiliates
-----
Hi guys,
Things are looking great as far as baseline maps go. My goal was to make a calibration that would work safely on a wide range of vehicles running pump gas. So RehabJeff and Phatpanda were kind enough to do some testing for us. First let's start off with Phatpanda's wild FR-S. It the flat black one with the insane custom body kit that has been on display at many car shows. As far as engine mods go, it has an AirRaid intake and a cat-back exhaust. Here's the story as told by the dyno.....
Phatpanda's FR-S
Run 1 (stock tune- solid line) and Run 2 (only fuel map changed for Air Raid Intake- dotted line)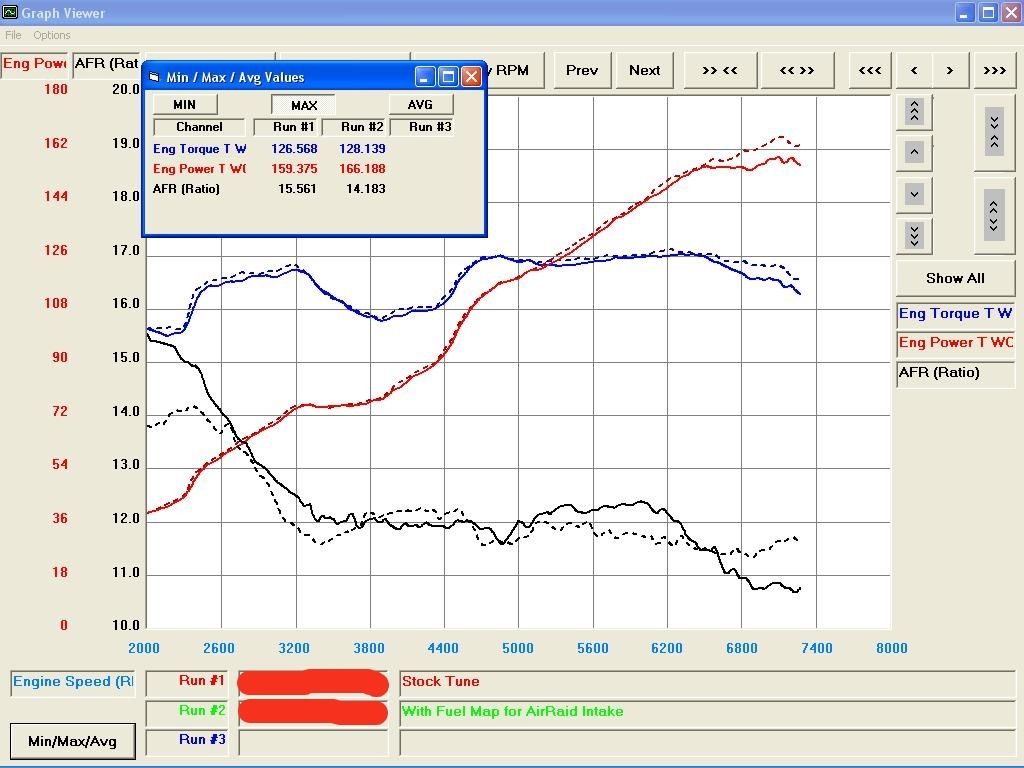 This run was just to test the fuel map modifications I made for the AirRaid intake when testing our own Stage 2 car earlier this week. We found that the Air Raid intake tends to screw up the MAF readings making the engine run very rich, especially above 6000rpm. So the fuel map, I specifically made for this intake, corrects for this as you can see in the graph above. With only thing change, the car pics up a some decent power up top.
Run 2 (as above- dotted line) and Run 3 (add VVT map adjustment- solid line)
In this dyno, I just wanted to see what adding in the intake and exhaust VVT map adjustments did to power output: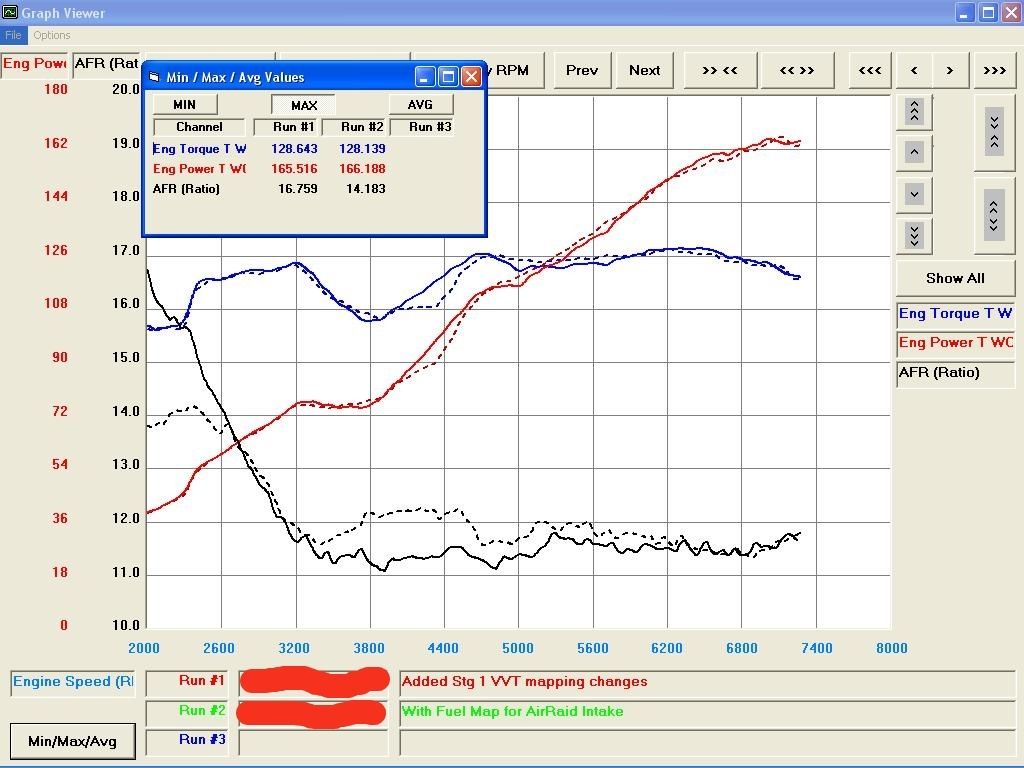 This made some improvements to the torque dip. It also resulted in a richer AFR without any changes to the fuel table. This is a good example of how changes in one parameter can induce a change in another parameter.
Run 3 (add VVT Mao adjustments- dotted line) and Run 4 (add ignition advance changes- solid line):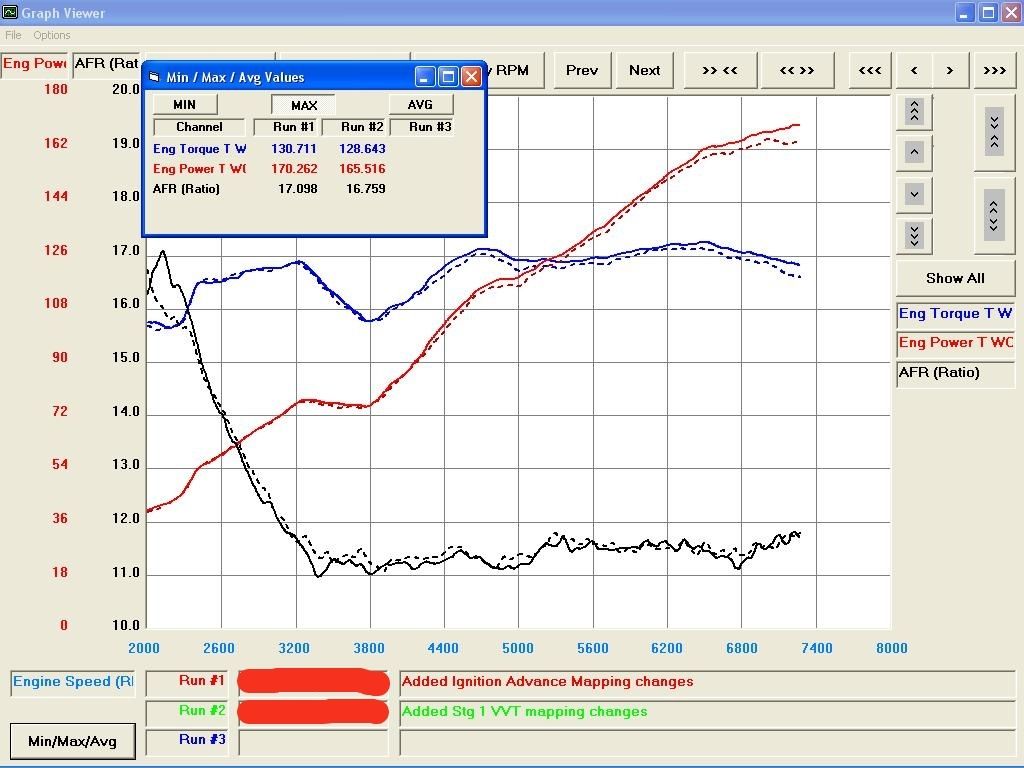 In this graph, we see the effects of implementing the ignition map adjustments of our Stg 1 tune. Decent power gains everywhere. Especially up top. Air fuel is nice is
Run 4 (added ignition adv mapping changes- dotted) and Run 5 (Stg 1 baseline map for cars with Air Raid Intake- solid line):
In this graph, we compared the previous run with a full Stg 1 map. This includes changes to cylinder compensations, rev limits, air temp compensations for timing and fuel, etc,. And you can see that power became smoother everywhere.
Run 5 (Stg 1 baseline- solid) and stock tune (dotted line):
And to recap, here is the comparison of this car running our Stg 1 baseline map and the stock tune. More power up top and smaller/shorter torque dip. What is nice is that the car is still quite rich which means that there is still room left on the table for those who want to try to eek out every last hp. But for now, this is a good one-size-fits-all map for those with Air Raid Intakes.
But what about cars with stock intake boxes? That's where RehabJeff's car comes into play. And this was interesting because Jeff already had a previous Stage 1" Ecutek tune from another vendor. He got this tune 1 month ago (with cable and license for nearly $900) It is up to Jeff to say where it came from. Because what I found isn't pretty. But it's verifiable if anyone else wants to do their own testing with this particular tune. I'll post my opinions later but first just the facts...
RehabJeff's FR-S

Here are two runs from his Ecutek tune: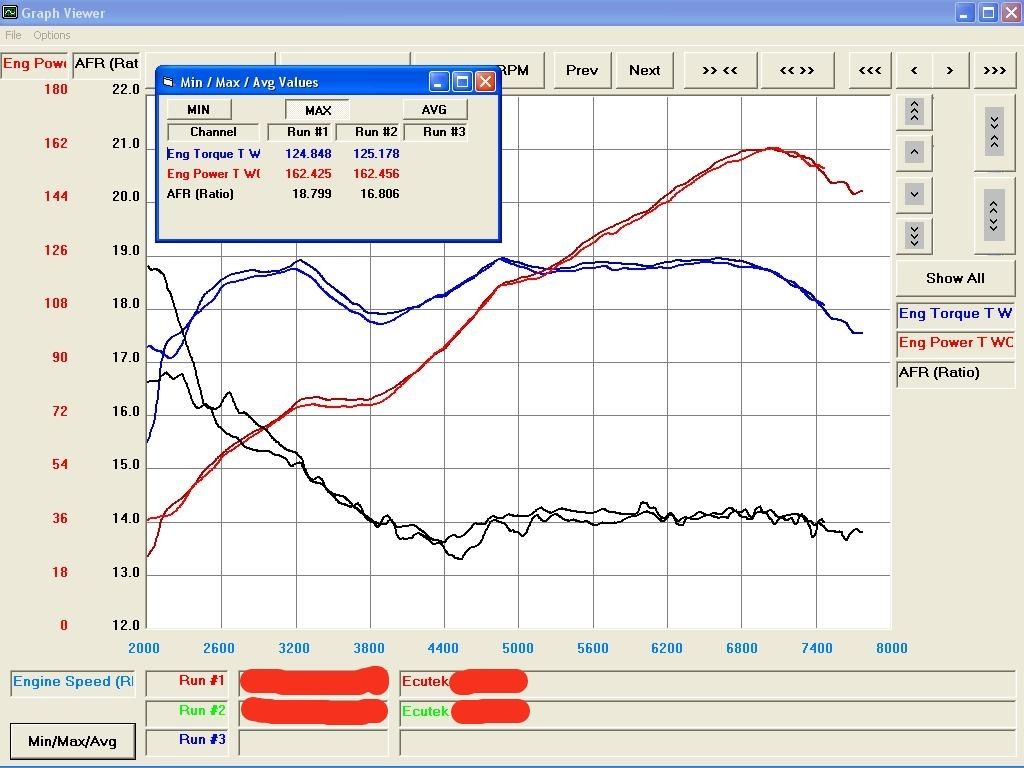 The Ecutek vendor name has been obscured to protect the innocent. As fas as performance, it doesn't look that much different than a stock tune other than the fact it's running extremely lean at ~14:1 AFR. Top end isn't very special. Especially for a tune that, for some reason, has the rev limiter set at a 8000rpm. The most i was willing to rev the engine out to was 7600rpm on the dyno.
"Stock map" ecutek (solid) and Stg1 Ecutek tune (dotted):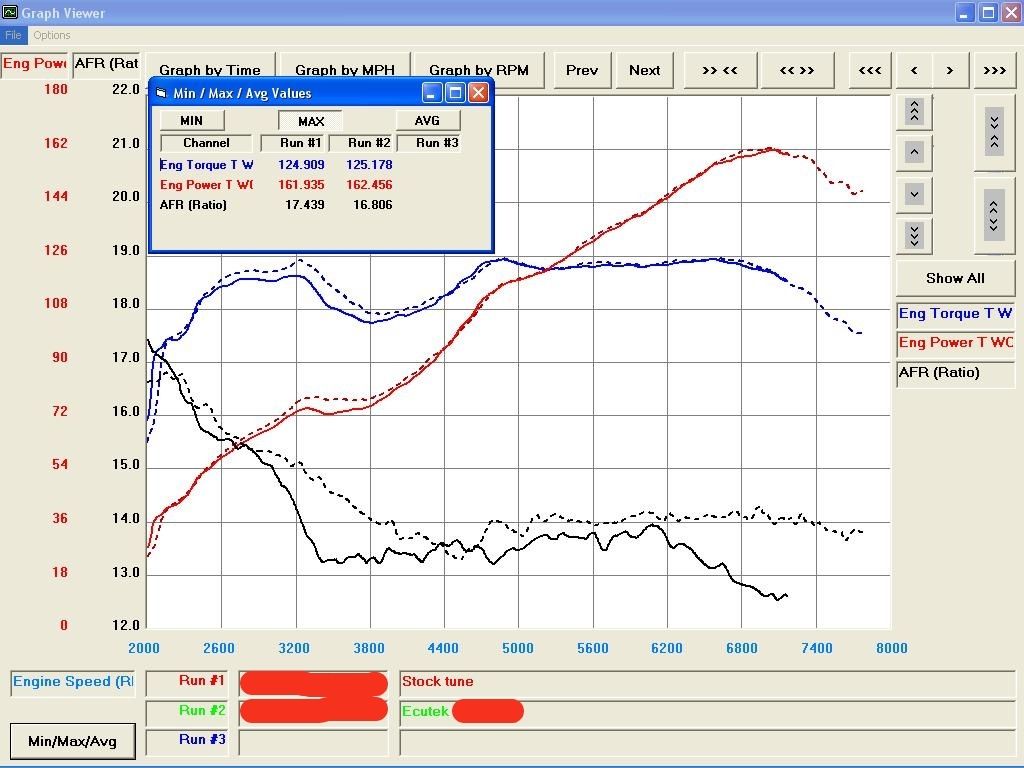 Given how lean the Stg1 tune runs, I'd say the "stock" tune is more preferable, safer and more stable. The Ecutek master tuner who did this did make very minor some changes to the VVT map (I was able to read his map) which resulted in some moderate torque dip improvements. But top end power was nearly identical other than the difference in rev limits. Not sure how they claim the hp numbers they claim but that's none of my business.
Next graph shows our Baseline Stg 1 stock airbox map (solid line) vs the Stg 1 Ecutek tune (dotted):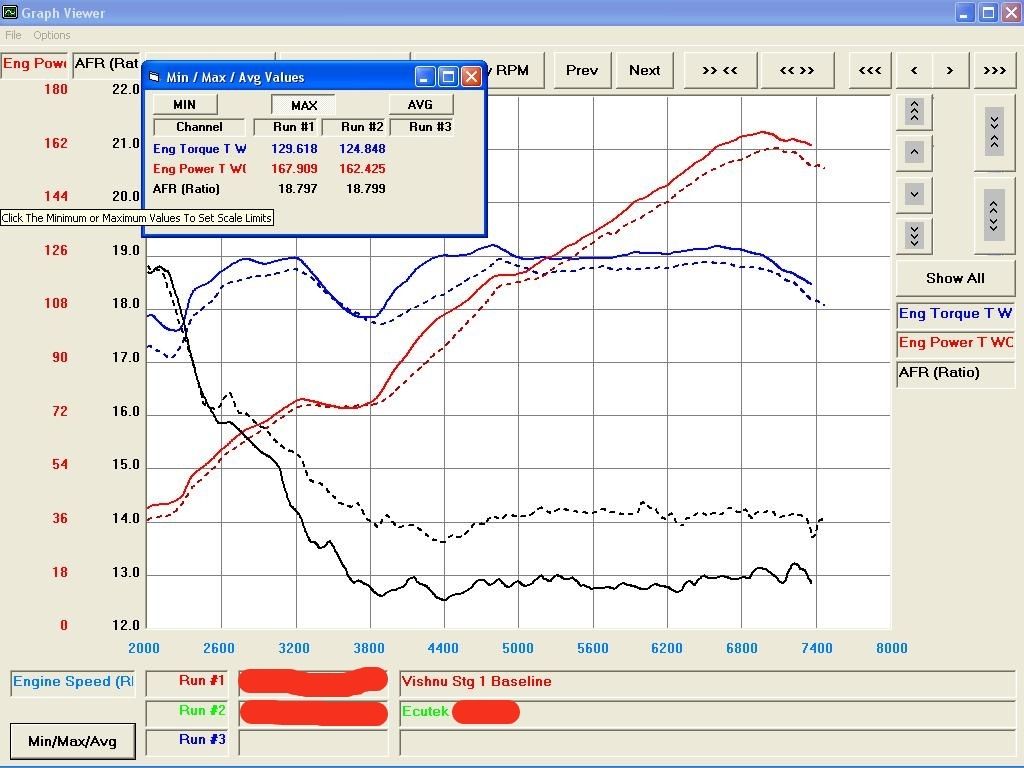 Pretty obvious the difference. Much better handling of the torque dip. More power everywhere. And most importantly, not running lean anymore. Keep in mind that we didn't custom tune our baseline map. It was just loaded up and tested as both RehabJeff and Phatpanda, who were present, can attest to.
Next graph shows two successive pulls of our Stg 1 baseline map just to show consistency: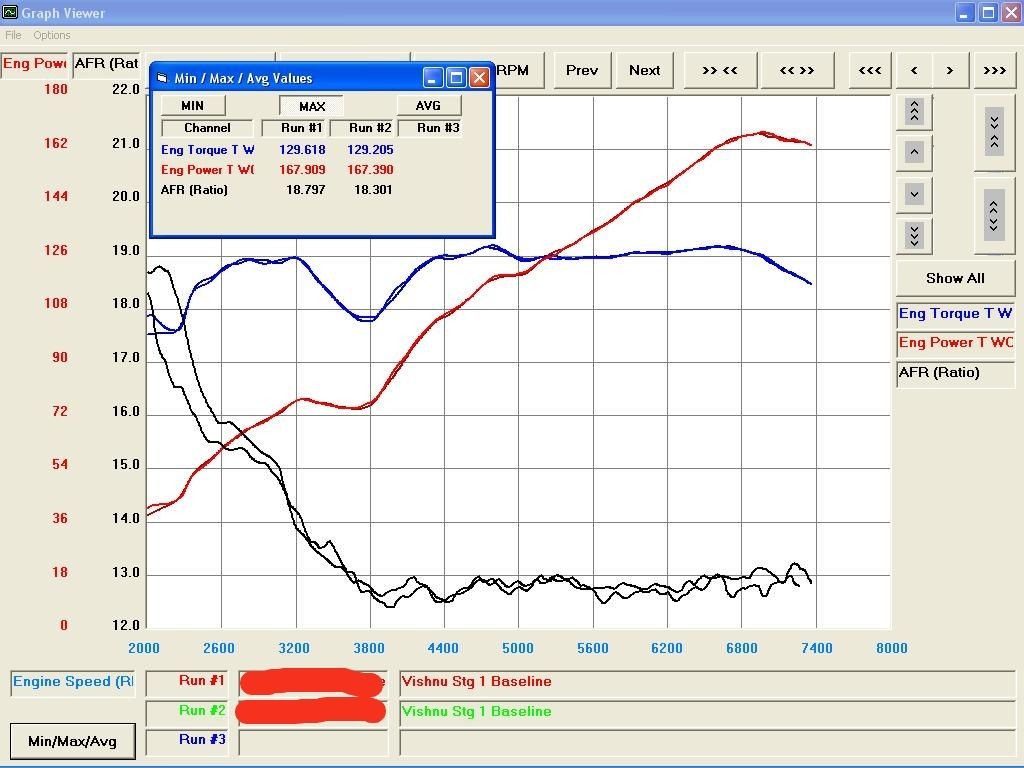 So I was interested in see what made the Ecutek tune perform like it did. I wanted to rule out the possibility of there being something wrong with the car. So I read the tune off the ECU and then did a difference comparison with the stock tune. Here are the list of most of the tables that were adjusted (and how they were adjusted).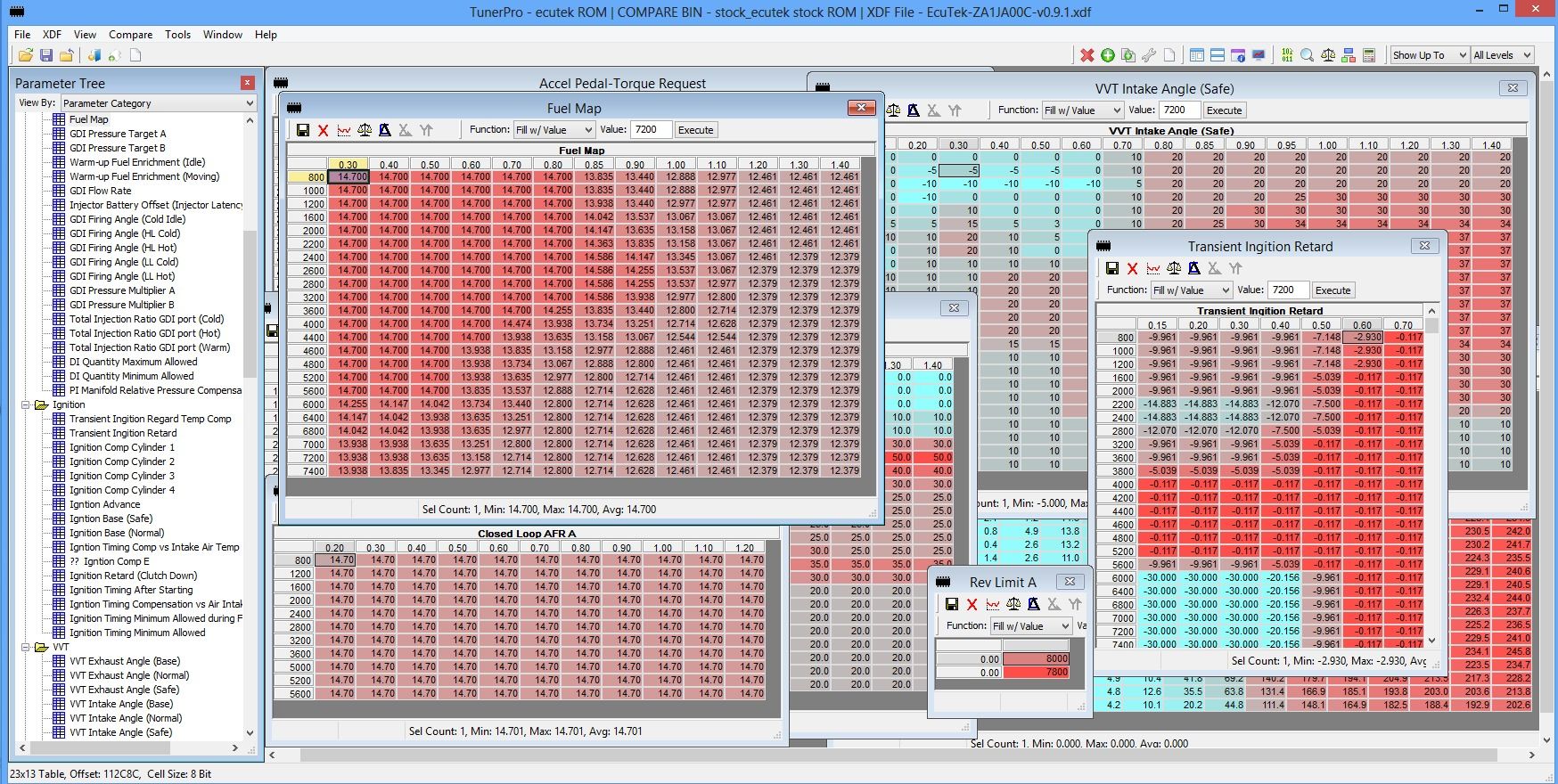 Accel pedal torque request tables-- these were modified to make the car feel "more peppy" so that the press of the throttle pedal results in more throttle opening. This doesn't actually improve max power but does give the subjective impression of more power.
Rev Limters- They were raised to 8000rpm. Absurd and unnecessarily stressful for an tune/engine that makes peak power at 7000rpm.
VTT maps- Exhaust VVT was barely modified over stock. Intake VVT map was slightly more modified but nothing close to optimal. This is why the torque dip was barely improved over stock.
Ignition Advance map- ~0.5 deg was added above 3600rpm under load. Not much tuning here.
Base Ignition maps- all stock (even the extra ones that Ecutek codes for in their Race ROM).
Closed Loop AFR maps: These were all set to 14.7:1. This disables long-term fuel trims. This was an intention choice the tuner made.
Fuel Map- here's where what I found shocking. It was mapped intentionally (ie, this was not a result of a series of typos). I don't think the tuner, who was responsible for the tuning, even used an actual external wideband AFR sensor. Instead, I'm guessing he relied only on the stock AFR sensor which anyone who has actually tuned this platform, already knows that it is NOT ACCURATE. It is calibrated to read far richer than reality. Furthermore, the values put into the Fuel table don't translate to the logged (ie, still inaccurate) AFR. For example, if you put 12:4 in the fuel table, you will see around around 13:5 in your datalogs. But your actual AFR (measured with a proper wideband AFR sensor) will read around 14:1. My guess is that this tuner made a couple wrong assumptions. First, he thought that the stock AFR sensor was accurate when he tuned on the road through datalogs. Second, he thought that what he believed was a 13.5:1 AFR was ideal which isn't close to being the case on a high impression engine with an aggressive cam profile (when actually, you want to see as rich as 12-12.2:1 in your datalogs which actually translates to an actual of 12.8-13:1 when measured with an accurate wideband sensor). There is no other reason why I can think that he would have tuned it this way. I wouldn't even call this tuning. It's more like fiddling and hoping for the best. And to be fair, there is some error involved with measuring AFR at the tailpipe, post catalytic converts where they tend to read ~0.2 point leaner than reality. But even that still puts this tunes squarely in the 14:1 range during most of it's RPM band.
Also, there were no mapping changes to important things like acceleration enrichments, over-run maps, o2 sensor calibrations, closed loop delays, etc,. I don't consider these maps very high level. Any competent tuner would adjust these immediately as are very responsible for throttle response, drivability and knock resistance.
Sorry if this upsets anyone. But sometimes people need to be upset before improvements can be made. My biggest problem with Ecutek "master tuners" is that they often aren't experienced tuners. They are customers of Ecutek. Ecutek makes amazing software geared towards their customers (their "master tuners"). There is no coincidence that they are first to market and are able to offer features that others don't. But when it comes to tuning (which is what matters), the product is only as good as those tuners who use it. And when you deal with tuners who are inexperienced and who don't disclose mapping details, there is very little growth since every "master tuner" operates in their own little bubble. Hopefully OpenFlash ROM tuning (which is now finally here!) will get them to shape up and improve upon their product.
That's my 2c,
Shiv
PS. When comparing the tunes, I made sure that the ignition advance multiplier was always set to 1. This is important when comparing tunes to the stock ROM which defaults to 0.7 after ECU reset which would otherwise result in an artificially low stock baseline dyno.