http://www.eventbrite.com/event/3404782797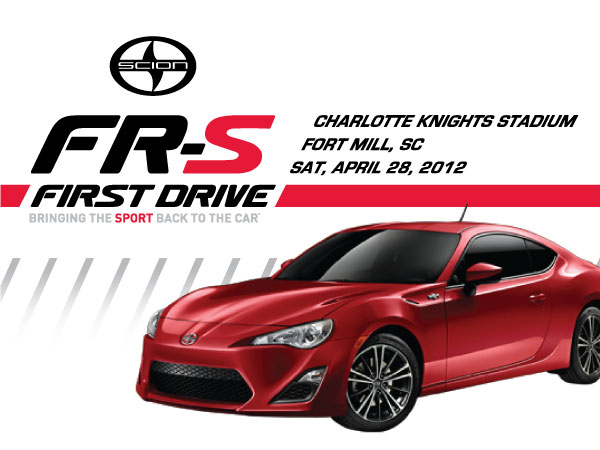 ''
WELCOME TO SCION FR-S FIRST DRIVE TOUR
The 2013 Scion FR-S Ride and Drive Experience
The wait is almost over. One of the most anticipated automotive events of the year - the launch of the 2013 Scion FR-S, is here. You can see for yourself what the excitement is about, by getting behind the wheel of the FR-S during the Scion FR-S First Drive Tour - a series of exclusive ride and drive events taking place at 16 cities around the country.
The FR-S First Drive tour is stopping by your area at Charlotte Knights Stadium, in Fort Mill, SC on April 28, 2012. Register now for one of a limited number of spots and you will be among the first people in the country to experience the Scion FR-S first hand.
At each FR-S First Drive event, participants will be able to see up close the car that is "bringing the sport back to the car". Learn more about the FR-S rear wheel drive sports coupe and sample the balanced performance characteristics unique to a front mounted, flat boxer-powered 200-hp car - designed for enthusiasts by enthusiasts. Experience the precision-engineered handling and driving fun expected of the successor to the legendary "Hachi-roku".
Like every model Scion offers, the FR-S is also about personalization. Customize the FR-S to fit your style from the many customization possibilities directly from Scion, or through our Scion OPTOMIZE aftermarket program partners.
You can also expect standout styling, performance, value, fuel efficiency, driving dynamics, and safety features from all Scion models. And as a marque of Toyota, all Scion vehicles are built with legendary world-class Toyota quality and reliability.
Check it out for yourself, and tell your friends. Just fill out the information requested on the registration page before spots run out - and you'll be one of the first people in the country to get behind the wheel of the 2013 Scion FR-S.
Thanks for stopping by!
Date:
Saturday, April 28, 2012
Times:
11am - 6pm
Location:
Charlotte Knights Stadium
South Side Lots
2280 Deerfield Drive
Fort Mill, SC 29715
*All participants must be at least 21 years of age and legally licensed with a valid U.S. 50-state issued driver's license at the time of the event. Participation requires signature of a waiver and proof of license.
**Event is open to the public, however driving activities are limited and offered to registered participants only.
All events are rain or shine - FR-S First Drive tour staff will do the best to continue operation of events during inclement weather. However, the Tour reserves the right to cancel or adjust schedules as weather or other conditions require us to without prior notice. When possible, changes will be announced on this event registration page. Unfortunately, canceled events cannot be rescheduled.