This past weekend, June 6th - 8th, I took my FR-S to compete in the 2014 SCCA RallyCross Rocky Mountain National Challenge. There had been rain during many of the days leading up to the event, and it even rained enough to cancel practice on Friday the 6th. That made for sloppy, wet, muddy conditions Saturday morning, but we all powered through.
This event was the first time I piloted a rear wheel drive car in RallyCross competition, and it won't be my last. Even though I was the only car in the Prepared Rear Wheel Drive class I was able to directly compare my times to other RWD cars because I was in the same run group as the Modified RWD cars. I knew I wouldn't be able to beat all of them, but I tried my best.
My FR-S still has only minimal mods, strut tower brace, brake master cylinder brace, 16" wheels & tires, but it handled the conditions beautifully. The car did everything I asked of it, when I asked and I learned a great many things. The two biggest nuggets of new information regarded shifting and throttle control.
Shifting while accelerating and turning really effected the trajectory of the car. If I shifted while hard on the power and turning the slight decrease in thrust caused the car to push wide. I also found I needed to be much more delicate with the adjustments of my throttle application during change of direction maneuvers, especially the slaloms.
After 15 competitive runs of about 65 seconds each my cumulative time score was about 1082 seconds. To put that into perspective the first place finisher in the Mod RWD class (the 2012 National Champion in that class) had a total time of about 1020 seconds, and the second place MR class car finished at about 1096 seconds.
Here is one of the pictures I took with my cell phone during the event on Saturday afternoon waiting for competition to resume.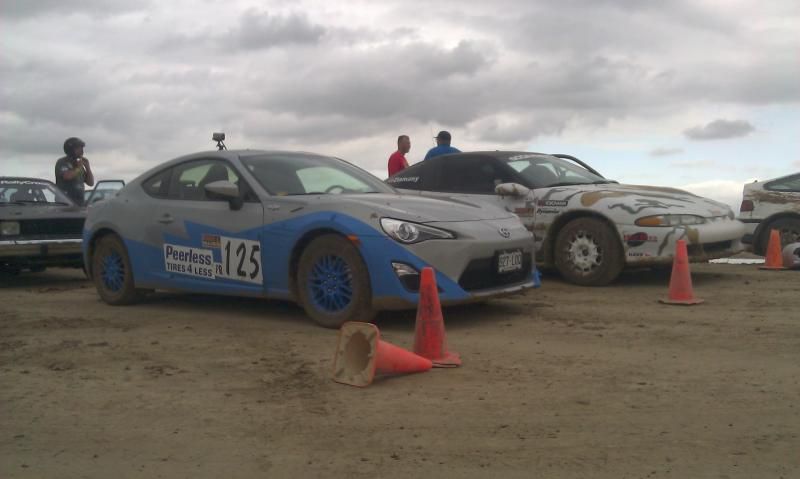 My tape job held up well considering the weather, and it performed it's intended function of paint protection very well as I hit 8 cones while racing and tried to use the lip of the front bumper to shovel up some of the course. I also managed to make good use of the factory skid guard on Sunday. There were some pretty deep ruts that not only had me brushing the belly pan on the mud, but also bouncing a little bit.