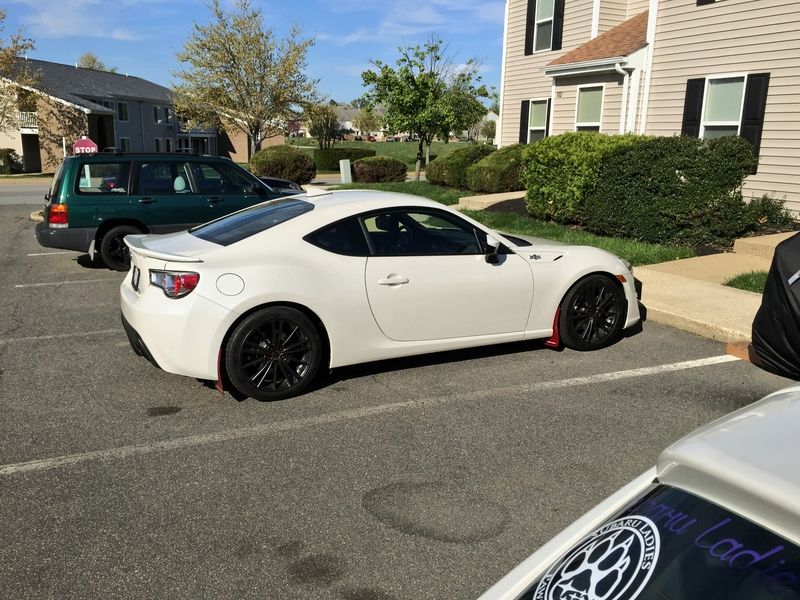 I haven't done anything too crazy, and I probably won't. But that's OK. My plans are for comfortable weight reduction, minor power increase and better suspension/braking performance.
Currently:
Grimmspeed License Plate Relocate Kit
Scosche Magnetic Cell Phone Mount
3DMaxpider Kagu Floormats
Innovative Dynamics Carbon Fiber Muffler Delete
Innovative Dynamics Carbon Fiber Dash Plaque (included free with the delete)
Subaru Trunk Dress-up Kit
Genome Tuning Hood Struts
Red Silicone Key Cover
Fitted Sunshade
Mini-VCM for door and trunk release
RallyArmour UR Mud flaps, red with white logo
Anarchy Motive Mammoth shift knob in Rough Red
Beat-Sonic FDA9 Sharkfin Antenna
Plastidipped Wheels (5 coats Flat Black, 1 coat Aluminum Metallizer, 2 coats Glossifier)
Grimmspeed Pulley Cover
Grimmspeed Sweatband for the Brake Fluid Reservoir
Grimmspeed Bottle Opener Keychain
Muteki sr35 Lugnuts
TRD-
Style
Window Vent Visors
Rydeen Duo backup camera and 96svx.dc harnesses
Grimmspeed Strut Tower Brace (red)
Grimmspeed Master Cylinder Brace
OFT Stage 2 EL Tuning
Shorai LFX36L3-BS12 LiFePo battery
XS Power 586 Battery Posts
Custom Battery Mount Solution
Modified Muffler Heatshield for air deflection
Raceseng Red Anodized Crank Pulley
Grimmspeed Cold Air Intake
Raceseng Cam Plate
Swift Sport Springs, BRZ spec (3.8K/4.5K)
Corner3Garage Wheel Spacers (20mm / 25mm)
Whiteline Front Camber Bolts
PTuning EL Competition Header
Perrin Overpipe + Grimmspeed Header Gaskets
CNT Racing 2.5" Front Pipe with HFC
A bunch more 5 layer Grimmspeed Gaskets
Nameless 2.5" Muffled Trackpipe w/4" Tip
Ordered:
Awaiting install:
Former:
CravenSpeed Stubby Antenna
Mishimoto Silicone Intake Hose
aFe Pro Dry S Panel Air Filter
Berk Single Exit Track Pipe with 4" tip
Future Plans:
4300K HID Hi/Lo conversion
LED exterior/interior conversion
Tint
Upgraded Brakes (probably StopTech stock brake front/rear upgrade kit, slotted)
Brake Cooling (either APR or GT3 style, haven't decided yet)
Carbon Fiber Driveshaft
Lightweight Flywheel
And now, some more pictures...