After months of waiting, we are very excited to have been given the opportunity to test m150 ecu for the FRS/BRZ.
We know this setup won't be necessary for most applications but for those who are looking to take it to the next level. You can't get any better than this.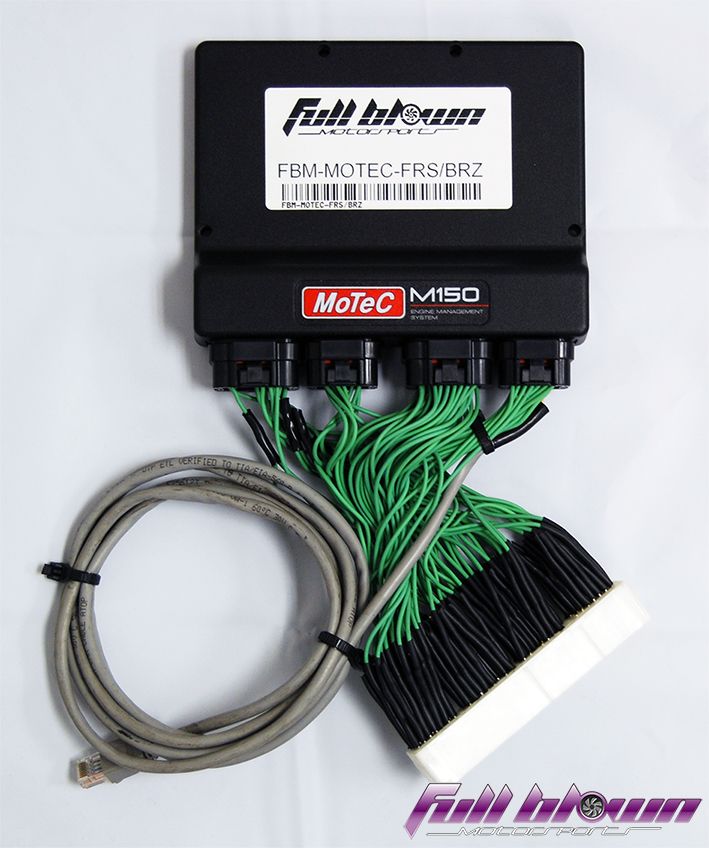 MoTeC's M150 Toyota FT86 / Subaru BRZ plug-in kit is a fully programmable direct replacement for the factory-fitted
ECU.
No rewiring is necessary, the kit plugs into the stock wiring harness using the original sensors and fuel system. All
original functions are maintained.
Key advantages to the new M1 solutions are:
• Fully integrates with all original systems, including Direct Injection, Stability, Dash, Power Steering, ABS,
Airconditioning, and Alternator control.
• Pre-configured sensor calibrations for Original Equipment (OE) sensors and engine triggers.
• Pre-configured control of Port and Direct Injectors with a tuneable balance table.
• Pre-configured FT86 Reference Mode for Engine Speed, Ignition Timing, and control of 4 camshafts with tuneable
Inlet and Exhaust cam timing tables.
• Pre-configured On-board Knock for each cylinder with 2 OE knock sensors and selectable centre frequency
• Pre-configured physical settings for Engine Displacement, Fuel Density, Stoichiometric Ratio, Fuel Pressure, and
Injector Linearisation allow for simplified engine start-up prior to tuning
• Pre-configured CAN messaging for OE systems including ABS / Stability, Dashboard, and Power Steering.
• Pre-configured control of OE coolant fans with 3 temperature thresholds
• Pre-configured transient fuelling compensation using physical modelling of Fuel Film Deposit for Port and Direct
injectors.
• Pre-configured Wheel Speed detection via CAN from OE ABS system, allowing Gear Detection via engine speed /
wheel speed estimate
• Configurable Boost control for a single turbo
• Configurable Anti-Lag for single turbo variants with Ignition Timing Limit, Fuel Volume Trim, Ignition Cut, Engine
Speed Limit, Boost Aim and Throttle Aim tables
• Gearbox position detection via sensor or engine speed / wheel speed estimate
• Gearbox shift request via Up Shift Switch / Down Shift Switch or Gear Lever Force sensor
• Gearbox Shift Control with Ignition Cut and Engine Speed matching
• GPS acquisition and logging via CAN or RS232 (hardware dependant)
• Intercooler Temperature and Spray control
• Lap Distance, Time and Number via BR2 or Switched Input, with Split and Sector options
• Configurable Launch Control with tables for Launch Engine Speed vs. Vehicle Speed, Launch Throttle Limit vs.
Vehicle Speed, Launch Boost Aim vs. Vehicle Speed, and Launch Fuel Volume Trim vs. Vehicle Speed.
• Race Time system with tables for Ignition Timing Compensation, Fuel Mixture Aim, Boost Limit, and Throttle
Limit.
• Auxiliary Timer system with tables for Ignition Timing Compensation, Fuel Volume Trim, and Fuel Mixture Aim
• Engine Load Average channel with tables for Engine Speed Limit, Ignition Timing Trim, Fuel Mixture Aim, Boost
Limit, and Throttle Limit
• Engine Run Time Total for engine hour logging
• Configurable Security for multiple users with differing access options
• ECU CAN Receive from a defined ID Base Address for data reception from MoTeC devices
• 4 Configurable Driver Switches and 4 Driver Rotary Switches with each of 9 positions simultaneously mappable to
Launch Control, Pit Switch, Anti-Lag, Traction, Auxiliary Time, Race Time Reset, Gear Automatic, Engine Speed
Limit Maximum, Throttle Pedal Translation, Fuel Volume Trim, Ignition Timing, Fuel Mixture Aim, Boost Limit,
Traction Aim, and Traction Control Range.
• Analogue Tachometer output with configurable Output Pin and scaling
• Transmission Pump output with Transmission Temperature threshold and hysteresis control.
• Traction Control with tables for Aim Main, Aim Compensation, Control Range.
• 4 Optional Outputs for PWM Control of added actuators:
• Duty Cycle tables using Engine Speed and Throttle or Manifold Pressure Axes
• Activation based on Inlet Manifold Pressure or Throttle Position
• Aux Output 1 includes tables for Ignition Timing Compensation, Fuel Volume Trim, and Fuel Mixture Aim
• Optional channels for additional sensors via input pin and/or CAN message, including: