As of 9/15/15 the car is sold. Hope the new owner has as much fun as I did!
I call her Kiyohime
Current Photo 6/4/15
Favorite Photo 4/25/13
Completed Mods (in chronological order)
Five AD lip kit (Now Sold)
Kenwood DDX-719, Alpine PDX-V9 AMP, Hertz Audio HSK-163, JL Audio 12W3 Sub in Subfloor (Spare Tire Location), Audio Quest Cables, Viper Alarm (Now Sold)
Window Tint
Blacked out headlight reflectors with a Morimoto BiXenon Projector HID retrofit.
COBB Delrin Shift Knob
Fabricated dash kit and wrapped the interior in 3M Dry Carbon DiNoc Vinyl
Five AD Wheels (Now Sold)
KW v3 Suspension (Now Sold)
Perrin Light Weight Crank Pulley (Now Sold)
Perrin ECU Tune (BETA Tester)
ADVAN RS-II Wheels and Michelin Pilot Super Sports
Nameless Overpipe/Downpipe/Axelback resonated and catted. Powder coated black (Now Sold)
Perrin CAI and Silicone Inlet Tube (Now Sold)
Dynamat Extreme
Beatrush Type 1 & 2 Strut Braces (Now Sold)
Whole Car Koi Orange Plasti Dip (Removed April 2015)
Blacked out parking light reflectors
JDM Smoked Sidemarkers (Now Sold)
Automation LED switchbacks, side markers, license plate, trunk and interior LED's
Motul Gear 300 Rear Diff Oil
Pentosin 75-W80 Tranny Oil
Whiteline Transmission Mount Bushing
Perrin Stage 2 ECU tune (1st public user) (Moved on to Drift Office Tune)
Removed 3M DiNoc Vinyl and replaced with Brushed Black Metal vinyl on all interior trim pieces
Plasti Dipped the roof, mirrors, and vent in a Matte Clear to give it a Satin Black look. No shiny parts on car.
Kenwood DNX-570HD Navigation Head Unit w/ Back Up Camera. (Replaced the DDX-719) (Returned and reinstalled the DDX-719) (Now Sold)
Carbotech XP-10 Brake Pads
Motul RBF-600 Brake Fluid
Turn In Concepts Solid Aluminum Steering Rack Bushings
Whiteline Subframe Bushings
Beatrush Rear Differential Brace
MTEC Transmission Springs
APR GT Bumper (Sold April 2015)
APR GT3 Mirrors
Kraftwerks SuperCharger
Speed Density Tune by Drift Office
Perrin Performance 22mm Front Sway Bar
Perrin Performance 16mm Rear Sway Bar
Kraftwerks Oil Cooler Kit
Ground Control Coilover setup using Koni Race Double Adjustables and their super beefy Strut Bar
Shorai 3lb Battery and Kinetic Machine Lightweight Battery Tray
JDL 3" OP
JDL 3" Custom Resonated Front Pipe
Tomei 80 Catback Exhaust (80mm = 3")
Perrin Motor Mounts
SPL Rear LCA's
Bridgestone RE-71r Tires
Varis Arising II Front Bumper (Japan)
Avest LED Side Markers (Japan)
Planned Major Mods in order:
Header
AP Racing Big Brake Kit
Status Racing Seats
7-11-12
I suppose I am a bit late at getting a car journal going but better late than never.
I have been following this car for a while now and patiently waiting for it to be released. I would check on the forum from time to time to look at different versions of the concepts and whatever information anybody could dig up. I hadn't checked in on the forums in probably 6 months or so and then it happened, I saw one at the dealer about a block away from the house. I continued on by wondering if what I thought I saw was really what I was thinking. Had dinner with the wife and kids and told my daughter it was time for a bike ride. We rode up to the dealership and there it was
. I was awestruck and started circling the car. It was an Asphalt FR-S, manual flavor. I snapped a picture with my iPhone and sent it to my very understanding wife who promptly replied back with a "you better be riding your bike home" because she new how much I desired one of these cars. I circled a few more times and hopped back on the bike.
A few weeks passed and I couldn't get this vehicle out of my mind. I had to have one.
Now the problem I had was that I don't own a vehicle of my own. We have a family vehicle, 2012 Acadia Denali, but that is really my wifes car. I was currently driving a 2008 Ford Edge Limited AWD that was owned by the company I work for. It was a really good set up because the vehicle, insurance, gas, maintenance, and whatever else necessary to own and operate a vehicle was covered by my employer. I told my wife that I had to have this car and she said if your company will pay for it then that's your call. Thought about it for a day and then compiled all the costs incurred by the company for me to have the fringe benefit and presented that it would be better to give me an equal allowance to cover vehicle expense and I would purchase my own vehicle that I could do with what I please. My boss was cool with this because it would now be a fixed cost with no liability and we settled on a raise to compensate me for vehicle expense.
I immediately began the hunt, like as fast as it took me to walk up the stairs. Hours of constant phone calls to dealers that advertised they had one but they were either sold or never even on their lot. Then but I located her. Magic Scion in Edmonds, WA had one being delivered that night. It was even a Raven which was my first choice! The salesman, Greg, told me it was slated to get the Five Axis Edition treatment and I promptly said hold it. I am booking a hotel and we'll be there in the AM. Rolled into their lot at 11:00AM the next day and located Greg. Then he drove me to another location where it was being fitted with the kit.
OMG this thing is beautiful I was thinking. "You want to drive it?" Greg asked. "You bet!"
It was over with. He handed me all the deliverables so no one else could entertain taking her and I gave him the information to start the loan process so I could go feed the family. We ate came back and signed papers. Greg was awesome, highly recommended. Only rub I had with the whole process is that the entire kit wasn't there. I had to take the car minus the wheels and tires and the lowering springs which will require a trip back to Edmonds when they arrive.
Here she is ready for delivery on June 30, 2012
[/IMG]
Wife is wondering where the kids will go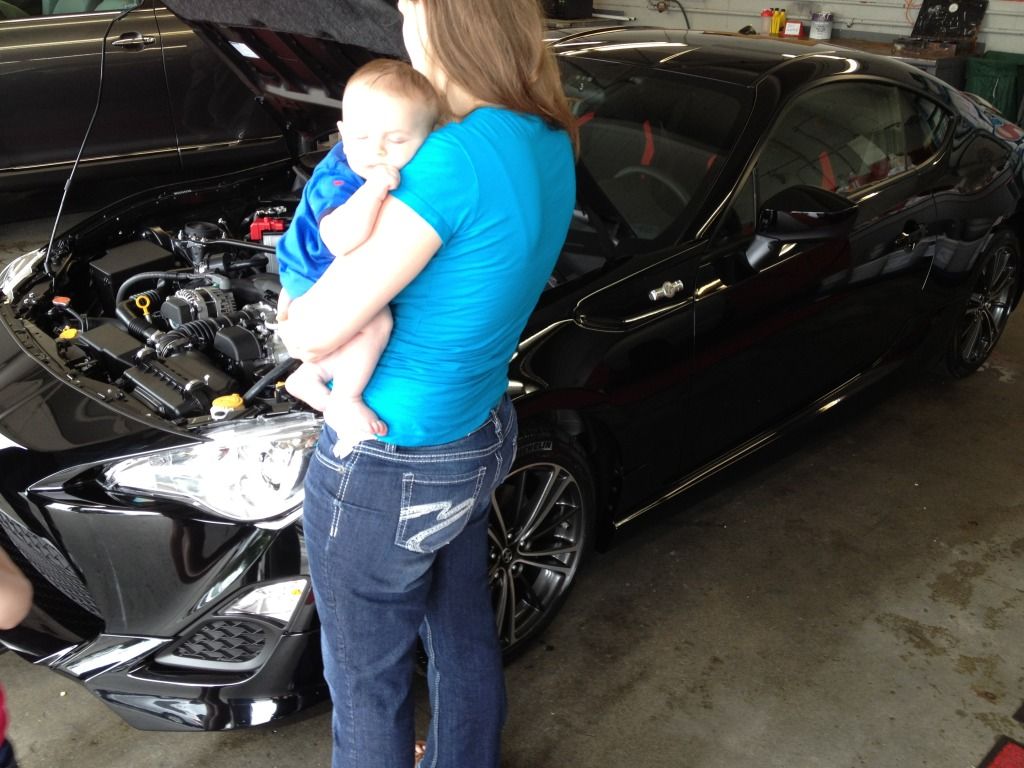 From the hotel about 30 minutes after delivery. That's our Denali parked next to the FR-S providing the door ding protection.
And at the Aunts House in West Seattle the next day
Directly after taking the last picture I hopped in the car and drove back to Portland and gave her a good wash to get the bugs off.
7/5/2012
- Sound and Security. I chose to keep things simple and very clean. The spare tire was sacrificed and became the home for the subwoofer. The enclosure is made from MDF except the bottom is fibreglass to shape to the spare tire well. The amp is mounted next to the sub enclosure. Then the whole thing is covered with a false floor. The floor was raised by about an inch to do this. All the speakers are in factory positions and ABS rings were made to make a proper baffle. Dynamat was added in the doors, spare tire well, and trunk lid. The sound is killer!
Equipment list:
Viper Alarm System with Back Up Battery
Kenwood DDX-719 Head Unit
Alpine PDX-V9 5 Channel Amp
Hertz Audio 3-Way Components High Energy Series HSK-163
JL Audio 12W3
Directly after this work the tint was added. I had Elite Window tinting install 35% 3M Color Stable film to all but the windshield. I am still debating whether to have 70% 3M Crystalline added to the windshield. It would be about a $360 job just for the windshield.
7/6/12
- Debadged. Ordered Flat Black Grazio Badges from Carson Toyota. Thanks Luis! Still waiting on them to be coated and shipped from Japan.
7/13/12
- Morimoto BiXenon Retrofit kit from The Retrofit Resource with Audi Style LED's. More pictures at bottom of page and page 2.
9/2/12
- KW V3 Coilovers and Five:AD R5:F Wheels 19X8.5 +45 Front w/ 225/35/19 and 19X9.5 +35 Rear w/ 235/35/19 Wrapped in Falken FK-452 Rubber
9/14/12
- Perrin Tune and Perrin Lightweight Crank Pulley
10/20/12
- Custom fabricated dash kit and wrapped interior in 3M Matte Carbon - More on page
9
[B]1/6/13[\B] - Advan RSII Wheels wrapped in Michelin Pilot Super Sports
More on the wheels
HERE
1/20/13
- Nameless Exhaust with Overpipe/Downpipe and Flat Black Powder Coat. Perrin Cold Air Intake in Wrinkle Red. Perrin Silicone Inlet Tube in Black.
2/24/13
- Removed the Five:AD kit... moving on.
4/20/13
- Beatrush Type 1 and 2 Strut Bars. Blacked out parking lights. Dipped the car Koi Orange.
4/27/13
- Whiteline Transmission Bushing. Eneos Motor Oil, HKS Oil Filter, & Fumoto Valve. Motul Gear 300 for the rear diff. Pentosin 75W80 for the Tranny. Switchback Parking Light LEDs, Sidemarker LED's, License Plate LED's, Trunk LED's, & Dome Light LED Upgrades.
5/19/13
- Plasti Dipped the roof, mirrors, and vent pieces in Matte Clear. Gave it a nice Satin Black finish. In the sun you can still see the metal flake through the dip, it's pretty awesome.
6/9/13
- Replaced the Kenwood DDX-719 Head Unit with a Kenwood DNX-570HD Navigation Unit with Back Up Camera. Can't believe I went this long without the camera!
8/6/13
- Installed Beatrush Rear Differential Brace, Turn In Concepts Solid Steering Rack Bushings, Whiteline Subframe Bushings, and MTEC Transmission Springs
12/14/13
- Installed @
KraftWerks
super charger base kit and took it to @
Drift-Office
for a tune. Also through the month of November I worked on and installed an APR GT Bumper and APR GT3 Mirrors
12/30/13
- Installed Perrin Performance 22mm Front and 16mm Rear Sway Bars