@
Mike Brz
Your car is running e85 when you dynoed it, that means you are definitely not making 221 on 91 or 93, also 221 whp using some simpleestimate math means your at 260hp-275hp at the crank, a 60-75 horsepower crank power difference from just exhaust tune and custom intake stuff? That's pushing FI levels, and somehow you've out designed people with years of boxer engine experience on your own?
Also this other videos I found, almost exactly a year ago you made 186 whp:
At those power number it would put you in line with this post:
http://www.ft86club.com/forums/showp...&postcount=132
Also you claimed a 13 something time which lines up with @
raul
observation also the time slip you did show was proven to be the time stolen from someone Else's turbo diesel run!
Is that a blow off valve I hear, some of the worse intakes would make that sound off throttle due to restriction, Between 0:11-0:16 of this last video I'm guessing it's because of your hks modified intake? or is the video stolen? Also your understanding of physics and fluid dynamics is flawed, the intake is blocked by the throttle plate, and it's obviously open under throttle pressure can't just build up, yes the maf goes up and yes the map goes up in the manifold only, but your understanding is quite bad, of course if you shove a rag it blocks airflow, do that to the stock intake and the same thing happens. You or your tuner are making illusory correlations: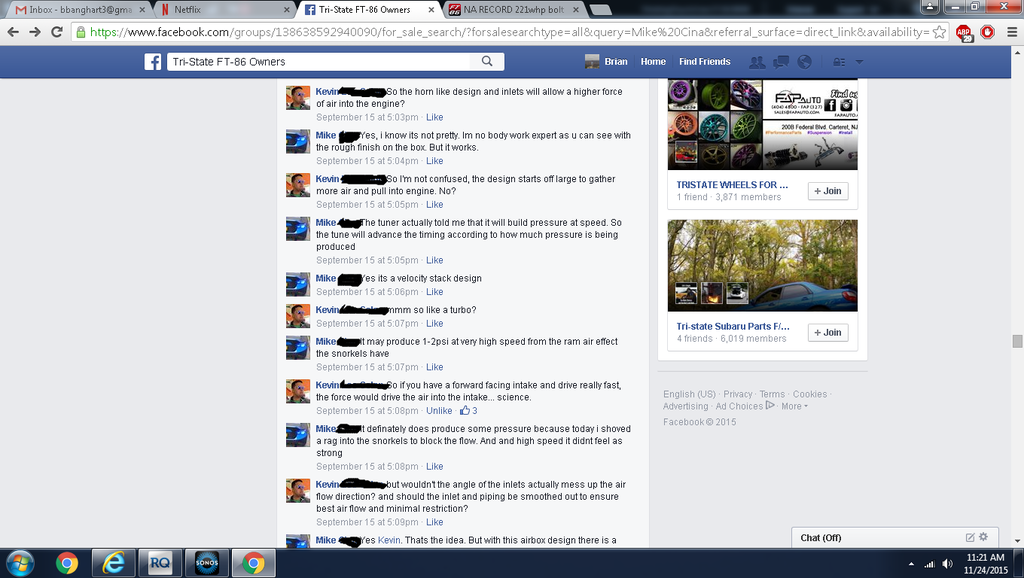 Also it's supposedly 6x larger than stock:
I can tell you right now as a lowly engineering student that does nothing for volumetric efficiency on these cars, so which is it? Velocity stack design or 6x larger? Or both? Because that's how you lose horsepower
Think very carefully before the next post, gather up your evidence and prove us all wrong, otherwise I surmise someone is going to ban you if you respond in an aggravated or aggressive tone. Also the mods probably already know from your past you have a very "ricer" mentality you call people out, don't substantiate your claims and then passive aggressively call them out on another forum it's gotten you in trouble with another ft86 group on facebook:
Also you passive aggressively hide your comment on this forum and attack members on facebook, the comments these people made had context of being a joke and you thought they were serious:
Also please be honest and show us a full mod list and stop with the shakey recording, you have a penchant for taking photos of computer screens or supposedly stealing other time slips, you obviously got a dyno printout and you obviously know how to upload videos to YouTube properly edited, so you can simply upload the latest dyno run with a mods list to your youtube channel and post the link. All it takes to gain our trust again is to:
1) Upload a Dyno run video to youtube not facebook your dj mike cina channel would be perfect for this
2) Type the mods you have in that post
3) If you made any custom mods, describe them
I don't mean to be aggressive, I just have a deep hatred of trolling, be serious prove your claims and everyone will apologize, you have a chance to shut up the haters here so take it.