Results from the 2nd and 3rd event on April 12th and 13th at Buttonwillow CW #13 configuration. Thanks to
NCRC
for hosting us. Special thanks to
CSG
,
LPI Racing
, and
Mann Engineering
for their support.
Follow us
here for the original discussions, topics, videos, etc.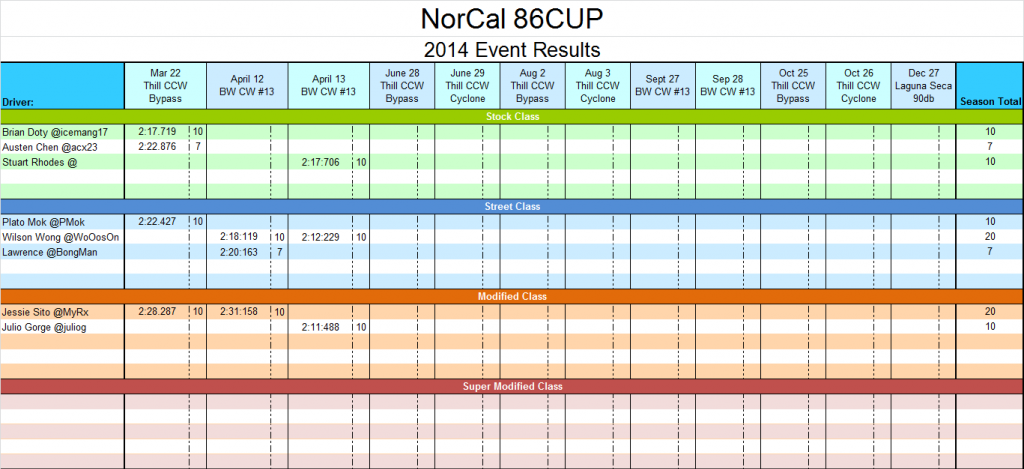 @
Stu
art Rhodes - please PM your car/mod information. I may have incorrectly placed you in Stock Class so please PM your info so I can put in the correct class. -thanks
It was a pleasure meeting Wilson and company on Saturday! Sorry I couldn't complete the weekend. Also met up with Larry and much appreciated for your help and companionship in the afternoon! Garful and friends, who I parked with, were invaluable help and company.
Sadly, my car experienced an unexpected large oil spray from the Vortech and had to end my Saturday/weekend early. Limping the car home on H5 was not fun and the subsequent days/weeks following were just as painful - long story short, the Vortech will be going thru an upgrade. The V2 upgrade is more track-worthy and should tolerate the abuse of the track. That said, it looks like I may not make the June 28/29 86Cup events at Thill. This downtime will also allow me to complete more necessary changes to the FR-S.
I've been receiving a lot of inquiries and sign-ups for June 28/29 @
thill
. It looks like it's going to be a great turnout!
TRANSPONDER RENTAL: rent the transponder at the same time you check in/register. There are two prices for transponder rental: 1) is $15 to get a simple printout of your
best-time-only
at the end of the day and 2) is $25 to get a
detailed printout of ALL of your times
(every time you went on track) at the end of the day. If you are attending both days, tell NCRC that you want the same transponder # for both days. You return the transponder after each track day. NCRC will only forward me all of the 86Cup participants' best-times.
You are welcome to rent the transponders from NCRC for personal use. Same prices applies. If it's for personal use, let NCRC know that you are not signed up for any classes/races (I believe they have up to 3 or 4 classes that categorize times, incl 86Cup participants).