Quote:
Originally Posted by
Rhyuk
Leonardo,
Based on the wheels directory for a 9" wide rim to achieve perfect flush I'd need a wheel with +48 offset on the front and +38 on the rear (dropped 1").
Now... My wheels are +42, that means that with a 5mm spacer in the front I'll get to +47 and be close enough ok being flush? But then the rear needed +38 and I have +42?Something is not adding up cause you used 10mm+ spacers to achieve flushness
That's not how offset works. Also, the wheel directory does not take into account that most people want a bit of negative camber.
A 9" wheel that is +48 offset requires coilovers to fit.
A 9" +45 wheel is what I would consider the inner limit. Meaning it will hit the spring perch. A 9" +42 wheel generally clears the spring perch. (depending on car and tire)
A spacer adds distance between the spring perch and the wheel/tire. Negative camber decreases the distance between the wheel/tire and spring perch.
I have 18x9 +42 wheels. I have added 12mm front and 15mm rear spacers. This makes my offsets +30 front and +27 rear.
For positive offsets; you subtract the spacer. A +42 wheel with a 5mm spacer makes it essentially a +37 wheel.
A 1" drop will net you -1.5 to -2 rear natural camber. My natural camber from 1" drop springs was -1.8 left and -2.2 right. This didn't cause any uneven tire wear; I drove it 65,000 miles this way. LCA will fix this issue if you want.
You will need some front camber to at least match the rear. Camber bolts are around $20 and easy to install. They are good for about -1.5. This is good for DD. A 1" drop, 18x9 +42 wheels with a 10mm spacer, and a set of camber bolts will look good.
You may not need spacers at all, depending on what you consider flush and how wide of a tire you choose. The wheel directory is a great resource; I look through it all the time.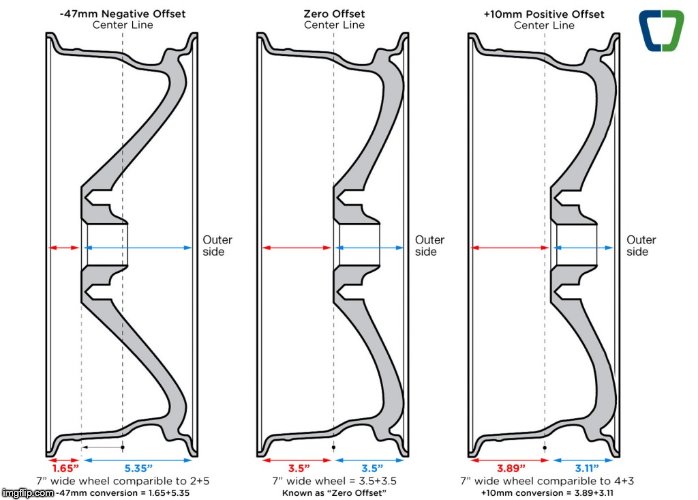 via Imgflip Meme Generator