I think really the toughest part for me, in consideration of building a dual use 86 Cup stock class and SCCA TT Sport car, is the limit on camber adjustment back to using just the crash bolts. Certainly adding the springs can help there though. I threw together a quick build on the 86 Cup calculator that also works out to almost a full Sport class build, and it actually still looks pretty good.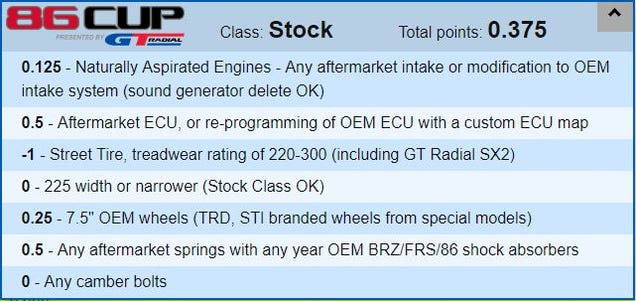 Would likely have a 2nd set of 17x8 wheels with different tires for TT, since I will run the SX2 for 86 Cup.
I don't really like being restricted to TireRack for springs, as I'd much rather run RCE Yellows than any of the offerings on TR. Though that could likely be appealed under point 4 of the Springs section. Yellows are very common on these cars, and it could easily be argued they follow the spirit of that rule.
Also, if I was running an 86 Cup only car I'd substitute the intake for E85 and add rear LCAs.
Question on the bushings portion. Would that exclude the Whiteline rear diff bushings then? I'm assuming yes, but haven't looked into the difference in materials much. I need to replace that bushing, and several others, before next season and would ideally like to go with something more suited to track use than stock.