Quote:
Originally Posted by
Leonardo
I feel like the kit is totally worth it!
I installed my coils, sways, end links, toe arms, trailing arms, and LCA on my car. Tested everything. Then installed the bumpsteer kit.
The difference was very noticeable. The steering had a planted more precise feeling; it felt like it was new again. In technicalish terms: it fixes the suspension's geometry after lowering your car, and, IIRC, is highly suggest if you are lowered more than 1".
Edit: Pic of parts I used.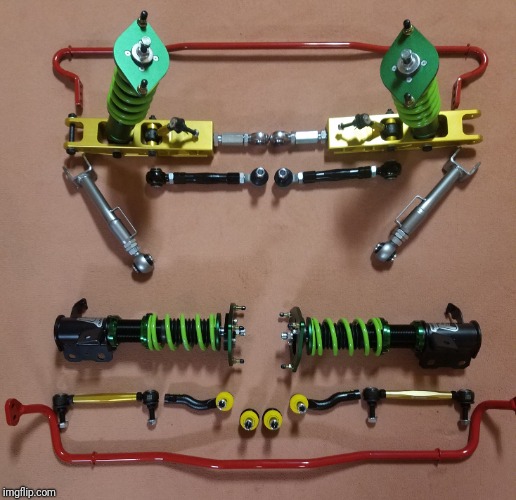 I am very curious about the Whiteline Bump Steer/ Roll Center Kit you have. I am going to be installing coilovers, rear lower control arms, and a few other pieces in the next week or 2 and I have been on the edge on whether or not to get the Whiteline KCA435.
I read in another thread that the extended ball joints cause a lot of headache and it is not worth it for the minimal improvement. I think they caused a loss of camber in the front and created some clearance issues.
What front camber were you able to achieve on the front with the Whiteline kit installed? Did you have any clearance issues?
This is a quote from kingkenny in another post on the subject:
"I had MoonFace extened ball joint , they remove camber and pull the wheel hub closer to the wheel wall , change ride height too ...After some suspension setup dail in again , they feel great but worn less than 10000km and just barely a year , 10+ track day + a dozen autoX + a few drift .
Because I think that might be a quality issue , I try Buddy Club this time . After install , although they look similar size to MoonFace , it actually longer . Rasie my heigh , further remove camber , pull wheel hub even closer , reset ride heigh drop it further and alignment a few time and finally get the car perform like it was ... Another issue was fund , the LCA rubbing on rotor .
I would say this now , go for oem length like racer X ball joint . Extended ball joint create all kind of issue for a little to nothing gain in performance . Not worth it ."
Link to the post:
http://www.ft86club.com/forums/showp...8&postcount=17