Quote:
Originally Posted by
Sleepless
Yes, trail braking and highly cambered turns!

I thought I'd read that the new cars don't have the problem so I was hoping some might have tried changing to the newer rack, if indeed they are different.
It has less to do with the rack and more to do with the power steering, iirc speculation was that it was hot and/or overloaded shutting down to prevent damage to the unit.
If you get under the car the rack is just a straight rack and pinion, the power assist lives behind the dashboard connecting to the steering wheel shaft before it enters the steering rack. If there's an improved unit it'll be that.
Steering shaft and power steering unit: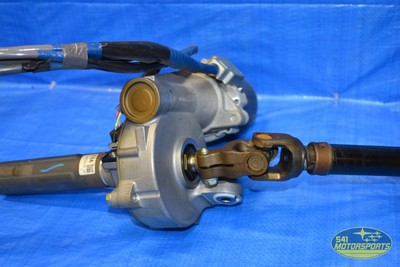 Steering rack:
Changing the rack itself won't help the problem, maybe if you change the ratio that could lighten the load on the EPS, but you'll have lighter steering feel and require more steering input to get the wheel turned the same amount. And no guarantee the power steering system will coordinate happily with the new ratio, it could go haywire.
Good info out of Element Tuning that increased caster worsens the effect which feeds into the overloading/overheating theory. Maybe that was known before but I don't recall.